Work: The Medici Venus
Copy of sculpture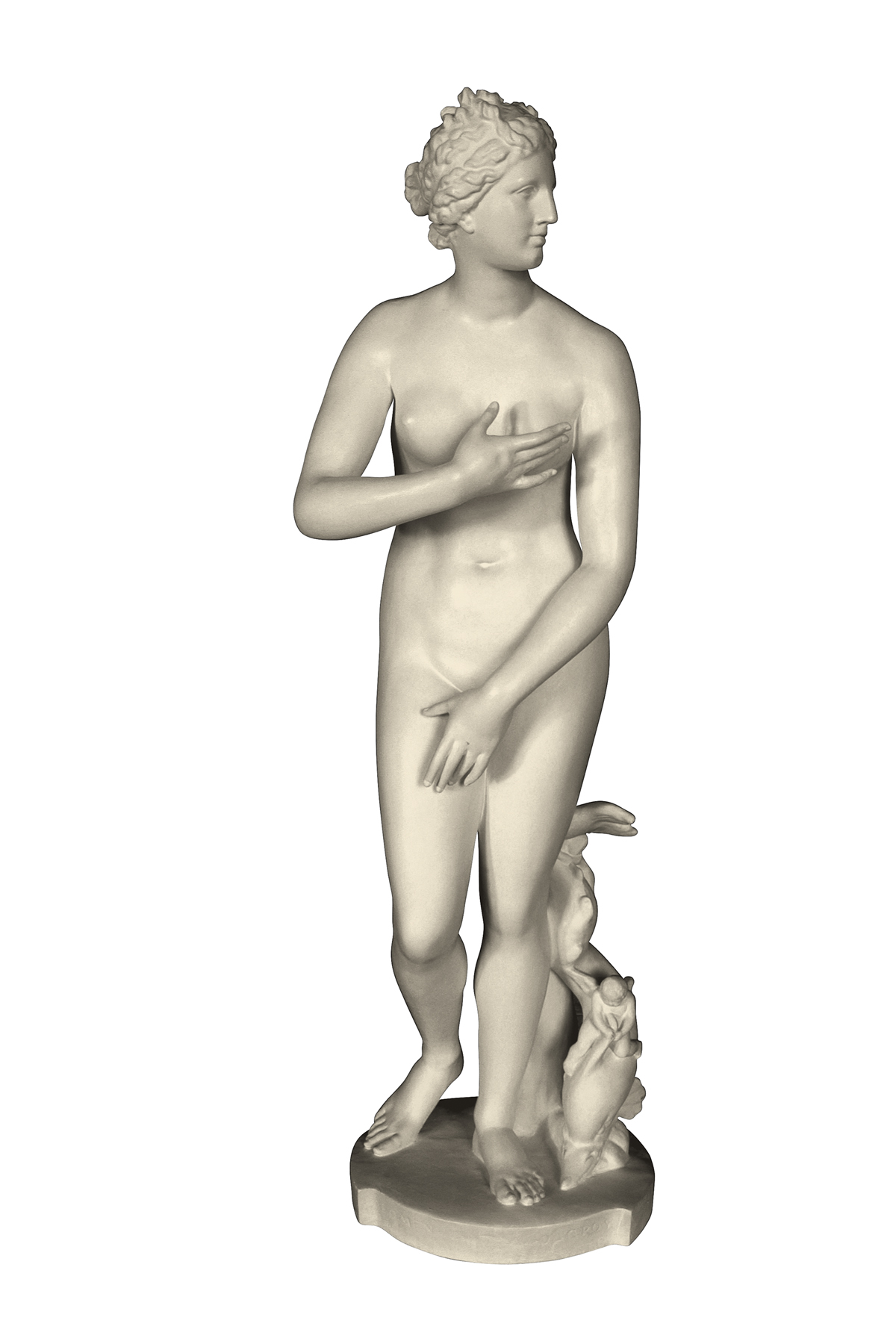 Copy
Dimensions

153 cm high

Technique

cast from the original

Material

alabaster plaster

Space

Travelling

This work is part of our travelling collection.
Original
Author

Date

between 200 and 100 BCE

Period

Dimensions

153 cm high

Material

marble

Location
Photo: Maurizio Bolognini. Museo Tattile Statale Omero Archive.
Description
"One of the purest and highest incarnations of woman ever conceived", John Ruskin.
The "Venere de' Medici", is one of those artworks which have become part of western cultural consciousness, used as a model by artists of every epoch. Housed in the Uffizi Galleries in Florence, the marble sculpture, datable between the 1st and 2nd centuries BCE, was made by Cleomenes son of Apollodorus, according to the signature engraved on the base.
The life-sized divinity (153cm tall) faces us in all her harmonious forms and nudity. She is portrayed as if about to enter or emerge from the water and, discovering that someone is watching, she leans forward slightly, trying modestly to cover her pubis with her left hand and by turning her bent right leg inwards, while she tries in vain to hide her breasts with her right hand. Her head is turned to her left, her hair is curly and gathered at her nape, her face has classical features but her mouth is half-opened in her surprise at being observed. The weight of the statue is supported by her left leg and a prop in the shape of a dolphin ridden by two cupids.
Sensual and demure in her delicate graceful movements, she reveals strong stylistic similarities to the famous Aphrodite of Knidos, the masterpiece created by Praxiteles, and in particular to the Capitoline Venus. Although there is a certain attention to the rendering of natural elements, the body still appears to be strongly idealized, which reinforces the hypothesis that it is a copy from an older original. However the lack of reference to spiritual values, which artists in older times sought in images of the goddess, could validate the hypothesis that it is an original work that was only inspired by older ones.
The history of Venus and Collecting
Discovered at Trajan's thermal baths, the statue was perhaps at Hadrian's Villa at Tivoli. It was bought in the 16th century by Alfonso d'Este and then sold to Cardinal Ferdinando de' Medici. Napoleon was deeply impressed by the sculpture and, during his conquest of Italy, it was one of the first artworks to be stolen and taken to Paris (1803). It was returned during the Restoration (1815).
Photo: Maurizio Bolognini. Museo Tattile Statale Omero Archive.