Work: The idea
Original sculpture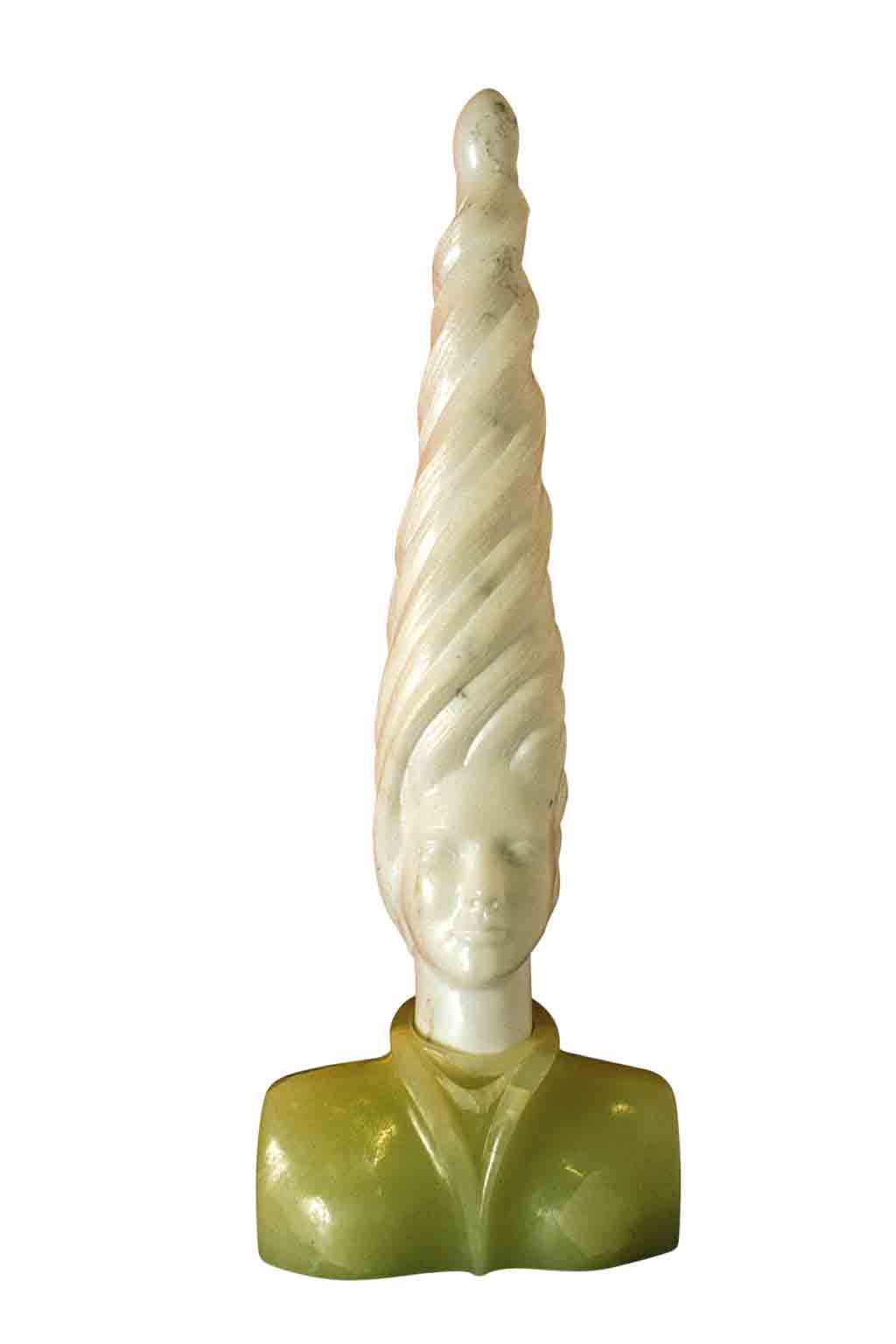 Original
Author

Date

2003

Period

Dimensions

60 cm high, 20 cm wide, 10 cm deep

Material

Carrara marble, Pakistan onyx

Location
Photo: Maurizio Bolognini. Museo Tattile Statale Omero Archive.
Description
"Whoever looks does the work. God does so first", Bruno Ceccobelli.
The Idea is a sculpture by Bruno Ceccobelli, about 60 cm high, made of marble and onyx from Pakistan, in 2003.
The sculpture, in shades of white, represents the head and shoulders of a young woman with very long hair that rises vertically in a compact spiral and is crowned by an egg.
Her face is oval and minute with delicate features. Her lips are regular, her cheeks high and firm, her open eyes look straight ahead but lack iris and pupil. Her fixed, absent gaze denotes a state of trance, of ecstasy, at the very moment of enlightenment, the idea, when she rises spiritually, leaving the material world behind.
The dominant feature of the work is her hairstyle which makes up more than half the entire sculpture. Her long hair spirals upwards forming a tight hard cone, attracted by a vital force symbolically represented by the egg which has to be a reference to Piero della Francesca's Pala di Brera (or Montefeltro).
On the tactile level, there is a distinct contrast between the particularly smooth slippery onyx of her high-collared shirt, and the polished yet rougher marble of her face, neck and hair.
This sculpture, like many of Ceccobelli's works, has a strong conceptual character, evoking a dimension of spiritual elevation, to which, according to the sculptor, all art should aim.
He draws inspiration from Eastern philosophy, and especially from Taoist thought with its concepts of harmony, spiritual search, mediation and compensation between opposites; concepts that are often found materialized in his works.