Work: St John the Baptist
Original sculpture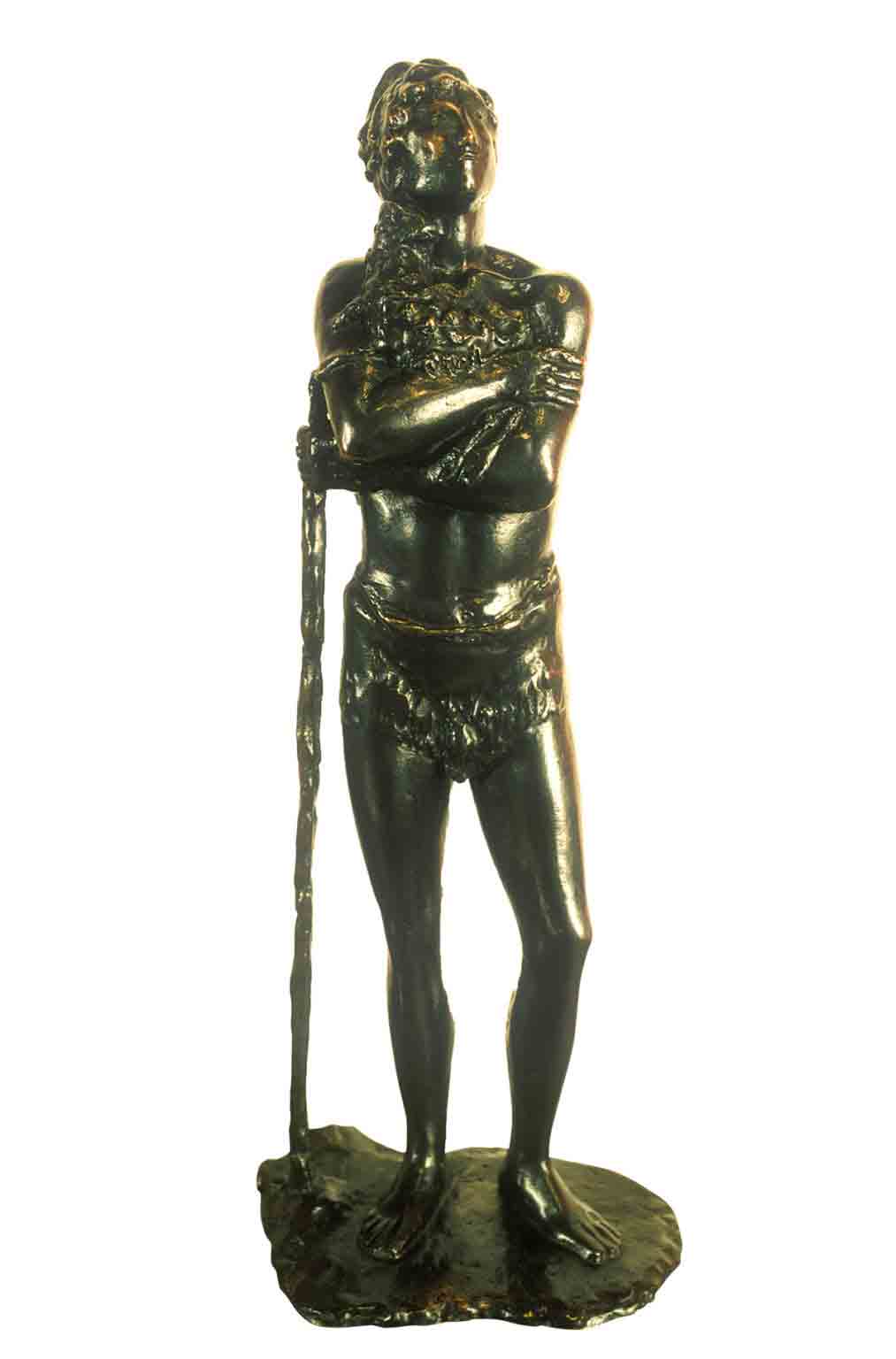 Original
Author

Date

1935 - 1987

Period

Dimensions

47,5 cm high, 17 cm wide, 11 cm deep

Material

bronze

Location
Photo: Maurizio Bolognini. Museo Tattile Statale Omero Archive.
Description
"Artwork where there is a nothingness, as a natural force", Arturo Martini.
These are the words that Arturo Martini dedicates to The Sheepherd, a terracotta work representing a sheepherd holding a lamb to his chest.
There are two bronze works, obtained from the plaster original one in public collections: the first one was purchased in 1936 at Venice Biennial by Genova City Council for the Modern art Gallery (Galleria di Arte Moderna); the second one was donated by Mario Gromo to Modern and Contemporary Art Gallery of Turin (Galleria d'arte Moderna e Contemporanea di Torino) in 1961.
Martini, with this artwork, returns to the previusly embraced theme of the Sheepherd, a subject dealt with for the first time in 1923 with the title of Sacrifice (Sacrificio) or Pastor Fido (Thrustworthy Sheepherd). The sheepherd who holds to his chest the mislaid sheep was the chosen theme, but the artist wants to create an imagine of a primordial humanity, of a return to the great ancient values.
The moudelling is accurate, refined in the rendering of the tapered shapes, and attentive in the realisation of the most significant details: the essential poverty of the drapery, the hair melted and confused with with the lamb's wool. Thus the vertical lines on which the sculpture is built knot at the chest to generate a kind of break – one hand grasps the staff, both arms hold the lamb to the sheepherd's chest -; it is a sign of fondness toward the lamb (like in the Good sheepherd), but also of aticipation for something undefined and undefining, like the dreaming protagonists of his terracotta works, but with a lyrical spirit rather than dramatic.
Recently, the artwork has been named San Giovannino (St John The Baptist), but it is a title that, despite meeting the need to underline the vagueness of the iconographic motif and the importance of the recall to the ancient world, noticeable in the elegange of the lengthened shapes, is to be considered illicit as Martini himself used to name it Sheepherd.