Work: St. Cyriacus' Cathedral
Architectural model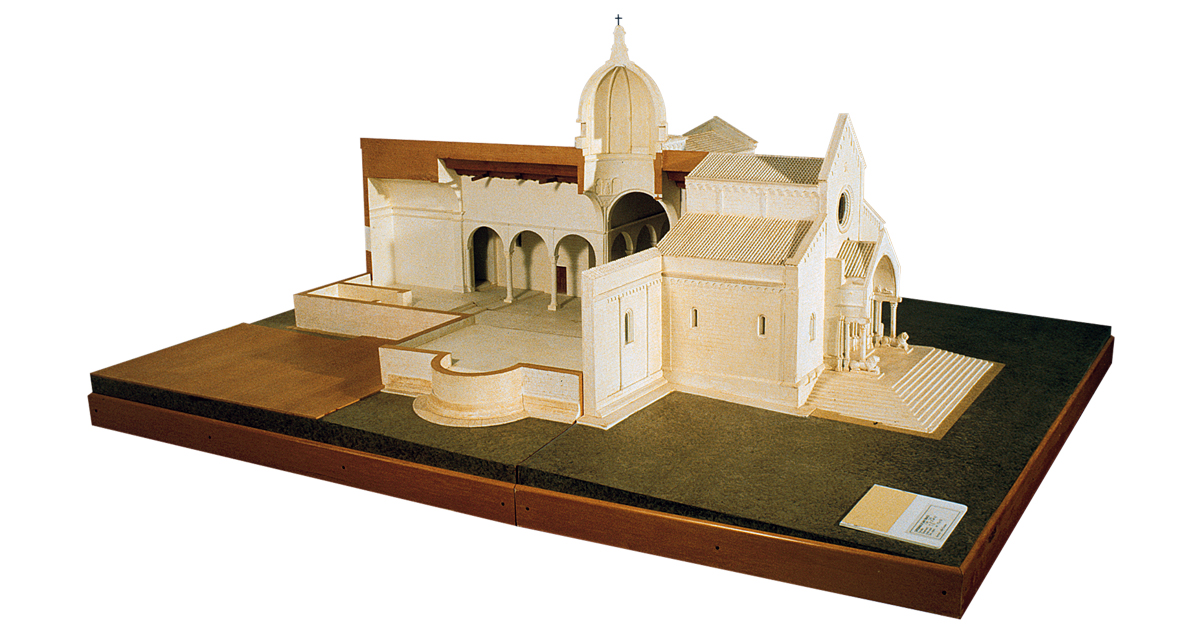 Modello architettonico
Dimensions

88 cm high, 186 cm long, 160 cm wide; scale 1:33

Technique

assembly

Material

wood, resin

Space
Original
Date

1189 - 1263

Period

Dimensions

57,27 m long, 49,63 m wide

Material

Conero white stone

Location

Colle Guasco, Ancona
Description
"You don't walk along the streets; you climb up them. They are rope ladders and rigging and, it goes without saying, you will find yourself in the square in front of St. Cyriacus as if in the crow's nest on the highest mast". Dino Garrone, Terra di Marche
Our detailed model of Ancona Cathedral is made of wood and is quite large – the base is 186cm x 160cm. Most of the left side of the model can be removed so that the interior of the right side and the area behind the entrance can be explored. The left side shows the floor plan while the rest of the model shows all the details of the construction right up to the top of the dome.
The model is coloured white like the real Cathedral. Only the cut edges of the section are brown while the base it stands on is dark green.
A wide staircase precedes the detailed façade which is divided into three parts with the central section higher than the sides. It has a pitched roof and there is a large circular window, known as a rose window, above the entrance. The doorway is protected by a small cusped porch (prothyrum) supported by columns.
The front ones stand on the two famous, crouching, open-mouthed lions. The portico was made by Giorgio di Como, and reliefs depicting the symbols of the four evangelists can be found inside the arch, just above the columns. A series of successively smaller arches connect the portico to the main door. There is a second, simpler, prothyrum on the right side of the front arm. Narrow arched openings (single lancet windows) alternating with decorative pillars (pilasters) articulate the external perimeter walls which are topped with arcades of small, slightly protruding, blind arches known as Lombard bands.
The interior shows us the right-hand side with the colonnade and aisle, the raised altar and the stairs leading down to the crypts. You can also touch half of the ogival dome, rebuilt by Margaritone d'Arezzo in 1270, which is set over the crossing. It is actually one of the oldest domes in Italy.
The church has a Greek cross plan, with a nave and two aisles and a dome that stands on a dodecagonal drum. In the Romanesque style with Byzantine influences and Gothic elements, the church incorporates all the transformations that took place during its lengthy construction, between 1000 and 1100 CE.
The cathedral stands on the Colle Guasco, on the site of a Doric temple dedicated to Venus Euplea, the goddess who protected navigation (a volumetric model of this temple is also on display). A basilica with a nave and two aisles was built on its foundations in the 6th century. It was dedicated to St. Lawrence and, in 1017, the bodies of Saints Marcellinus and Cyriacus were transferred there. Between the end of the 11th century and the first half of the 13th, the church was enlarged with the addition of a transept. A century later, the cathedral was rededicated to St. Cyriacus, bishop and martyr, patron saint of the Maritime Republic.
Image Museo Omero photo archive