Work: Square of Miracles
Architectural model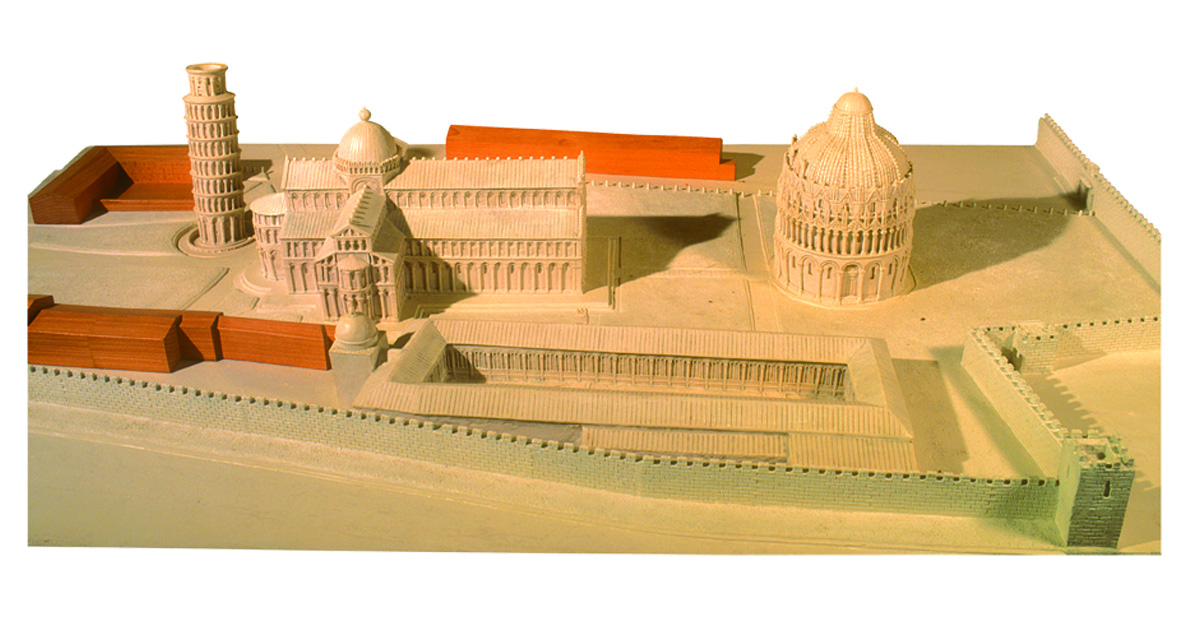 Architectural model
Dimensions

35 cm high, 197 cm long, 120 cm wide; scale 1:200

Technique

casting, assembly

Material

resin, wood

Space
Original
Date

1000 - 1200 A.C.

Period

Location

Pisa
Photo: Maurizio Bolognini. Museo Tattile Statale Omero Archive.
Description
The expression "Piazza dei Miracoli" (Square of Miracles), coined by Gabriele d'Annunzio, expresses the wonder of one who sees the whiteness of the monuments above the brilliant green of the lawn. A UNESCO World Heritage site since 1987, the area is located on the outskirts of Pisa and includes the Cathedral, the Baptistery, the Bell Tower, the New Hospital and the Monumental Cemetery.
The project to build the new church of Santa Maria dates from 1064, the year of the military expedition against the Saracens in Palermo. The spoils of this war were partially invested in its construction. The Cathedral, a symbol of Pisa's religious and civic community, had to reflect its fame and power: epigraphs celebrating its principal maritime enterprises were placed on its facade and architectural elements from Roman monuments were inserted on the side walls.
The Baptistery, designed by Diotisalvi, was built in line with the Cathedral facade, in 1152. Inspired by the Holy Sepulchre in Jerusalem, it demonstrates the relationship between Pisan and Eastern architecture. Its circular plan was adopted by the unknown architect of the Bell Tower (Bonanno Pisano or Diotisalvi?) in 1173. The curves of the famous round Tower recall the apses of the Cathedral and the use of columns and small arches links it to the other buildings in the Square. It is 56 metres high and its 293 steps lead to the top of its 8 storeys. Shortly after construction work began, the Campanile, which houses seven bells, began to lean because of an unstable foundation.