Work: Sea and destinies
Original sculpture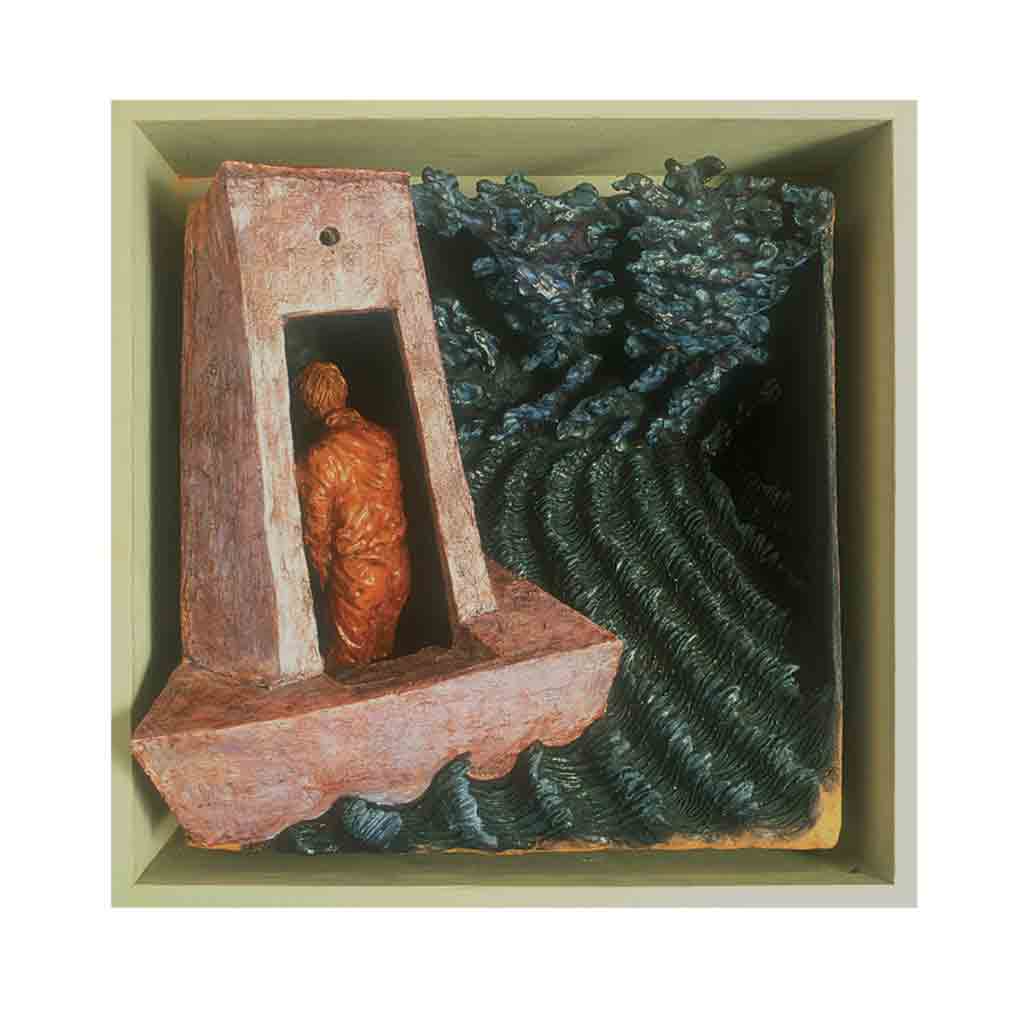 Original
Author

Date

2008

Period

Dimensions

32 cm high, 32 cm wide, 20 cm deep

Material

terra-cotta

Location
Photo: Maurizio Bolognini. Museo Tattile Statale Omero Archive.
Description
"The many figures I describe suddenly come to life, they look at me asking why they exist. It is destiny that wanted you like this, the hours that I spent with you, the joy and the fatigue, the faith and the desire that you gave me", Paolo Annibali.
Sea and Destinies is a glazed terracotta sculpture, created by Paolo Annibali in 2008. It is one of a series of four works in the same format on display at the Museo Omero.
The sculptor used a terracotta block (about 30cm square by 18cm deep) into which he carved out a theatrical scene. He then added projecting three-dimensional elements.
The protagonist of the scene is a man in a boat at the mercy of a stormy sea. The work is set into a grey wooden box frame.
In the upper part, frayed rounded masses of clay, resembling broken tree branches, form the clouds in the tempestuous sky. The waves of the raging sea, represented by a succession of rough, crested furrows, occupy the rest of the scene, rising upwards to meet the sky.
The sea conditions can also clearly be perceived as adverse from the tactile point of view. At the left of the scene is a simplified representation of the stern of a small boat. The hull is trapezoidal and the cabin rectangular. There is a man in the open doorway who has already gone down three steps. He is dressed in a shirt and trousers and is turned away from the viewer.
If you reach into the opening, you can touch the man's face and appreciate the fact that the sculptor has modelled his features, even though his face is not visible. The man and the boat are warm and smooth to the touch.
Chromatically there is a contrast between the shades of blue, used for the natural elements, and the orange and red used for the man and the boat. Stormy seas and skies are recurring elements in Annibali's work, but they never seem peaceful or reassuring. On the contrary, they appear to threaten the human being, who appears frightened and helpless.
Clay is the material that characterizes the style of this artist. His relationship with it swings between dialogue and (almost) hostility, in what he defines as a duel with the material: "Sculpture is certainly hard work, the material requires a physical duel, to be tamed or perhaps to be tamed by it".