Work: Repentant Minotaur
Original sculpture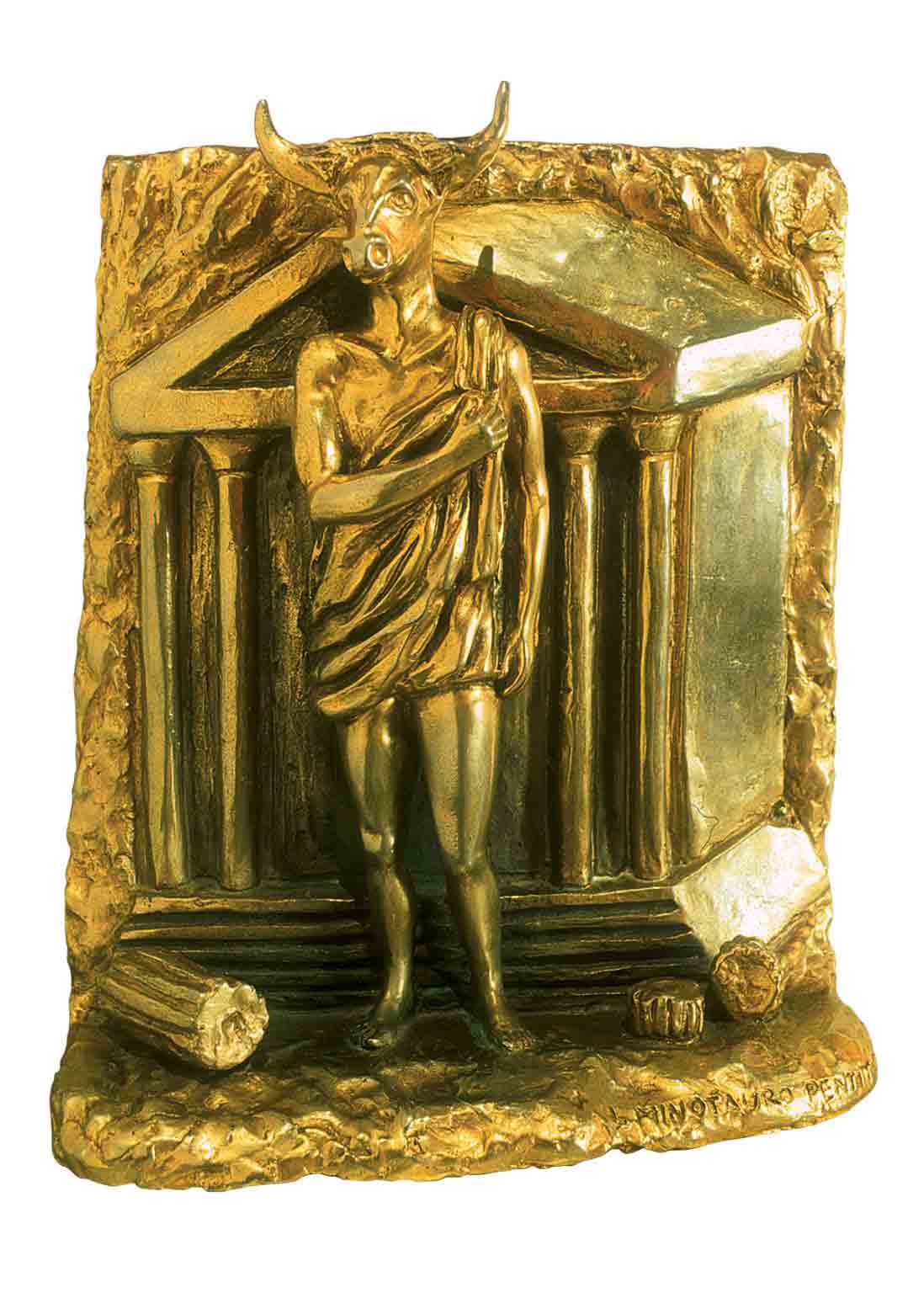 Original
Author

Date

1969

Period

Dimensions

40 cm high, 33,3 cm wide, 15,5 cm deep

Material

bronze

Location
Photo: Maurizio Bolognini. Museo Tattile Statale Omero Archive.
Description
"I was impressed by the beauty of this city of Volos which, according to mythology is the city from which the Argonauts sailed. It is a beautiful city entirely white above the sea and then behind there is Mount Pelion, with villages that appear like white spots and that is beautiful […] ".
These words by Giorgio De Chirico reveal his interest in the myth of the Argonauts, which he often alludes to in his works, usually in the figure of Ariadne, but also in the "Minotauro pentito" (repentant Minotaur) which is on show at the Museo Omero.
It is a bronze, the only one that De Chirico made in high relief which gives the work an almost theatrical appearance: the Cretan monster, with a human body and a bull's head, stands upright, with his right hand on his heart in a pained attitude, in front of a Doric temple. On the ground there are broken columns, a recurring image in the artist's works. The humanized expression of the face and the adjective "repentant" in the work's title, seem to dissolve the monster's bestiality, its posture likening it to a guardian, the custodian of the truth of the temple, like a priest.
For some critics this is the first appearance of the Minotaur theme in De Chirico's work, but in fact the same subject had already appeared in the theatre. In 1937, Di Chirico made sketches for the "Le Minotaure" ballet by Louis Gauthier-Vignal, which were exhibited several times between 1939 and 1946. In the sketch for the scenery we find the disturbing mythological character with the same mask, the same drapery in the tunic, the same gesture of the hand; even the small temple behind the Minotaur was found among the artist's scenographic projects, as well as in his 1927 painting "The Temple in the Room".
Further information: Fondazione Giorgio e Isa De Chirico.