Work: Rebellious Slave
Copy of sculpture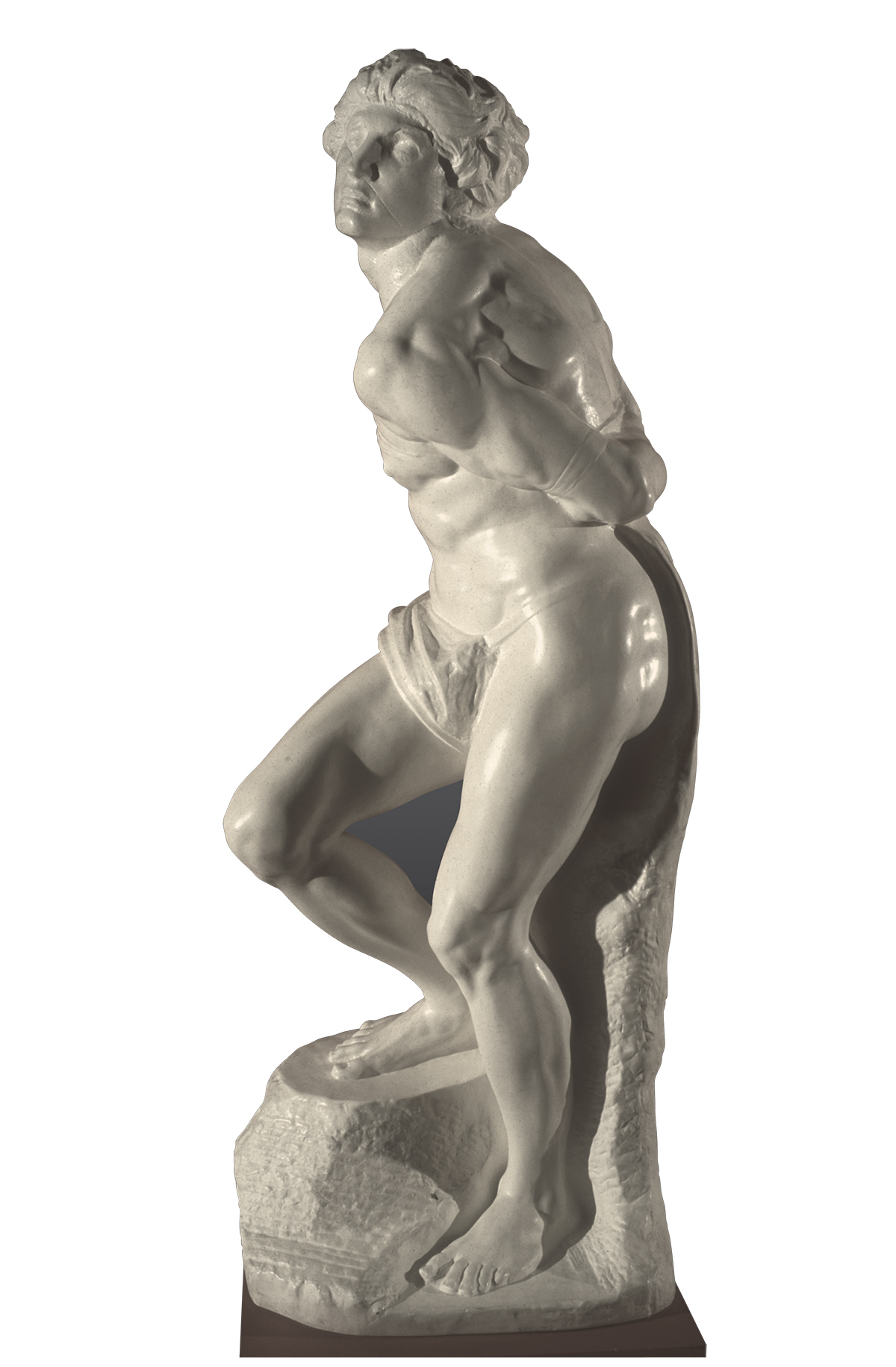 Copy
Dimensions

215 cm high

Technique

cast from the original

Material

alabaster plaster

Space
Original
Author

Date

1513 about

Period

Dimensions

215 cm high

Material

marble

Location
Photo: Maurizio Bolognini. Museo Tattile Statale Omero Archive.
Description
"You gave me this divine soul and then you imprisoned it in a weak and fragile body, how sad it is to live in it!", Michelangelo Buonarroti.
The sculpture of the Rebellious Slave, about 215 cm high, was carved from marble by Michelangelo in 1513. The original is in the Louvre Museum in Paris while the Museo Omero has a copy in alabaster plaster from a true cast.
The Rebellious Slave is represented as a nude male figure in an upright position, with his hands tied behind his back, writhing in an attempt to free himself. The limbs twist in a contorted movement known as contrapposto (counterpoised). The right foot rests on a block of stone, the knee is bent and turned inwards, while the other leg is straight, the foot standing firmly on the ground. The torso twists to the right, stretching forwards, as if the slave is tugging at the ties that hold him and pressing down on the bent leg tn order to exert greater force. The left shoulder is lowered and stretched further forward than the right one, while the left arm (the only one visible) is held behind his back. The head is turned to the left and it is slightly tilted back, gazing upwards, as if asking for help. Thanks to the shoulder and knee that project out towards the viewer, the statue would have given a greater spatiality to the funeral monument.
The Rebellious Slave, along with The Dying Slave, dates back to the second project for the tomb of Pope Julius II (1513). Both should have been positioned in the lower tier of the funeral monument, which was redesigned several times by Michelangelo, after he was commissioned by the pope himself in 1505.
The final project for the tomb (1542) no longer included the two sculptures: Michelangelo donated them to Roberto Strozzi who had them sent to Lyon during his exile there. In 1632, Cardinal Richelieu was given them, but after his death they were seized and became part of the Louvre collection, where they are now on show.
Vasari identified the Prigioni, which were only renamed Slaves in the 1800s, as personifications of the provinces controlled by Julius II, while Condivi spoke of them as of symbols of the Arts, left imprisoned and dying after the death of the pontiff. The Rebellious Slave, in particular, might represent Sculpture or Architecture, but both theories are conjectures.
Michelangelo carved six of these Slaves, four of which are conserved at the Academy of Florence. Their plastic tension evokes the struggle of the human spirit to free itself from the flesh to long for God, the only source of perfection.