Work: Poseidon of Cape Artemesium
Copy of sculpture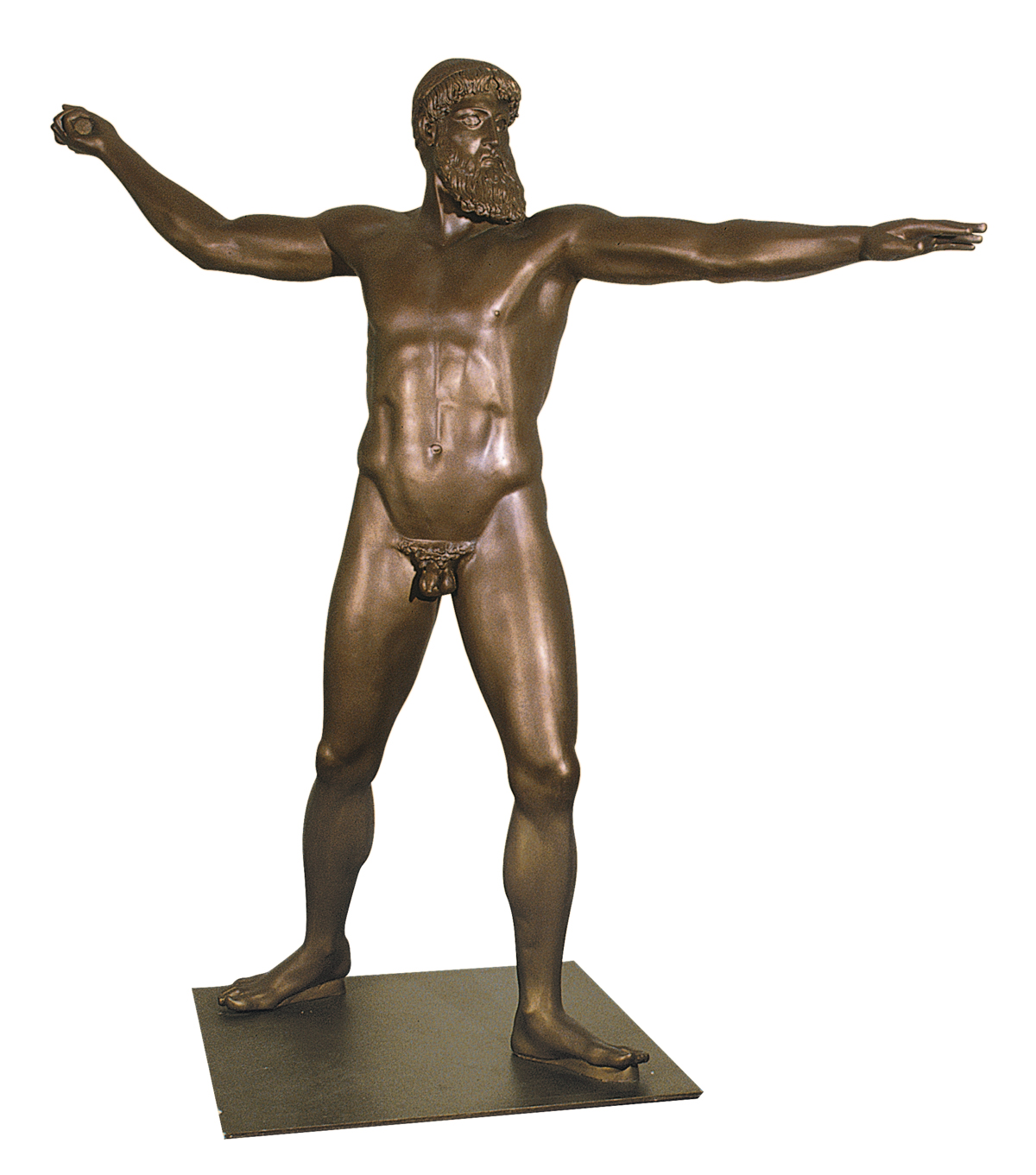 Copy
Dimensions

209 cm high

Technique

cast from the original

Material

resin

Space
Original
Date

480 - 470 BC

Period

Dimensions

209 cm high

Material

bronze

Location
Description
"He lived at the bottom of the sea and commanded sea monsters and storms, often portrayed on a chariot drawn by tritons and horses, with a trident in his right hand". M. T. Cicero "De Natura Deorum"
Attributed to the Greek sculptor Kalamis, The Poseidon of Cape Artemisium, datable to around 450 BCE, represents one of the few bronze sculptures from the Severe Age to have survived in a good state of conservation. The Museo Omero has a copy in resin and fibreglass.
The original sculpture was found in two parts between 1926 and 1928 at Cape Artemisium, the northern tip of the Greek island of Euboea.
In the past, the figure was identified as Zeus, although it is more probable that he is the god of the sea, since rites associated with the cult of Poseidon were held in the area where the statue was found.
The divinity is caught in the moment of throwing a trident, his iconographical element which unfortunately has been lost. The figure is erect, with legs, chest and arms facing the viewer. The slightly bent legs are spread apart for balance. The arms are raised, almost forming a cross: the left is stretched forward as if taking aim while the right is flexed as if about to throw the trident. He looks straight ahead, his face tense and impassive, concentrated on the action he is about to perform. The beard is of long sinuous curls, which frame the face with a decorative rhythm. The set-in eyes were very probably made of vitreous paste or polychrome semiprecious stones.
The work does not appear to have been designed to be seen from only one side: in fact, the muscles of the back and the shoulders are also accurately modelled.
Although Poseidon testifies to the high level of modelling of the human form that Greek sculptors had achieved in the Severe age, this figure does not reveal the tension of the sudden violent movement that he is about to perform. He is immobile as is typical of Greek sculpture from the Severe period. The massive use of bronze and the ancient technique of lost wax casting are also typical of that period.
Image Museo Omero photo archive