Work: Noah or the invention of wine, a carved panel from Giotto's bell tower
Copy of sculpture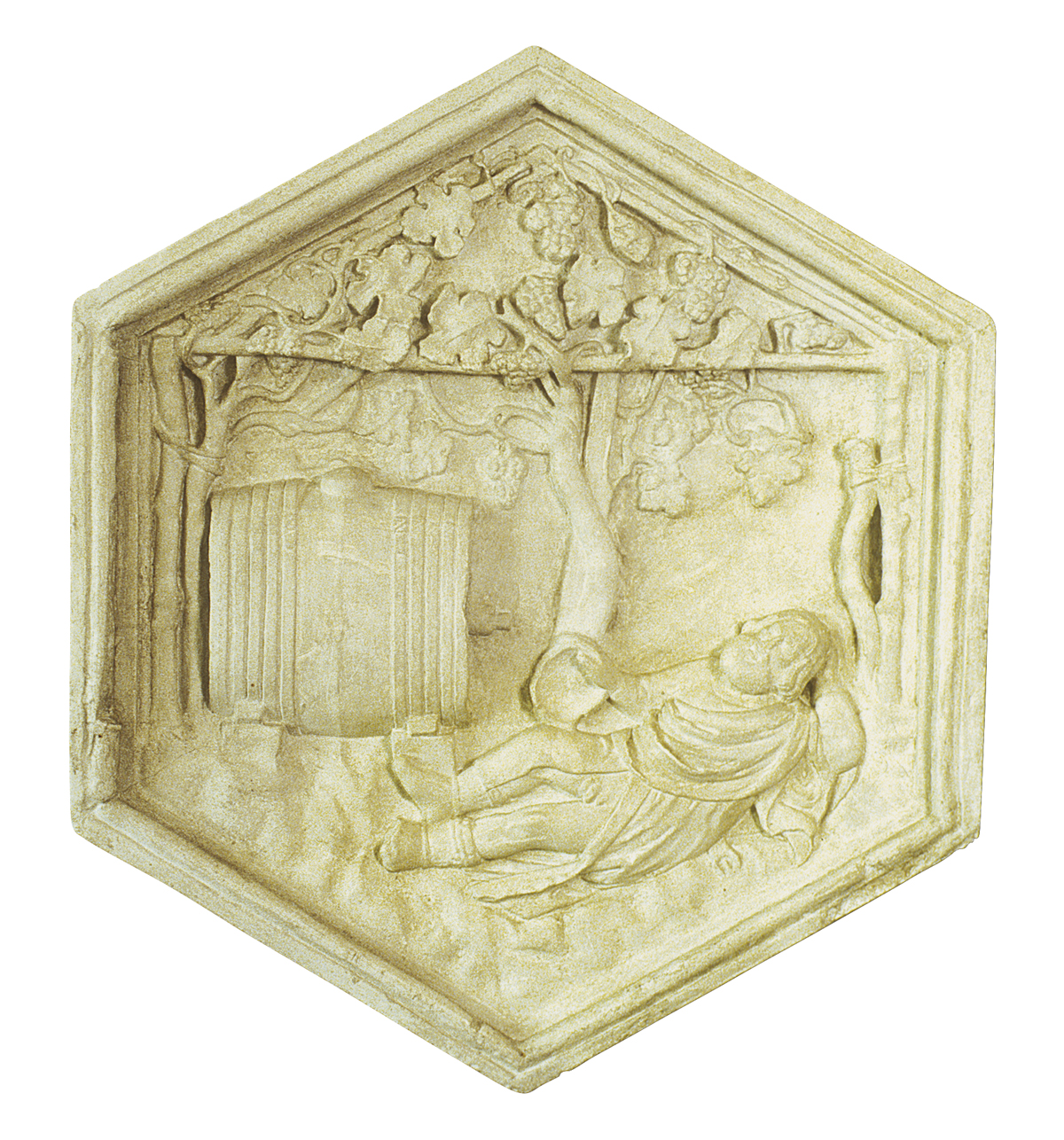 Copy
Dimensions

44 cm long about (side)

Technique

cast from the original

Material

alabaster plaster

Space
Original
Author

Date

1337 - 1341

Period

Dimensions

44 cm long about (side)

Material

marble

Location
Foto: Maurizio Bolognini. Proprietà: Archivio Museo Tattile Statale Omero.
Description
"Now Noah, a cultivator of the earth, began to plant a vineyard. Having drunk the wine, he got drunk and lay uncovered in his tent", Genesis 9: 20-21.
"Noah or the invention of wine" is the theme of the hexagonal panel made by Andrea Pisano and his workshop between 1337 and 1341 to decorate the bell tower designed by Giotto for the Cathedral of Florence, Santa Maria del Fiore.
The Museo Omero has an alabaster plaster copy of a true cast of the original work which is on display in the Museo del Duomo in Florence. It was situated in the first order on the west side of the bell tower where we can now admire a marble copy.
About 44cm wide, the scene is composed of a few clear elements: a vine laden with grapes and foliage occupying the upper part of the composition, a large barrel containing wine on the left and the supine figure of Noah in the foreground. He is sleeping with one hand under his head and a bowl of wine in the other. In the Book of Genesis, Noah is indicated as the founder of viticulture and the first person to experience the intoxicating effects of wine.
At a tactile level, this simple, clearly defined composition provides a fluent and comprehensible reading experience. At the top, we can feel the projecting bunches of grapes and the large smooth leaves. Below them, vertical elements dominate the space: the vine trunks and the hoops on the fat-bellied barrel. At the bottom of the composition, the horizontal figure of Noah, in his ample, richly-folded robe, lies on the rough, stony ground.
The construction of the bell tower of Santa Maria del Fiore in Florence, begun by Giotto in 1334, was a great novelty. It is an imposing tower, both elegant and slender, with a square base. It is 84.7m high and about 15m wide and is decorated with white, red and green marbles like those adorning the Cathedral.
The architecture is in the Florentine-Gothic style with rich sculptural decoration. The first order is embellished with twenty-six hexagonal marble panels with relief carvings illustrating the history of the man's progress in the arts and sciences: from the earliest activities corresponding to natural needs (west side), to the representation of the crafts arising from civilization (south side), up to artistic activities (east side) and intellectual activities (north side). The theme of the cycle is work, which is seen as the creative expression of a free man, and it reflects the cultural context in which it is set: a fourteenth-century city whose prosperity was built on the entrepreneurial and intellectual activities of its citizens. Thus, the idea of man fulfilling himself through work underpins not only the greatness achieved by the city of Florence, but also this Christian building that rises towards heaven and therefore towards God.