Work: Nativity scene, a carved panel from the portal of Nonantola Abbey
Copy of sculpture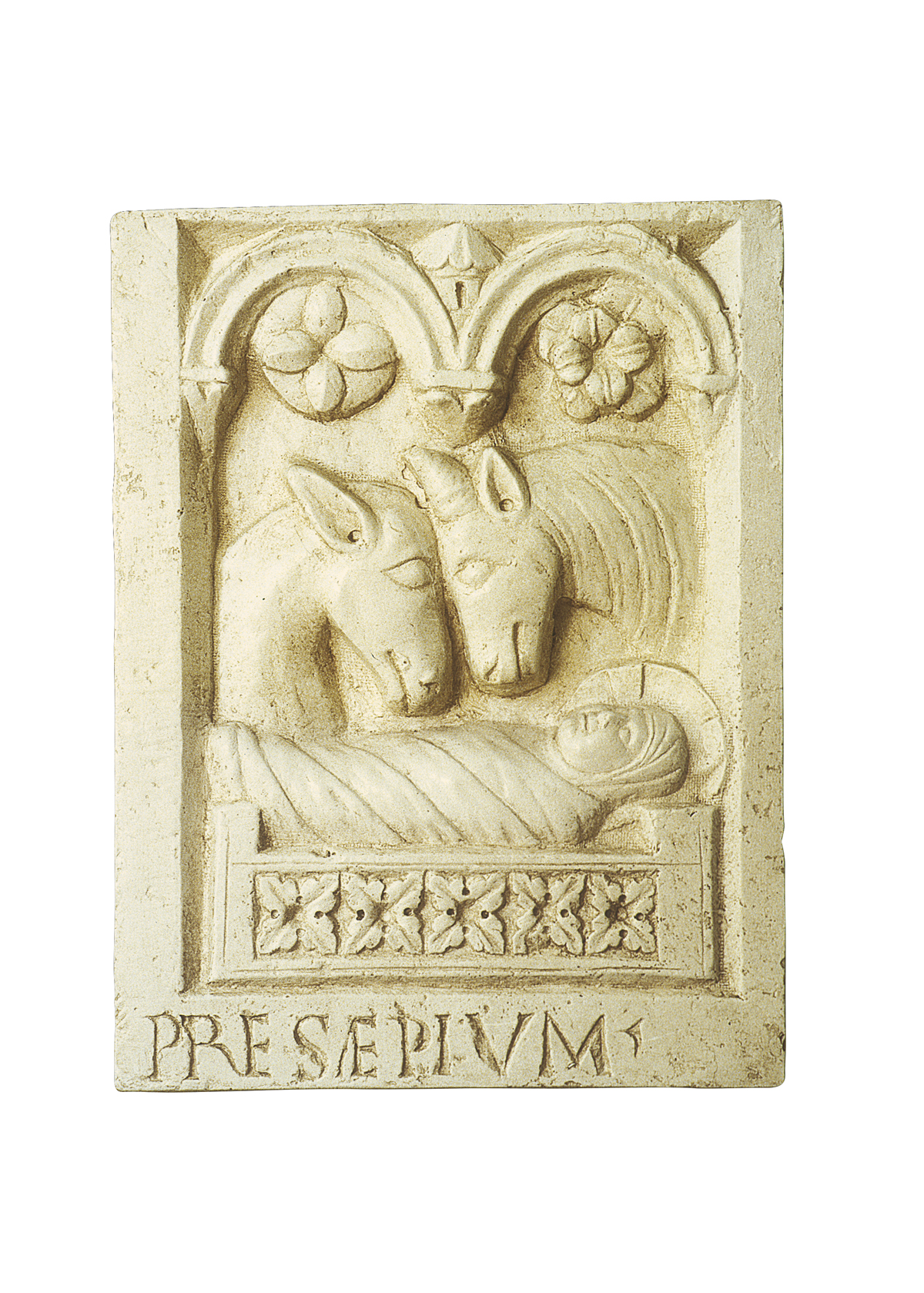 Copy
Dimensions

40,5 cm high, 30,5 cm wide

Technique

cast from the original

Material

alabaster plaster

Space
Original
Author

Date

1002 - 1032

Period

Dimensions

40,5 cm high, 30,5 cm wide

Material

marble

Location
Photo: Maurizio Bolognini. Museo Tattile Statale Omero Archive.
Description
"And she … wrapped him in swaddling clothes, and laid him in a manger; because there was no room for them in the inn", Luke 2:7.
Around 1117, Wiligelmo and his pupils worked on the portal of Nonantola Abbey, creating the lunette and probably the two series of carved panels that adorn the doorframe, which were commissioned by Abbot Rodolfo. The Museo Omero has copies from true casts of some of these masterpieces of Romanesque art.
The Nativity scene follows that of the birth. The 40cm high rectangular panel is vertically oriented. The scene is framed by two arches and is composed symmetrically. The space below each arch is filled with a round floral decoration. The heads of the ox and the ass touch in the centre of the scene. They are gazing down at the Baby Jesus who has a halo and is wrapped in swaddling clothes. He is lying in a manger adorned with floral decorations. Here too, as in the other panels, the figures are still stylized and the surroundings are not depicted. Presepium (Latin for manger) is inscribed below the scene.
Further information
The origin of the abbey dates from 752 CE when Aistulf, King of the Lombards, donated some land to his brother-in-law Anselm, saint and founder of the abbey. Named after St. Sylvester, whose relics it houses, it became a Benedictine monastery and a place of hospitality and pilgrimage. This panel is on the right doorjamb, among other episodes from the Childhood of Jesus.
The panels are of different sizes but are all rectangular. Most of the scenes depicted are surmounted by two round arches and are orientated vertically. There are two sequences, with the earliest episodes at the bottom. The series on the right doorjamb shows stories from the childhood of Jesus, while the panels on the left illustrate episodes from the history of Nonantola Abbey, with particular reference to the figures of St. Anselm, St. Sylvester and St. Adrian.