Work: Model with hat
Original sculpture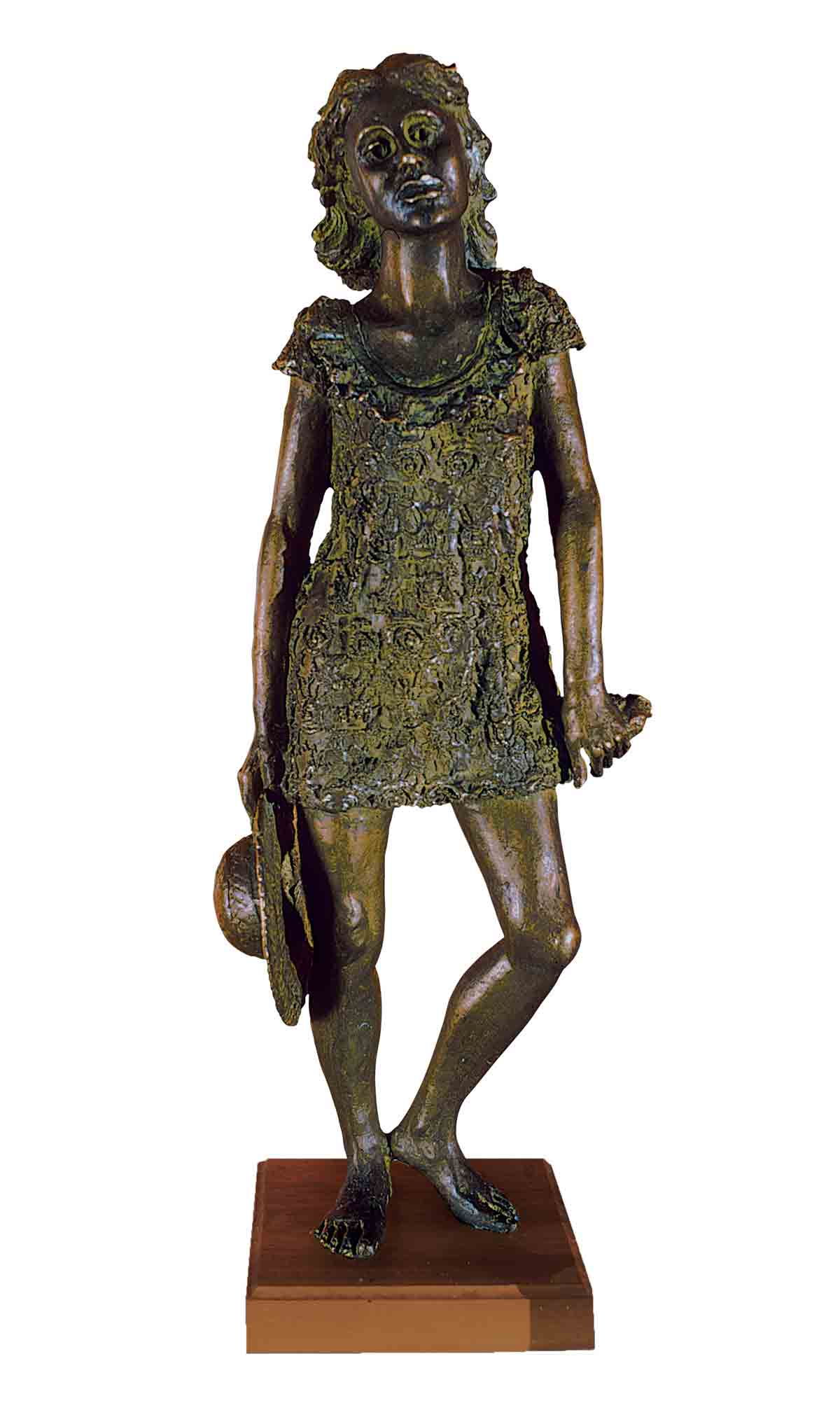 Original
Author

Date

1998 - 2001

Period

Dimensions

67 cm high, 30 cm wide, 16 cm deep

Material

bronze

Location
Photo: Maurizio Bolognini. Museo Tattile Statale Omero Archive.
Description
"A 'verism' that Mastrodascio expresses through his sensitive touch, treating the bronze as if it were clay and transforming the metallic surface into a compliant material on which the light breaks like waves, creating vibrations with dynamic effects", Maurizio Calvesi.
"Model with hat" is a small, 67cm high, sculpture that Silvio Mastrodascio cast in bronze in 1998. The statue represents a barefoot girl wearing a short summer dress and holding a hat. The weight of the figure, standing and frontal, is supported by her straight right leg. Her left heel is lifted and rests on her right ankle, making her left leg bend outwards. Her arms are by her sides.
She holds a classic straw hat with a wide circular brim in her right hand and while her left holds the hem of her dress. Her entire posture suggests how hot she is feeling, in particular, the fact that her head is tilted slightly backwards with her mouth half open as if gasping.
Her face is turned to her right and her features are clearly defined. She has plump lips and deep-set eyes that stare straight ahead from their clearly defined sockets. Her thick, shoulder-length hair is parted in the centre. Her thigh-length dress has short sleeves and a round neckline. The design is simple but it has a rich floral decoration.
When you caress the sculpture, you can feel the contrast between the smooth areas of the body and the more textured surfaces, such as the deeply-patterned dress, the woven straw of the hat, the voluminous unkempt locks of her hair.
Mastrodascio is originally from Cerqueto in Abruzzo, but has lived and worked for a long time in Toronto, Canada. The depiction of the female figure is central to his art. His subjects are women who are often caught in everyday, habitual activities such as getting dressed or brushing their hair. The artist is able to work bronze in minute detail and make even the smallest details significant, such as the flowers on the dress in this statue.