Work: Michelangelo's David
Copy of sculpture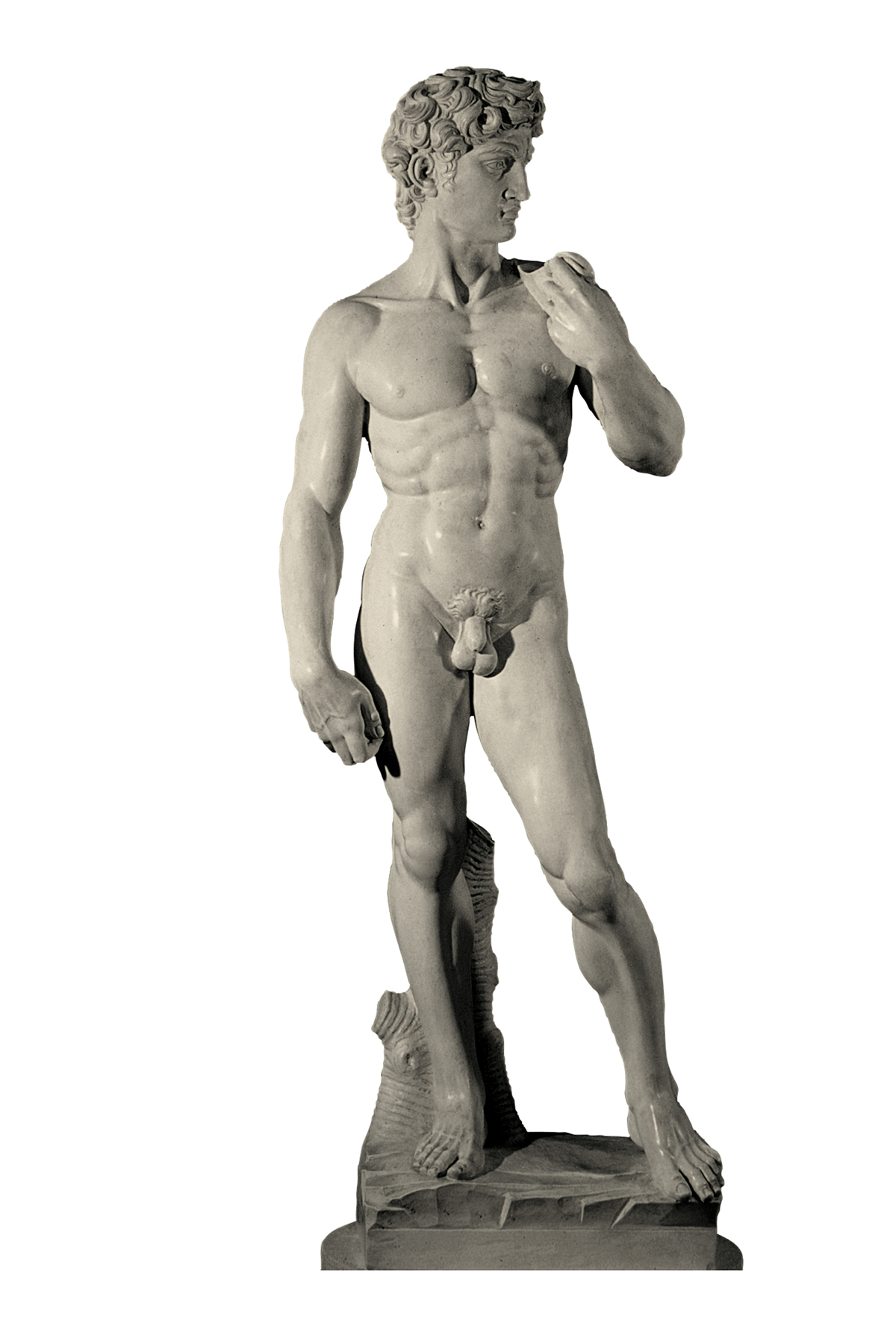 Copy
Dimensions

150 cm high; reduced version with free interpretation

Technique

cast

Material

alabaster plaster

Space
Original
Author

Date

1501- 1504

Period

Dimensions

520 cm high

Material

marble

Location
Photo: Maurizio Bolognini. Museo Tattile Statale Omero Archive.
Description
"And of course those who see this need not care to see other sculptures made in our times, or in other times by any other artist", Giorgio Vasari – Le vite de' più eccellenti architetti, pittori, et scultori italiani, da Cimabue insino a' tempi nostri (1568).
The work to which Vasari refers is Michelangelo's David. The gigantic sculpture (the original is 4.34 metres high), commissioned by the Florentine Republic, was carved between 1501 and 1504, the year it was installed in front of the Palazzo della Signoria in Florence.
The Museo Omero has a reduced copy of the entire statue (150cm high) and a full-sized copy of the head. The sculpture shows David in the moment before he throws the stone that will kill Goliath.
The young man is naked and standing in a Classical Contrapposto (counterpoised) posture. The right, engaged, leg is vertical and supports the weight of the body; the left, free, leg is bent and is stepping forwards. David's left arm is bent, his hand holding the cords of the sling which passes behind his back. His right hand holds the other end which contains a stone.
The head, with its thick wavy hair, is turned to his left, the eyes are open, the gaze fixed and the eyebrows are drawn down, as if studying his opponent before throwing his stone.
David is shown at the moment of maximum concentration before acting and Michelangelo has dedicated a great deal of skill to the details that convey the young man's tension and energy: the swollen veins, the contracted muscles, the frowning eyebrows and the dilated nostrils.
The Biblical hero is only recognizable because of the presence of the sling and the stone; the other usual iconographical details, such as Goliath's head and the sword, are missing.
Furthermore, Michelangelo transformed the Old Testament teenage shepherd into a hero with powerful muscles, a symbol of Wrath, Shrewdness and Courage, the highest Virtues of the recently founded Florentine Republic, following the expulsion of the ruling Medici family.
Above all, however, David celebrates the prime ideal of Humanism, that is the greatness and dignity of man.
This monumental sculpture was carved from a block of statuary marble which had been very roughly-hewn and then abandoned by Agostino di Duccio. No sculptor had dared to put his hand to it for forty years. Michelangelo triumphed in an undertaking that had seemed impossible.