Work: Mechanics
Original sculpture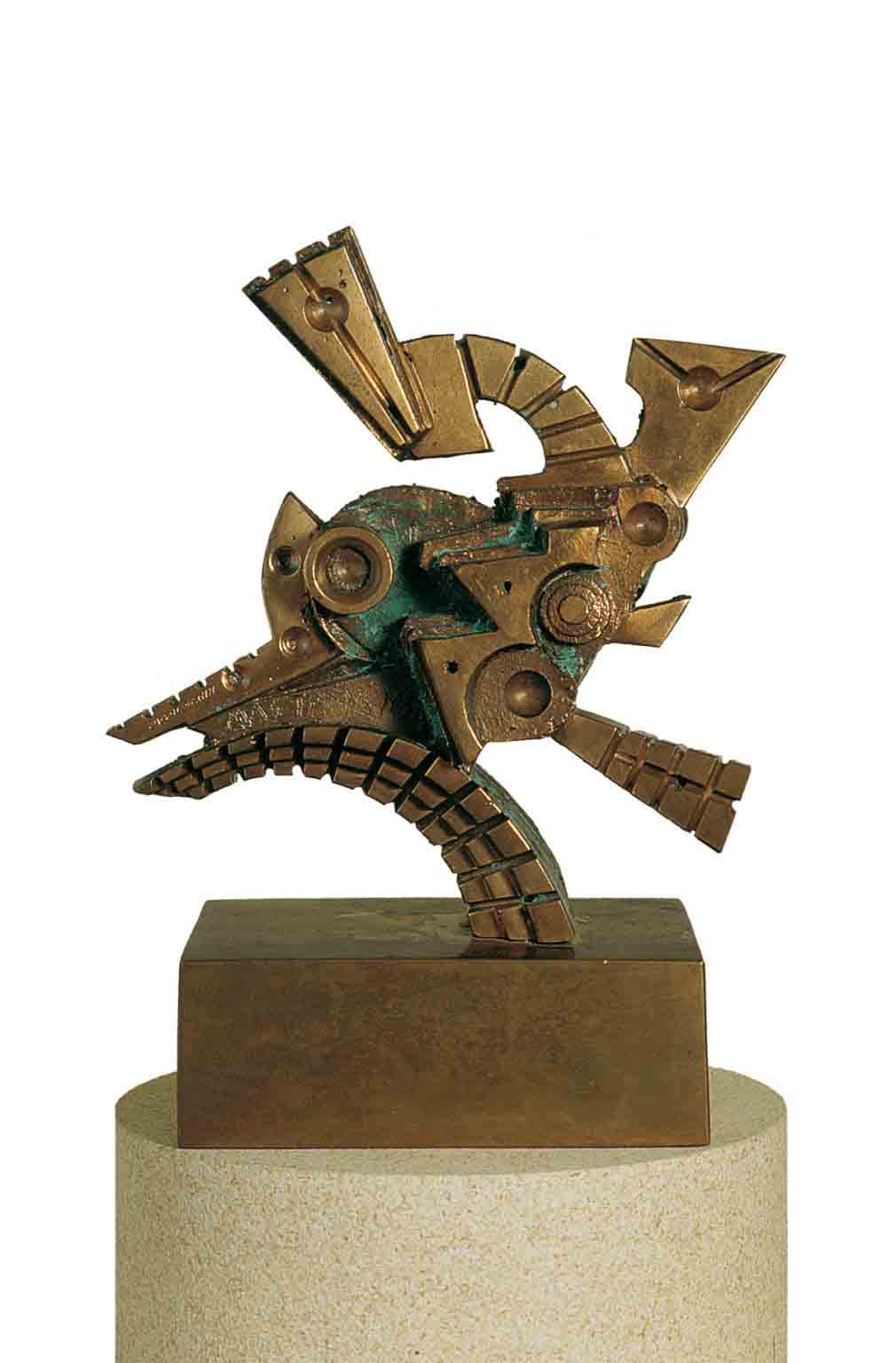 Original
Author

Date

1988

Period

Dimensions

29 cm high

Material

bronze

Location
Photo: Maurizio Bolognini. Museo Tattile Statale Omero Archive.
Description
"I seek the vertebrae the navel
of my sculpture born alive
from my obsession
obsession-nightmare that
exceed gloomy memory
of embalmed sepulchres
such the sculptures appear to me
born dead
tainted by the spell
of deranged memories of
lost time".
"Mechanics" is a in the round, small-sized sculpture made of bronze. Most of its surfaces presents a polished surface, the bronze is waxed and very pleasant to the touch.
From the bronze base, shaped like a low parallelepipped, sprouts a shape similar to a lowered arc, characterized by grooves that cross it; the elements above it are shapes derived by composite geometrical figures: pointy, shooting shapes, that chase cylinders, that get lost inside holes; certain wedge shapes sprout with rythmic cadence. This composition, ruled only by a pure and irrational dynamism, ends with a broken arc, that repeats both in shape and in positioning the starting element from which everything begins: on the extremity of this arc is placed a wedge. These shape make the sculpture associable to a zoomorphic being, a hen, a goose or a bird of prey.
The title, Mechanics, reveals its belonging to the latest sculptoral productions by Umberto Mastroianni: after the sixties/seventies period of violent explosions, of thunderbolt, now it is the time of the Sacred Machine, of Mechanics. Mastroianni focuses his studies on the dynamism of industrial machine, almost always referred to the never forgotten military machine: gears and cogwheel make their appearance, integrated with original, geometrical shapes, created with a playful and ironical intent, that recall fantastic zoomorphic beings. Mastroianni loved playing with titles, with ancient and mythological characters. It was for him a kind of restoration, of return to the origins.