Work: Mary giving birth and Jesus' first bath, a carved panel from the portal of Nonantola Abbey
Copy of sculpture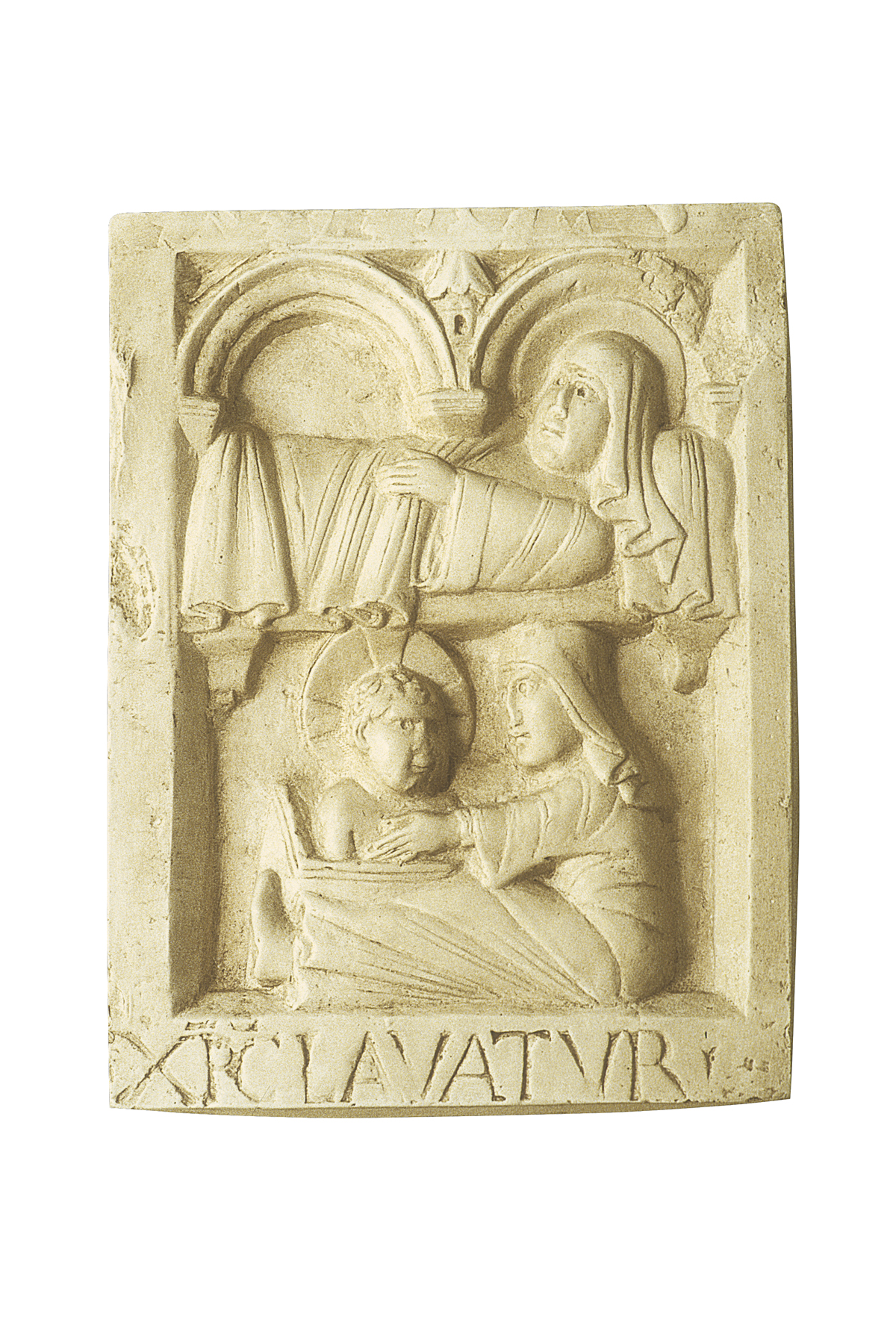 Copy
Dimensions

40,5 cm high, 31,5 cm wide

Technique

cast from the original

Material

alabaster plaster

Space
Original
Author

Date

1002 - 1032

Period

Dimensions

40,5 cm high, 31,5 cm wide

Material

marble

Location
Photo: Maurizio Bolognini. Museo Tattile Statale Omero Archive.
Description
"While they were in Bethlehem, the time came for Mary to give birth, and she gave birth to a son, her firstborn…", Luke 2: 6-7.
Around 1117, Wiligelmo and his pupils worked on the portal of Nonantola Abbey, creating the lunette and probably the two series of carved panels that adorn the doorframe, which were commissioned by Abbot Rodolfo. The Museo Omero has copies from true casts of some of these masterpieces of Romanesque art.
The rectangular panel, about 40 cm high, depicts the Madonna giving birth and the infant Christ's first bath. The scene is surmounted by two round arches and is divided horizontally into two sections. The upper part is occupied by Mary who is lying on a bed, about to give birth to her son. In the lower part, there is a female figure wearing a long robe and a veil. We cannot be certain that it is Mary because she doesn't have a halo as she does in the scene above. Some of the apocryphal gospels mention the presence of a midwife. Sitting on the ground with her legs extended, she appears to be washing Jesus in a square tub. The child has a plump face and looks more like a young man than a newborn baby.
The figures are still rigid and static, but some details are more lively, such as the garments and the baby's curls. Although the episode of the first bath is not reported in the Gospels, it became part of the iconographic tradition. It may have been derived from other sources, such as the Protoevangelium of James.
Further information
The origin of the abbey dates from 752 CE when Aistulf, King of the Lombards, donated some land to his brother-in-law Anselm, saint and founder of the abbey. Named after St. Sylvester, whose relics it houses, it became a Benedictine monastery and a place of hospitality and pilgrimage. This panel is on the left doorjamb, among other episodes from the history of the Abbey.
The panels are of different sizes but are all rectangular. Most of the scenes depicted are surmounted by two round arches and are vertically oriented. There are two sequences, with the earliest episodes at the bottom. The series on the right doorjamb shows stories from the childhood of Jesus, while the panels on the left illustrate episodes from the history of Nonantola Abbey, with particular reference to the figures of St. Anselm, St. Sylvester and St. Adrian.