Work: Liberty, monument to Giuseppe Meloni
Copy of sculpture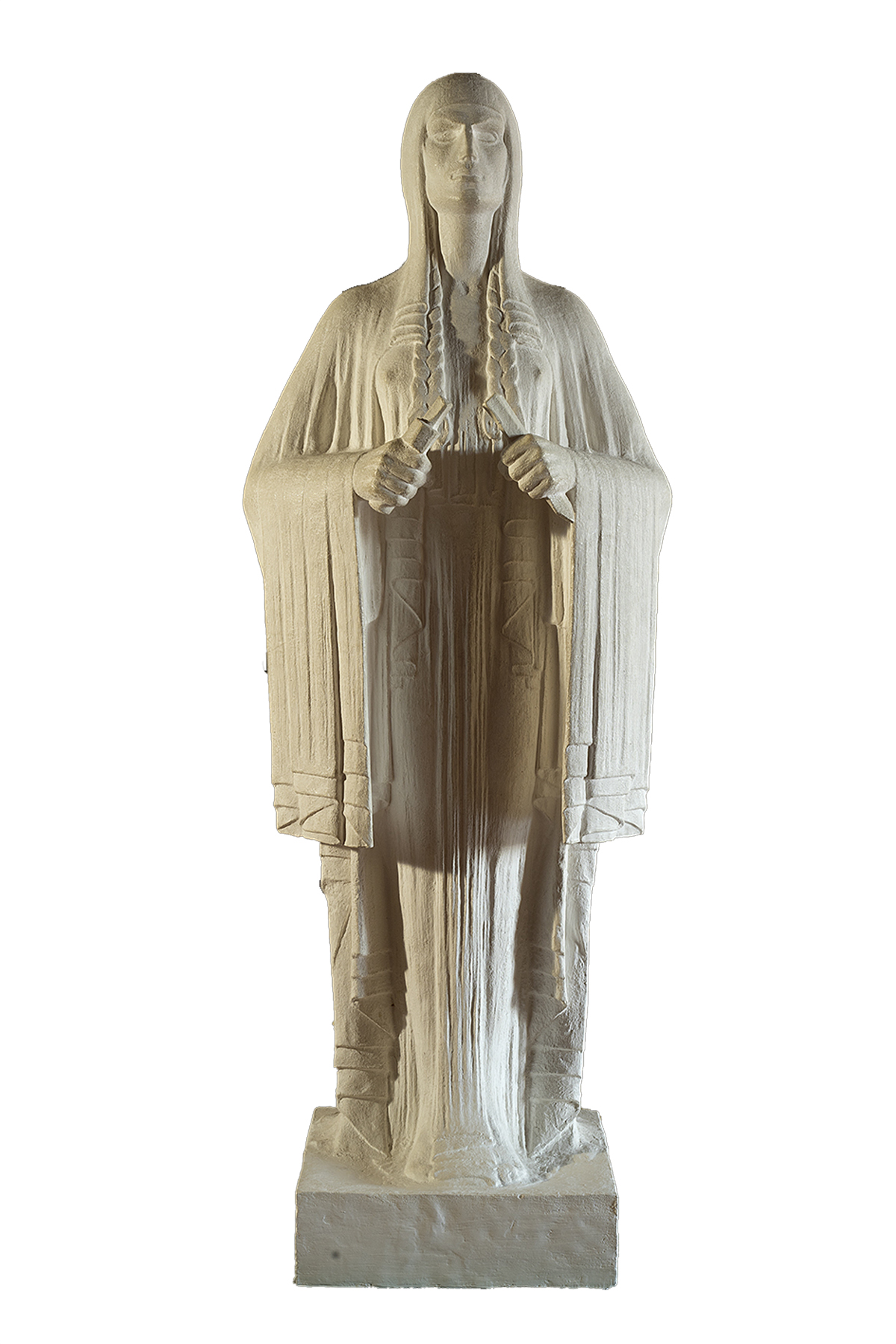 Copy
Dimensions

180 cm high

Technique

cast from the original

Material

plaster

Space
Original
Author

Date

1921

Period

Dimensions

180 cm high

Material

Conero limestone

Location

Civic Cemetery, Ancona
Foto: Maurizio Bolognini. Proprietà: Archivio Museo Tattile Statale Omero.
Description
"Oh Men for my shattered youth, break your swords, banish hatred from your souls, let only work and justice reign amongst you and let future youth flourish in love and peace."
This sentence is carved on the tombstone of Giuseppe Meloni, a young Republican railway worker who was treacherously stabbed in the back by a Royal Guard in Ancona in 1921. The funeral was impressive and the whole city took part in silence. Galileo Emendabili, commissioned to create the funeral monument for the Tavernelle cemetery, carved "Liberty" from local Conero limestone. At the Museo Omero, we have a plaster copy from a true cast.
The statue is 180cm high and stands on a 20cm-high rectangular base. It depicts a female human figure, rigid and frontal, who has just broken a dagger.
Her head is partly covered by a veil, from which emerge two long plaits reaching to her chest. Her facial features, and her entire pose, are characterized by severity. The jaw line is square, the nose strong and straight, the eye-sockets oval and the eyes without pupils, the eyebrows arched, the mouth fleshy, but tight.
A long flowing robe covers the entire figure down to her feet. Its dense linear folds, thin and parallel, have a decorative function and are clearly perceptible to the touch. Her arms, completely covered by the robe, are bent outwards and her hands, at chest height, grasp the halves of a dagger, which she has just snapped.
This gesture is the symbolic key of the work: the woman, an allegory of Liberty, in a severe and indignant gesture, breaks a dagger, a symbol of violence. The statue is also 'severe' to the touch as the surface is rather rough.
The work is permeated by a strong decorative linearism, typical of Art Deco, but strength and resolution characterize the formal and compositional structure. This work manifestly embodies Emendabili's passion for form and its structure, and his even greater interest in architectural construction, in his view "the handmaid of the fine arts".