Work: Juggler
Original sculpture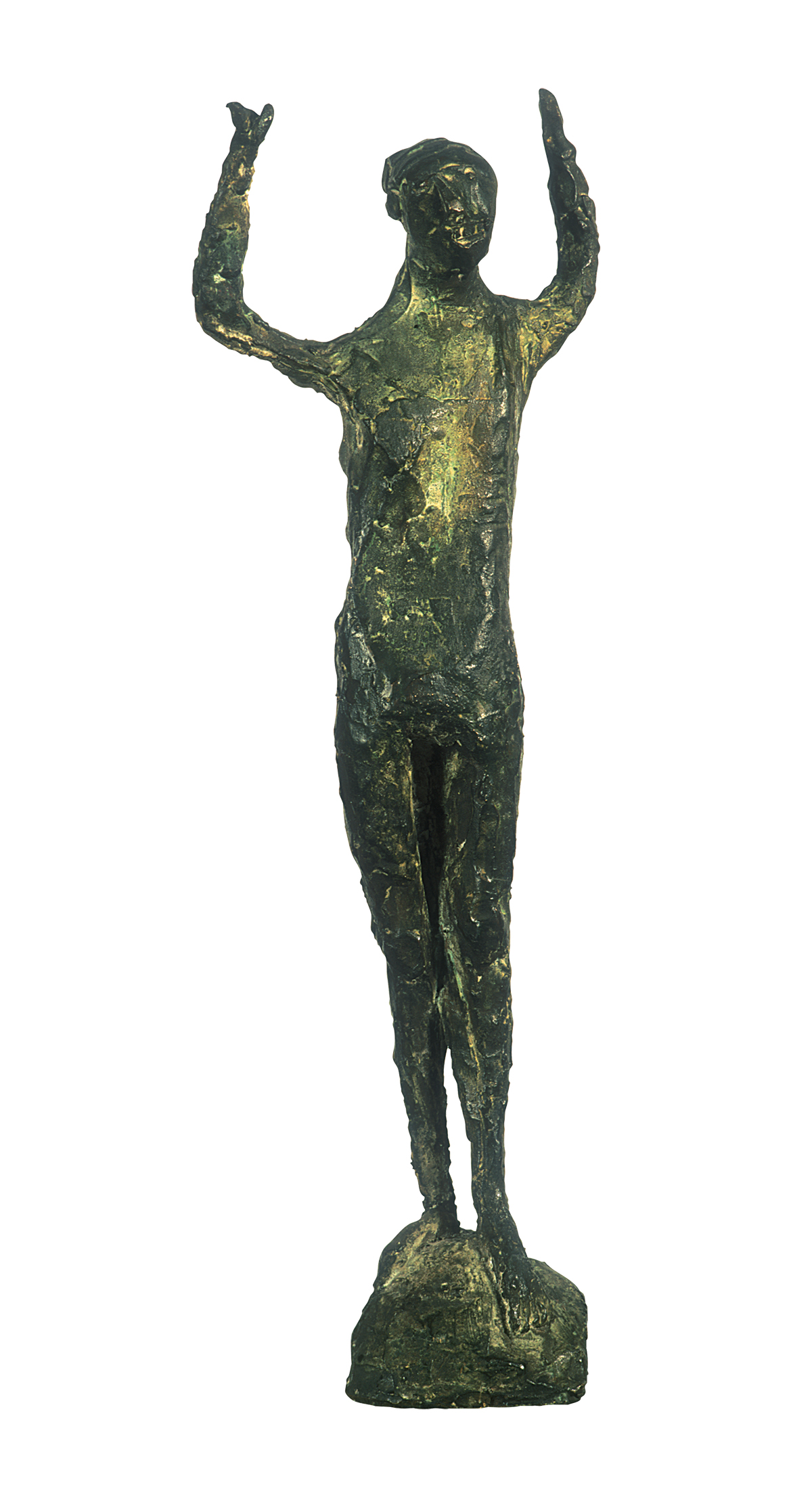 Original
Author

Date

1953

Period

Dimensions

45,5 cm high, 14,5 cm wide, 6 cm deep

Material

bronze

Location
Description
"(…) I, born serene, into a calm atmosphere, with a solid up-bringing and, from the aesthetic point of view, a perfect education, came into the agitated world of the twentieth-century and, through these agitations, I changed the form, the expression of my sculpture…". Marino Marini
"Giocoliere" is a bronze sculpture, modelled by Marino Marini in 1953. It shows a man standing with his legs together, arms raised above his head, as if about to begin his performance. His shapes are lightly sketched, the various anatomical parts irregular; his face barely outlined. From the tactile point of view, the surfaces of the entire work present irregularities and asperities yet the flowing forms make the tactile experience pleasing.
Marino Marini is one of the most influential artists in the cultural and artistic landscape of twentieth-century Italy. During the 1930s and 40s he worked on achieving "pure" shapes, returning to and reinterpreting the Etruscan and Medieval traditions in a contemporary key.
In the late 1940s, following the ruinous epilogue of the Second World War, the way he expresses his favourite themes changes: Marini accentuates the dynamic tension of his artwork, creating deformed shapes and coarse, gaunt surfaces.
Jugglers and dancers are given lengthened, violently expressive limbs, accentuated by traces of colour that sometimes make them disturbing. This juggler with his sketched, rugged shapes and his deformed anatomy evokes bodies torn apart by bombs and corroded by fire. The theme of the circus as a metaphor for life is dear to Marini. Each figure is a memory of the past, of a moment from a certain period of his life.
Image Museo Omero photo archive