Work: Head of the Farnese Heracles
Copy of sculpture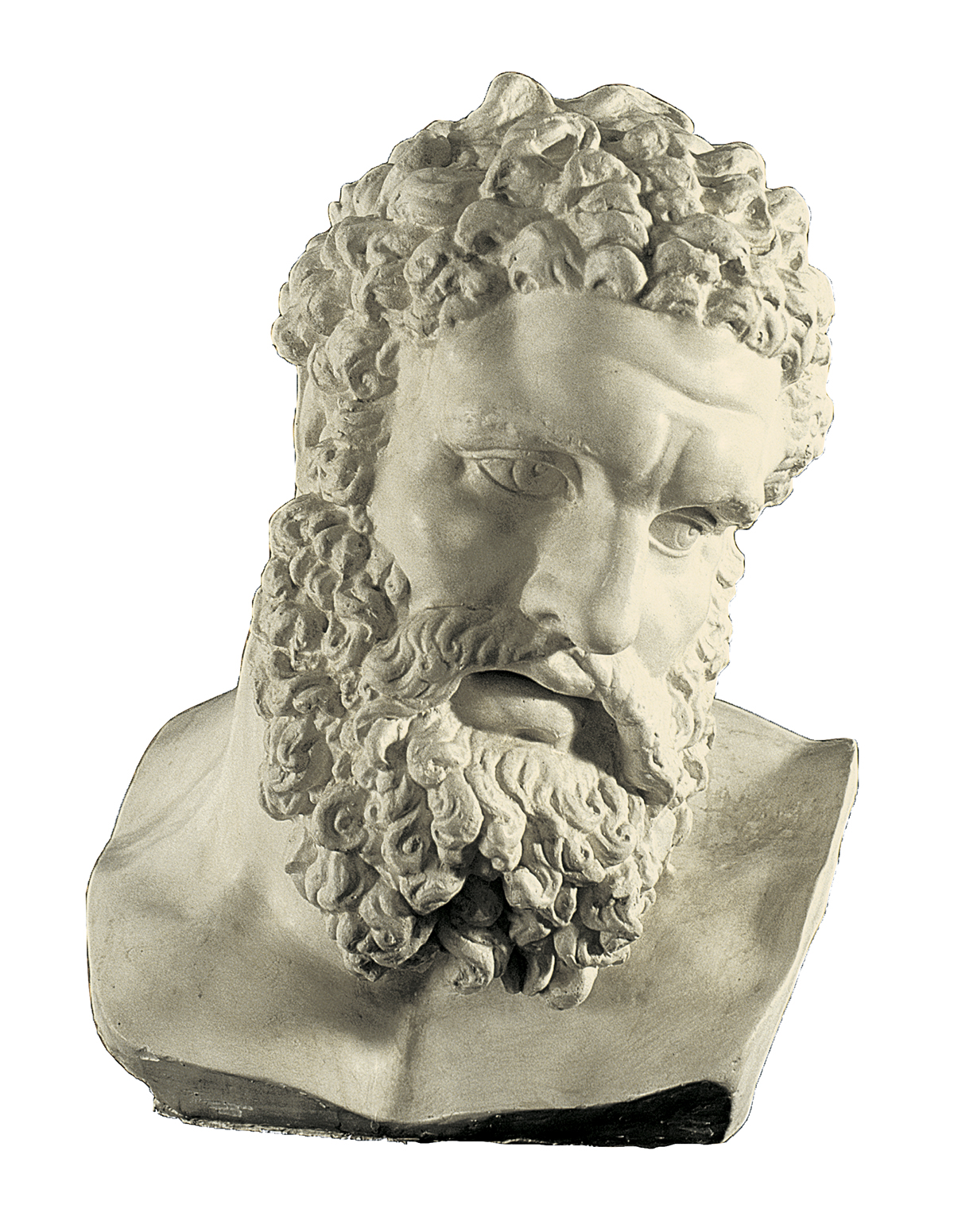 Copy
Dimensions

64 cm high, 48 cm wide, 34 cm deep (detail)

Technique

cast from the original

Material

alabaster plaster

Space
Original
Date

IV century BC; Roman copy III century AC

Period

Dimensions

370 cm high

Material

marble

Location
Photo: Maurizio Bolognini. Museo Tattile Statale Omero Archive.
Description
"Hercules is definitively deified: he accomplished the labours which opened the way to Olympus and freed him from every earthly need", J. J. Winkelmann.
The head of the Farnese Hercules, about which Winkelmann wrote the above words, opens the museum's "Human Facial Expression" section. The original marble sculpture seems to be a Roman reinterpretation of a bronze attributed to Lysippos, now lost. The surviving reinterpretation was made in the early 3rd century CE, during the reign of the Severan dynasty, and is signed by the Greek sculptor Glykon.
The entire sculpture depicts Hercules leaning on his club, which is draped with the skin of the Nemean lion, and holding three golden apples. His thick, curly hair and beard adorn his head which is tilted to the left. The face has a vaguely pensive expression with open eyes that seem to be staring into space. The forehead is slightly wrinkled and the cheeks and lips are fleshy. Hercules is usually depicted engrossed in action, but here he has a thoughtful almost melancholic attitude: this might be explained by the possible (but not documented) presence of his son Telephus at the base of Lysippos' sculpture.
From an iconographical point of view, the apples held in his right hand would suggest that the Hero is resting after his eleventh Labour, in the Garden of the Hesperides. This mythological character, symbol of strength and human will power, has been repeatedly depicted throughout the history of art and is usually portrayed wearing the lion's pelt and with the club in his hand; Michelangelo himself produced a huge sculpture of Hercules, but it has unfortunately been lost.