Work: Head of an Etruscan Warrior
Copy of sculpture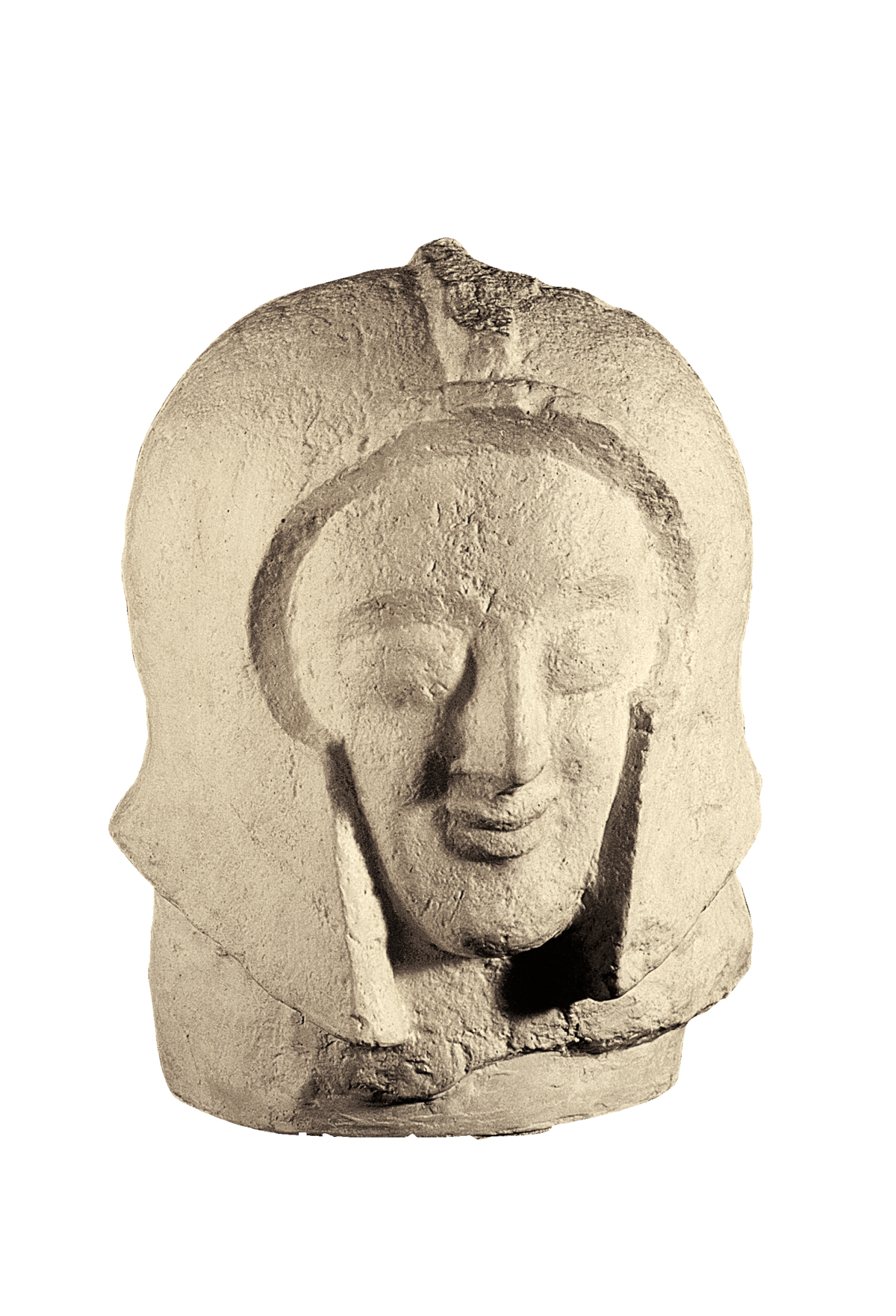 Copy
Dimensions

42 cm high, 30 cm wide, 37 cm deep

Technique

cast from the original

Material

alabaster plaster

Space

Travelling

This work is part of our travelling collection.
Original
Date

550 - 525 BC

Period

Dimensions

42 cm high, 30 cm wide, 37 cm deep

Material

stone

Location
Photo: Maurizio Bolognini. Museo Tattile Statale Omero Archive.
Description
"The Etruscans were not destroyed, but were stripped of their essence… The learning of the Etruscans became mere superstition and the Etruscan princes became fat, inert Romans", David Herbert Richards Lawrence "Etruscan Places".
The Head of an Etruscan warrior is a sculpture in Umbrian stone from Orvieto, dating from between 550 and 525 BCE. A cast from a true copy, made of alabaster plaster, is on display at the Museo Omero.
The imposing sculpture depicts a warrior's head. It was probably part of a funerary memorial dedicated to a soldier of Etruscan origin.
The head is enclosed by a battle helmet that probably had a crest, now broken. The element which suggests its cultural origin is the face: the features are markedly stylized, most notably the large, protruding, almond-shaped eyes, the thin lips arched in a sharp smile, the pointed nose and chin.
These facial features recall the figurative models typical of the "Etruscan-Archaic" period (from 550 to 450 BCE approximately), which was characterized by the first appearance of large stone sculptures.
The sculpture celebrated the soul of a deceased warrior: the funerary art produced by Etruscans, especially in this Archaic period, aimed to honour the deceased person with joyful images of life that exorcized the fear of death.
The material used by the sculptor is a kind of stone from Umbria; its roughness to the touch is a characteristic produced by atmospheric agents. The Etruscan sculptors used terracotta as well as various kinds of stone such as nenfro, tuff and sandstone, which they also used to build temples and sculptural groups for the pediments: the artworks were subsequently painted with very bright colours.