Work: Free Dialogue
Original sculpture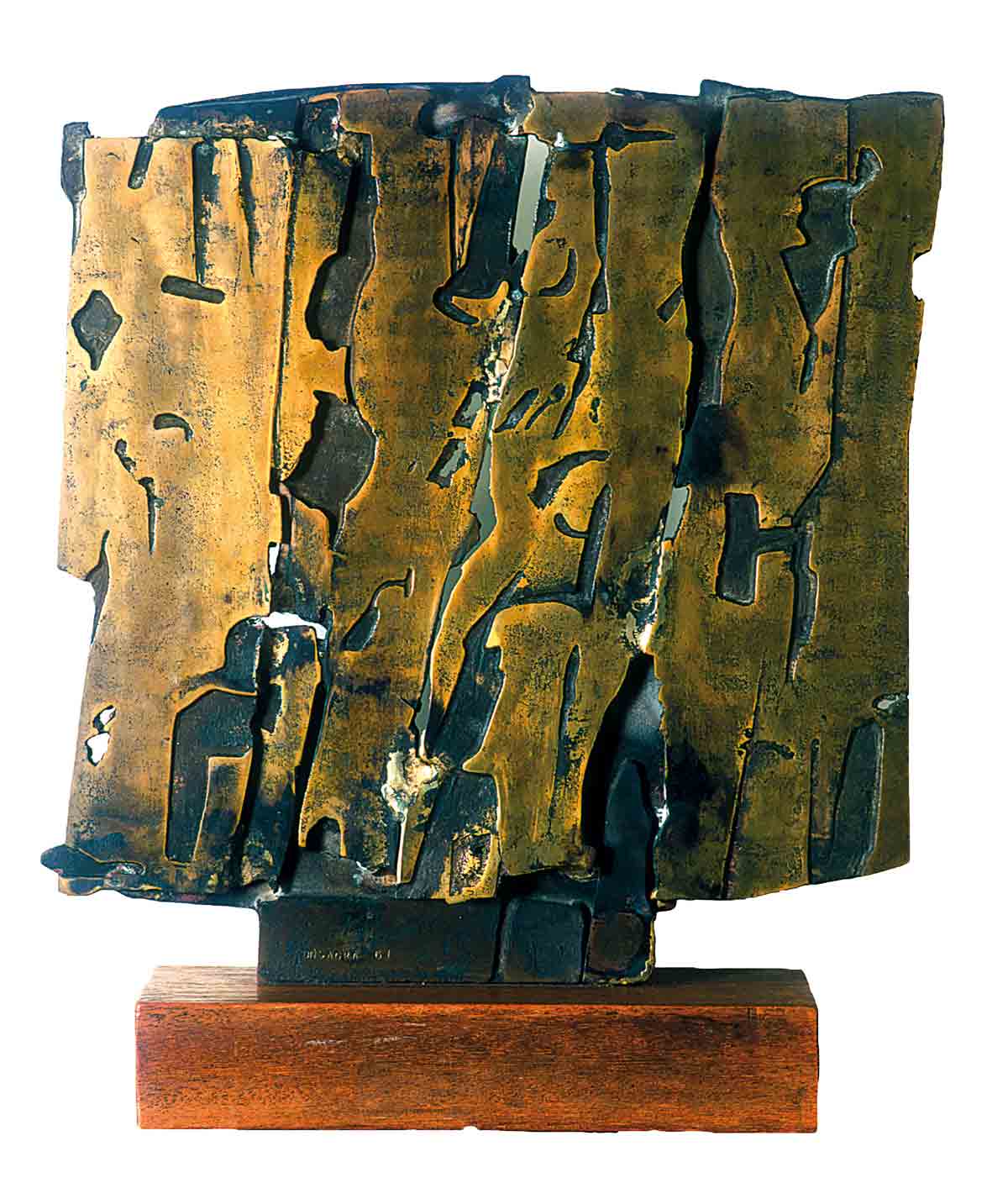 Original
Author

Date

1961

Period

Dimensions

34,5 cm high, 35,5 cm wide

Material

bronze

Location
Photo: Maurizio Bolognini. Museo Tattile Statale Omero Archive.
Description
"All that was fantastical in our century did not come from realism. Only military armament was realistic in the world…. A weapon against war came only from the fantastical",  "Vita mia" by Pietro Consagra.
"Colloquio libero" is a small, four-sided, abstract sculpture in polished bronze. It is an example of the kind of work that Consagra was creating in the period from 1952 to 1963. It is probably a maquette for the larger-scale sculpture of the same name housed at the National Gallery of Modern Art in Rome, which he made in 1963.
The work is almost square (with sides of about 35cm) with a strong tendency towards the two-dimensional, skilfully tempered by the use of overlapping surfaces, like the wings on a theatre stage, which increase the visual sensation of depth. Rotating the sculpture shows how thin it actually is compared to the wide front surface.
Perceived from the front, the continuous overlapping of polished surfaces with others that are furrowed and eroded, enliven and animate the work. The material modulates from perfectly smooth, to rough, to shiny, to opaque, making the sculpture more interesting to both touch and sight.
This statue is a typical example of Consagra's work on exploring the concept of two-dimensionality, about which he will later write in his controversial text on town planning, "La Città Frontale", published in 1969.
The dialogue that can be established with this and other works by Consagra is an unusual one, in that it is a dialogue that is held with a work which strives to deprive itself of its most traditional element, three-dimensionality, As the artist himself writes: "three-dimensional sculpture requires an ideal centre on which it should be placed… what I did was to take the sculpture away from the ideal centre and place it in a different, frontal, position. The sculpture could only be viewed from the front so there was no longer any need to go around it".