Work: For my friend Paccagnini
Original sculpture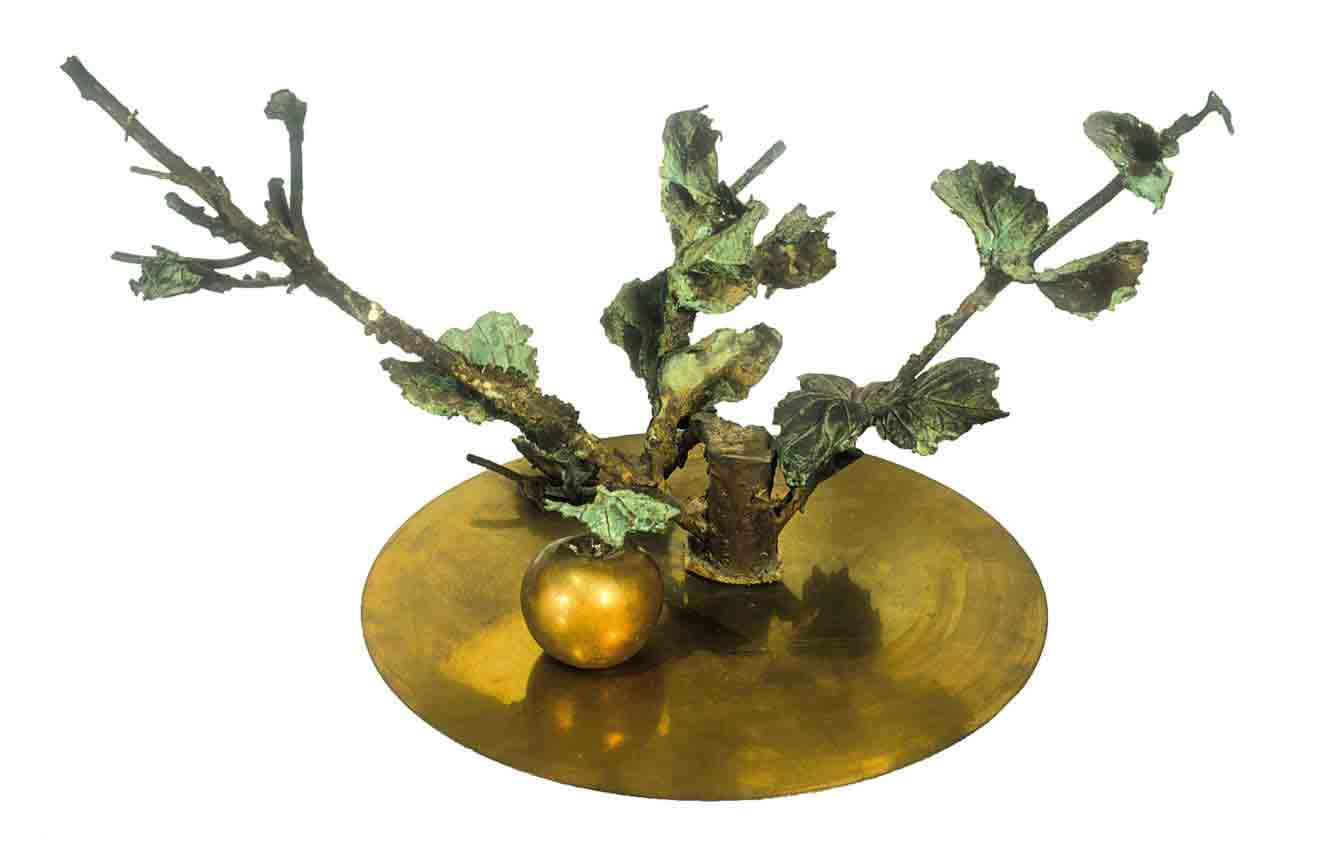 Original
Author

Date

1993

Period

Dimensions

78 cm wide, 40 cm high, 40 cm deep

Material

bronze, brass

Location
Photo: Maurizio Bolognini. Museo Tattile Statale Omero Archive.
Description
"No artist, in 20th century sculpture, has sculpted the world of vegetation and, to be more precise, the green universe of leaves, fruits, bushes, shrubs, trees, like Alik Cavaliere", Elena Pontiggia.
This work, a small sculpture in bronze and brass, 40 cm high, was created by Alik Cavaliere in 1993. A smooth polished brass disc supports, and is an integral part of, the work. At its centre stands the top of a small bronze tree trunk. Three branches with twigs and green patinated leaves spread out into the surrounding space. On the base, near the trunk, sits a smooth, round, gilded apple, with a stalk and a leaf, which seems to have just been picked.
To the touch, the beauty of the work lies in the contrast between the natural roughness of the branches, with their jagged irregularities, and the uniform silkiness of the apple's rounded surface. The work was created using the ancient lost-wax casting technique. It is realistic and yet it seems to belong just as much to a fantastical elsewhere.
The theme of Nature is strong and alive in the artist – nature as an endless cycle of birth and death, as mystery and infinite; immensity is contained in small things, like a fruit that comes from a tree. Cavaliere recounts a living Nature, which blooms, which produces, but which is also an artificial Nature, deprived of its origin and function, transformed, elevated to a work of art, made eternal.
Reflection on the relationship between Man and Nature is at the centre of Alik Cavaliere's work. An original and eclectic artist, he cannot be ascribed to any artistic movement. He uses various techniques, giving life to a multifaceted artistic production. Always looking for new forms of expressiveness, he uses many different materials, chosen for their tactile qualities and for his narrative requirements: wood, bronze, cement, stone, ceramics, plastic, glass, water and many others.
"It is curiosity that drives us far ahead, that broadens our physical and mental horizons and makes us lose our way, in every moment, along the tortuous path of research", Alik Cavaliere.