Work: Florence Cathedral, volumetric model
Architectural model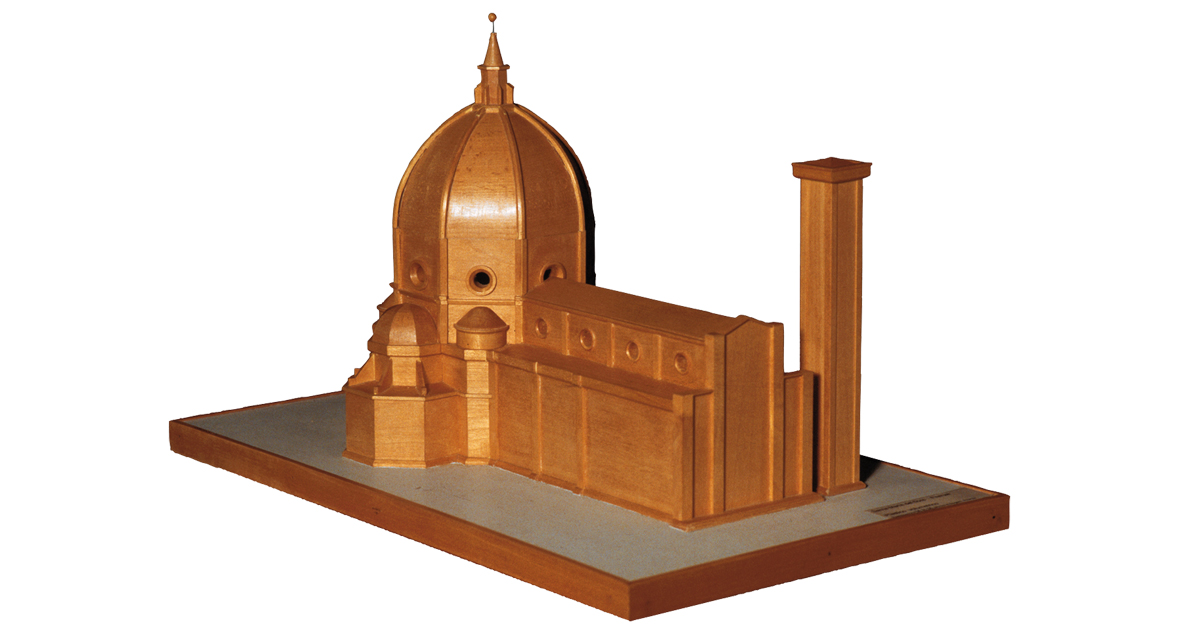 Architectural model
Dimensions

28 cm high, 38 cm long

Technique

assembly

Material

wood

Space
Original
Author

Date

1296 - 1436

Period

Dimensions

153 m long, 38 m wide

Location
Foto: Maurizio Bolognini. Proprietà: Archivio Museo Tattile Statale Omero.
Description
"Nor in Christianity is found a more ornate modern building than that, with its many statues and the facade and bell tower made by excellent masters", Giorgio Vasari.
Our volumetric model, 28cm high and 38cm long, is a simplified reproduction, in wood, of the Basilica of Santa Maria del Fiore in Florence. As all of the details and decorative elements have been omitted, the visitor can explore the overall structure and general volumes of the building by touch, and so gain an understanding of the form as a whole.
The façade is divided vertically into three sections with different heights, reflecting the internal layout of the nave and two aisles. The central section, topped by a pitched roof, has a greater vertical momentum than the two lateral ones which have flat tops. Beside the facade, separate from the main body of the Church, stands Giotto's majestic bell tower, a tall square compact structure.
If you continue your tactile exploration along the nave and aisles, you will arrive at Filippo Brunelleschi's celebrated masterpiece, the enormous dome which stands on an octagonal drum decorated with round windows. Enormous ribs divide the dome into eight segments, called vele (sails) in Italian. At the very top stands the lantern with its conical roof surmounted by a sphere. Three large apses, also crowned with domes, make up the other three arms of the cruciform church.
The construction of the Basilica of Santa Maria del Fiore, which was designed by Arnolfo di Cambio, began in 1294. It was built over the remains of an earlier Christian basilica, dedicated to Saint Reparata, which was in ruins and not large enough to accommodate the population. After the death of Arnolfo di Cambio in 1302, several artists and architects worked on the building until its completion in 1471, the year the lantern was erected.
However, its current appearance only dates from the 19th century, when Emilio De Fabbris and his assistants made the facade (1871 – 1884) in a revival of the 14th-century Florentine decorative style.
The decision to dedicate the basilica to Santa Maria del Fiore was taken in 1412, when it was still under construction. The flower is a symbol of the incarnation of Christ and also refers to the lily, the emblem of Florence.
The Duomo of the city, Santa Maria del Fiore is one of the largest churches in Italy, a masterpiece of the Italian Gothic style and symbol of the old city of Florence which became a UNESCO World Heritage Site in 1982.