Work: Flight into Egypt
Original sculpture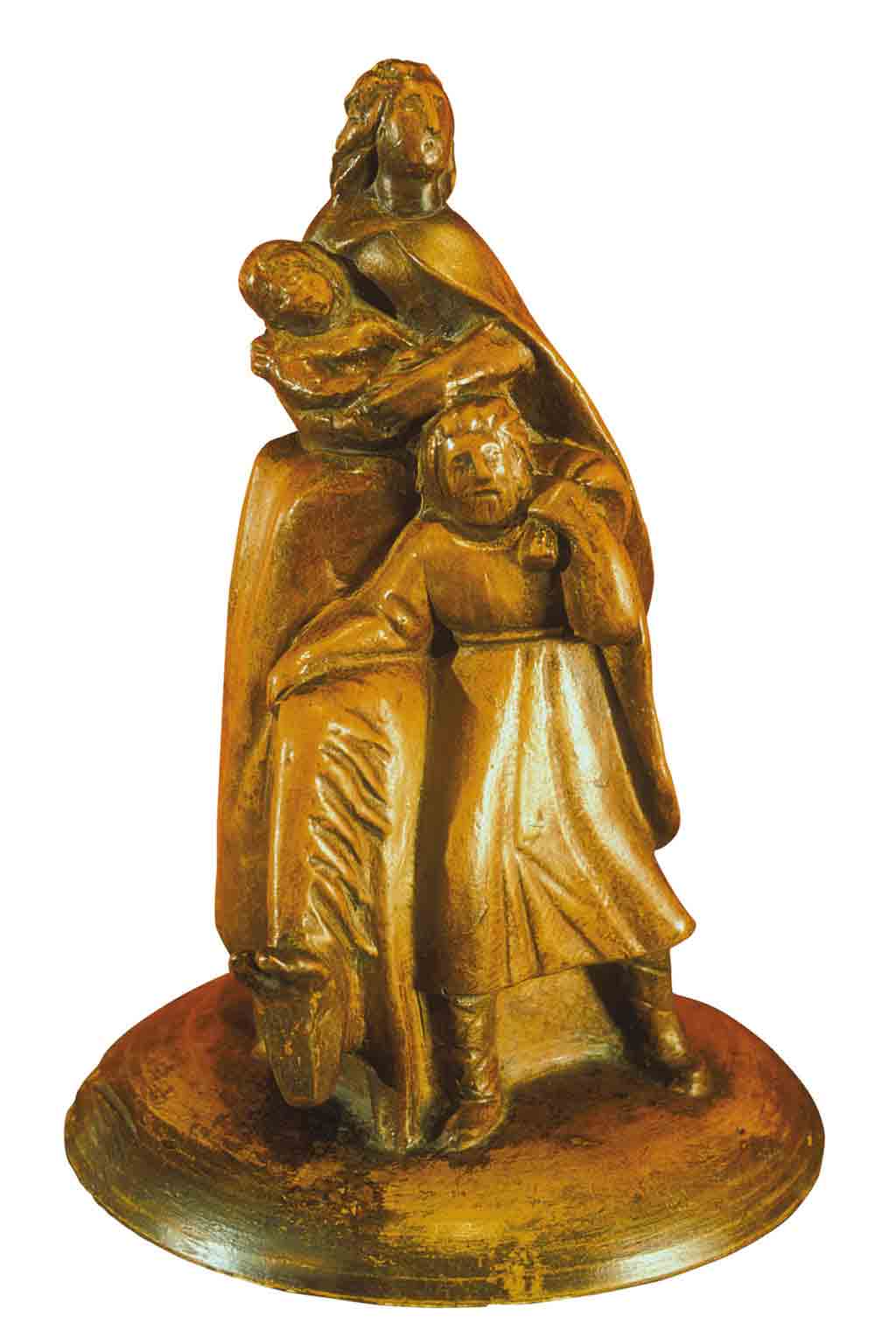 Original
Author

Date

1927

Period

Dimensions

27 cm high, 18 cm wide, 15 cm deep

Material

terra-cotta

Location
Photo: Maurizio Bolognini. Museo Tattile Statale Omero Archive.
Description
"When addressing a religious theme, the artists themselves become characters in the sacred drama, they tell their own story", Arturo Martini.
Fuga in Egitto (Flight into Egypt) is a small sculpture, 27 cm high. Made in terracotta by Arturo Martini in 1927, it is now on display at the Museo Omero.
The group represents the Holy Family. The composition, in its entirety, has the form of a pyramid with the head of Mary at the apex. She sits on a donkey, holding the baby Jesus in her arms. St. Joseph walks beside the animal with his right hand resting on its neck. His left hand holds a small bundle that he is carrying on his shoulder. The group stands on a base shaped like an inverted shallow bowl. Both Joseph and Mary wear simple tunics and cloaks. Joseph looks ahead and appears to address the viewer, while Mary turns her gaze to the sky. The donkey appears to be grazing and only its lowered neck and muzzle can be seen as the rest of its body is hidden by Mary's long cloak.
The terracotta is smooth to the touch, the shapes are simple and essential and the physiognomic features are sketched in.
Among the most representative of Italian 20th century sculptors, Arturo Martini drew inspiration from ancient art and in particular from the Etruscan world, but never in a sterile way. He frequently used materials such as terracotta, which are "poor" but tied to tradition, bringing forth figures which are archaic in their essentiality. Marini's terracottas are often large sculptures but this time, he has chosen a small format, creating an intimate work, where the emphasis is on the bond that unites the figures which have been modelled into a single block of clay and are immersed in an aura of magical enchantment.