Work: Dying Slave
Copy of sculpture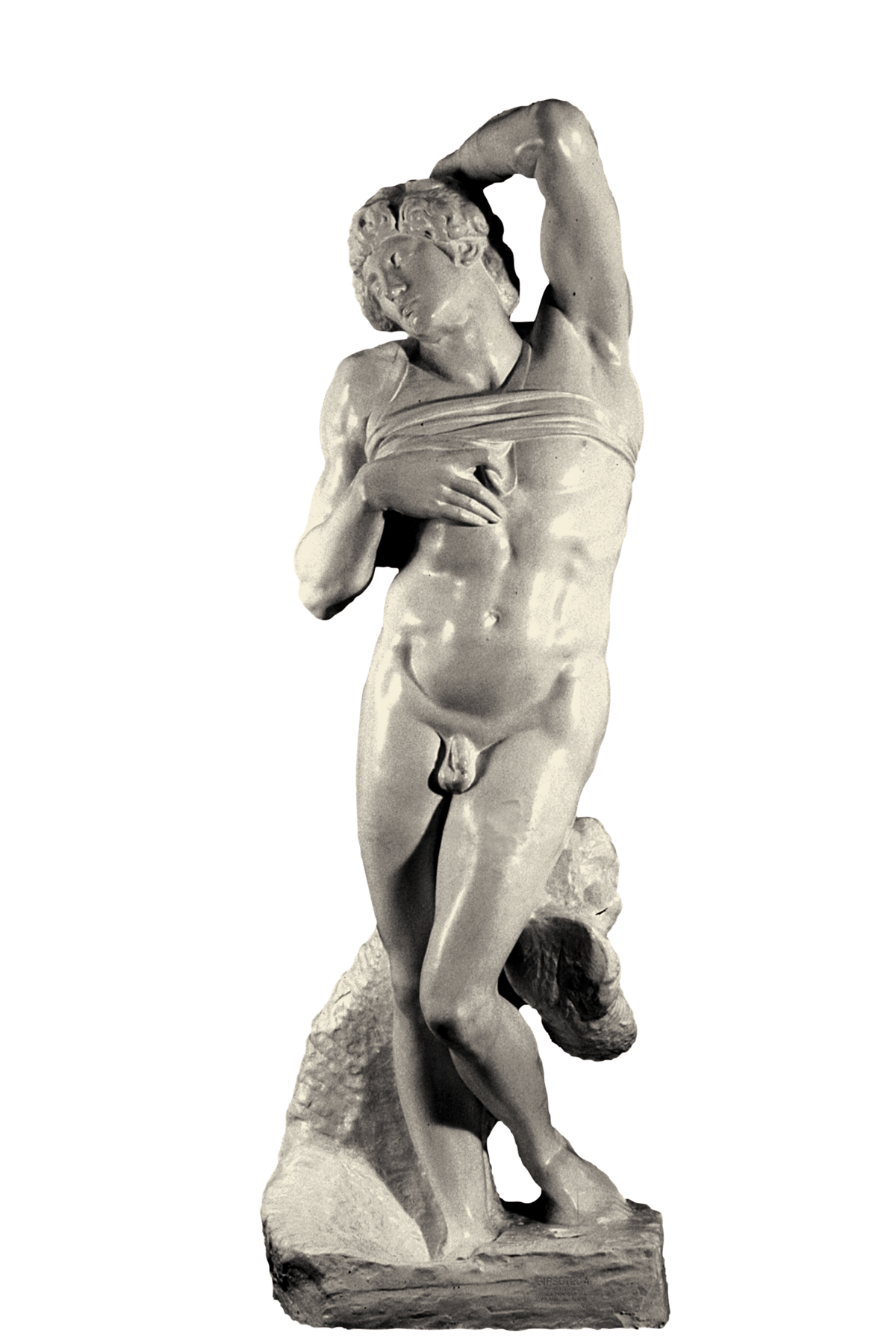 Copy
Dimensions

229 cm high

Technique

cast from the original

Material

alabaster plaster

Space
Original
Author

Date

1513 about

Period

Dimensions

229 cm high

Material

marble

Location
Photo: Maurizio Bolognini. Museo Tattile Statale Omero Archive.
Description
"I understand sculpture as that which is made by removing: that which is made by way of placing is similar to painting", Michelangelo Buonarroti, letter to Benedetto Varchi.
The sculpture of the Dying Slave, about 230cm high, was carved from marble by Michelangelo in 1513. The original is in the Louvre Museum in Paris while the Museo Omero has a copy in alabaster plaster from a true cast.
The "Dying Slave" depicts a full-length, standing, young male nude, of extraordinary beauty. The smooth harmonious body is shown in a sinuous pose, at the moment when, as if in a deep sleep, he is taken by death, putting an end to his struggle for existence.
His right hand, lying on his chest, had been trying to break the bonds of his captivity, while his left is placed at the top of his head which is tilted towards his right shoulder. His right leg is taut, his left relaxed with the heel raised – a position that tilts the pelvis to his left.
Michelangelo sketched a baboon on the marble prop, behind the slave's right leg, which supports the weight of the sculpture.
In this nude body, stillness and movement are counterpointed in an interplay of lines through which the human form emerges from the inert block of marble. The anatomical forms are depicted and carved in great detail. His face has perfect features framed by a cascade of wavy hair. His eyes are closed and his whole countenance conveys the moment when he abandons his earthly life.
Michelangelo completed the front part of the body but left the entire back in a rough state, with the surface still bearing the impressions of the hammers, rasps, and various types of chisel he used. This makes for an interesting tactile experience.
This work was designed to decorate the funeral monument of Pope Julius II who, in 1505, commissioned Michelangelo to create the entire tomb.
The original design for the sculptural complex was never completed. Michelangelo donated the Dying Slave and the Rebellious Slave to a Florentine, Roberto Strozzi, in gratitude for the generous hospitality he received in Strozzi's Roman home during his illnesses of 1544 and 1546. Strozzi, in turn, gave them to the king of France as a tribute.
Diverse interpretations have been given to this Prigione, as the slaves sculpted by Buonarroti were also known. While Vasari interprets them as personifications of the provinces controlled by Julius II, Condivi (Michelangelo's biographer) identifies the Slaves with the arts, which were mortified after the pontiff's death.