Work: De-sign
Original sculpture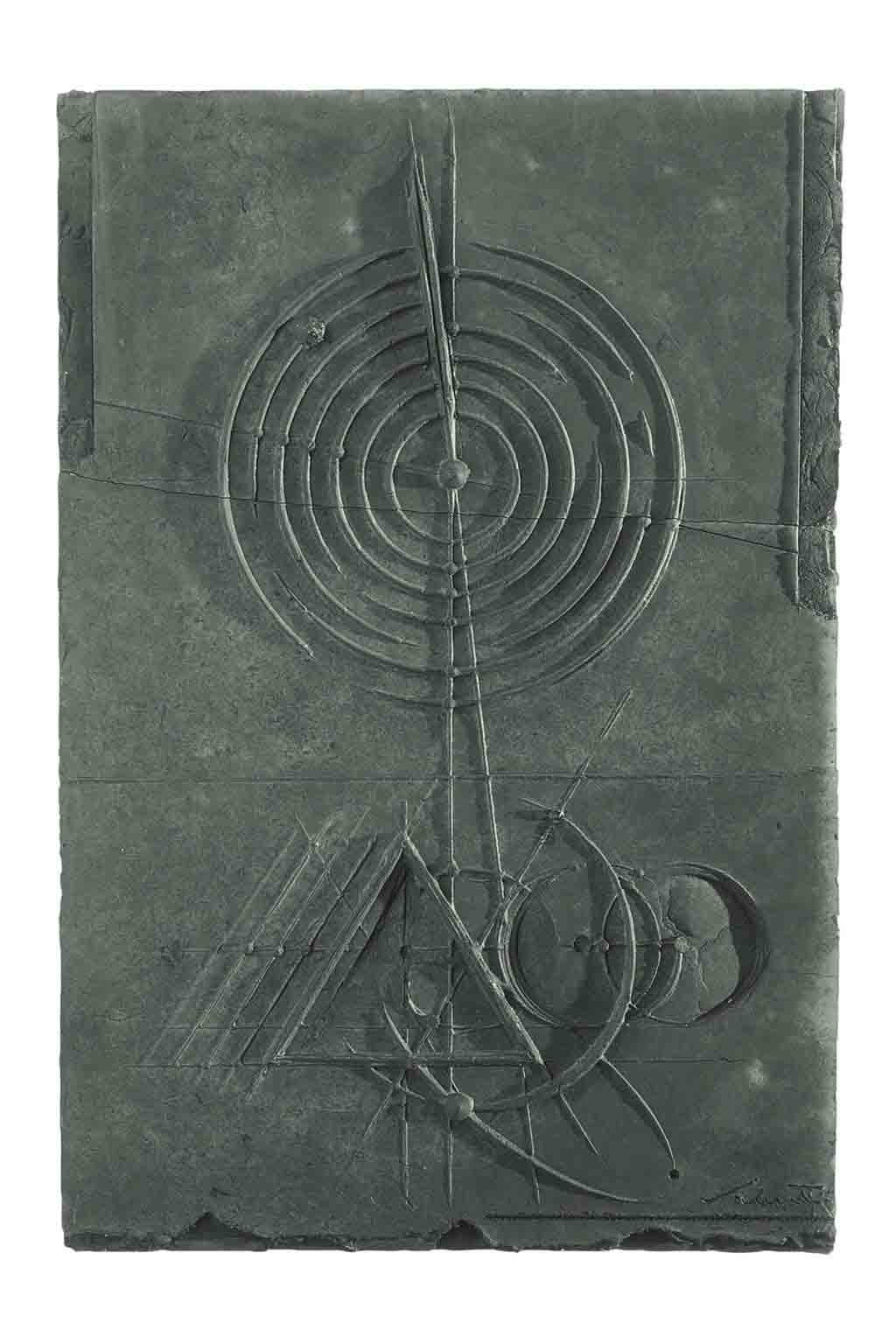 Original
Author

Date

2011

Period

Dimensions

58 cm high, 39 cm wide

Material

terra-cotta

Location
Photo: Maurizio Bolognini. Museo Tattile Statale Omero Archive.
Description
"The map of your infinity / Offers the reclusive gaze / The grace of a pure sign / No wall is leaped / No eternity is grazed / Without a seed of light!", Eugenio de' Signoribus for the sculptor Walter Valentini.
"Di-segno" is a bas-relief modelled in clay and subsequently fired using a special technique that involves the application of a patina which gives the sculpture its characteristic grey colour. The artist donated this work and another called "Surface" to the Museo Omero for the fourth Arteinsieme Biennale in 2011, where he was the featured artist.
The rectangular slab (39 x 58 cm) is divided into two orders by a thin line. In the upper space there is a series of concentric circles, which appear to expand like waves from a small hemispherical shape that alludes to the propagating centre. In the lower part there is an almost central, strongly projecting triangle, whose movement towards the right is suggested by the syncopated repetition of its side. Its left side, on the other hand, crosses the centre of a small circle, whose shape is taken up by other circles of the same diameter, but with different degrees of relief. A long elliptical shape and a semi-circular one intersect with all the elements.
This composition of geometric elements could allude to a state of "orderly" chaos but, if we look carefully, we could be looking a kind of chart of the movements of unknown planets, in an open space such as the universe.
The artist has always been close to the orbit of abstraction, with works characterized by a marked sense of geometry and proportion. His work shows the influence of the Russian avant-garde, Metaphysical painting and his study of the harmony of proportion applied in fifteenth-century perspective.