Work: Dancer
Original sculpture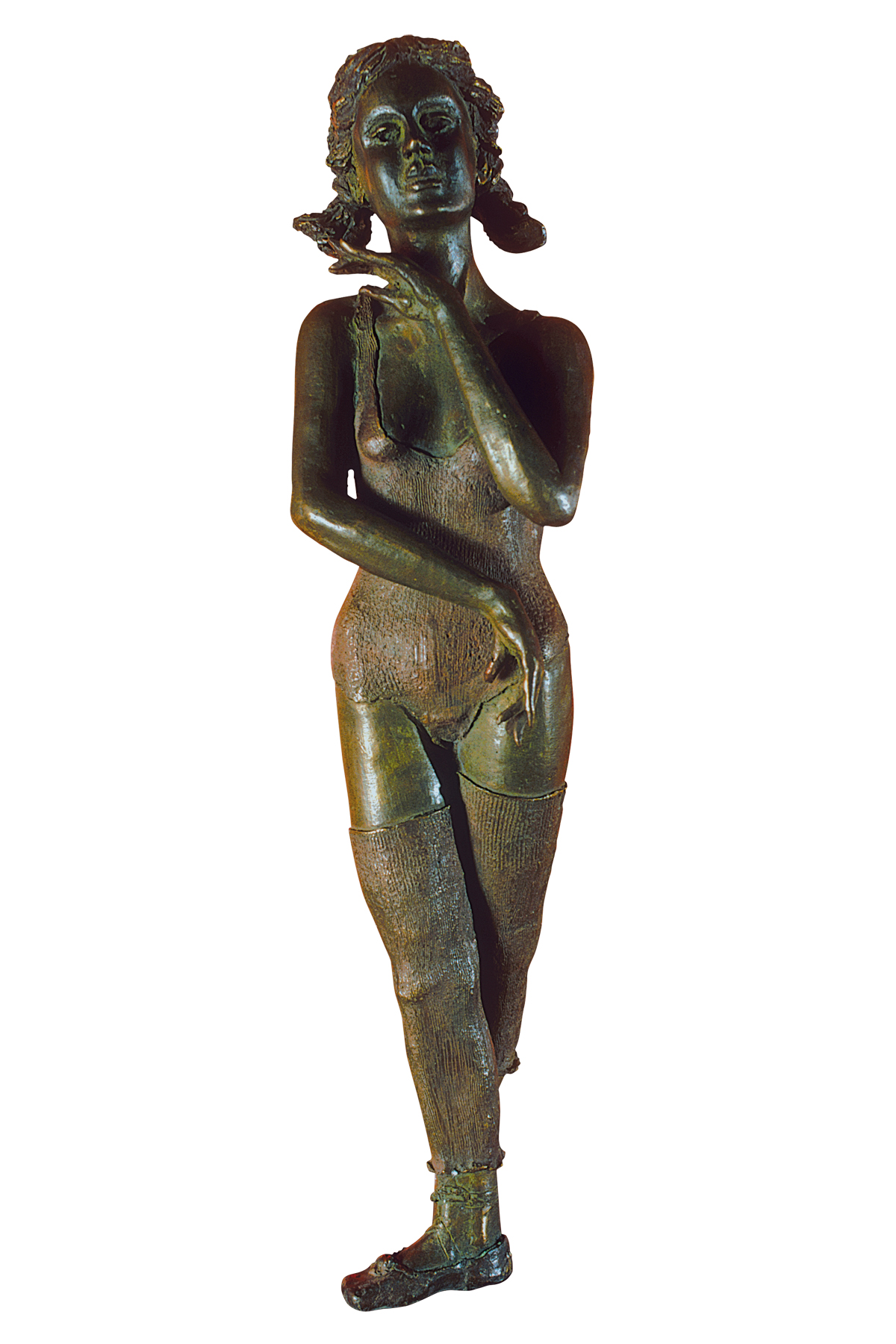 Original
Author

Date

1998 - 2001

Period

Dimensions

68 cm high, 20 cm wide, 16 cm deep

Material

bronze

Location
Photo: Maurizio Bolognini. Museo Tattile Statale Omero Archive.
Description
"Women whose expressions tell us about their lives and reveal their thoughts", Maurizio Calvesi.
"Ballerina" (Dancer) is an original, 68 cm high, bronze sculpture that Mastrodascio created in 1998.
In the brownish tones typical of this metal, it portrays a young dancer in a graceful, standing pose. She wears a leotard with a plunging neckline, long leg-warmers from ankle to mid-thigh, and pointe shoes with ribbons around her ankles.
The young woman is perfectly erect and frontal, her legs are straight and vertical with her right foot turned outwards and her left crossed behind. Her upper arms are vertical and close to her torso while her forearms cross her body diagonally. Her right hand reaches down towards her left hip with her fingers pointing delicately downwards, while her left reaches up to her right shoulder and touches her neck. Her slightly square face is framed by thick hair gathered in two short bunches. Her expression – with eyes wide open and mouth half closed – is serious and concentrated. The position of her head, tilted slightly to her right, completes her refined, elegant pose.
The contrasting surfaces of the worked bronze are clearly perceptible to the touch. The girl's skin feels cold and smooth, her woollen clothing and hair rougher and more wrinkled.
Silvio Mastrodascio is a sculptor, originally from Cerqueto in Abruzzo, who now lives and works in Canada. His figurative style focuses on representing female figures caught, as if in a photograph, in their everyday activities. Young people, some melancholy, some serene, almost always immersed in a world of their own and who seek no contact with the viewer. Mastrodascia never falls into idealization, his sculpture is always characterized by a certain verism and naturalism in the representation of the subjects.