Work: Anna G.
Design object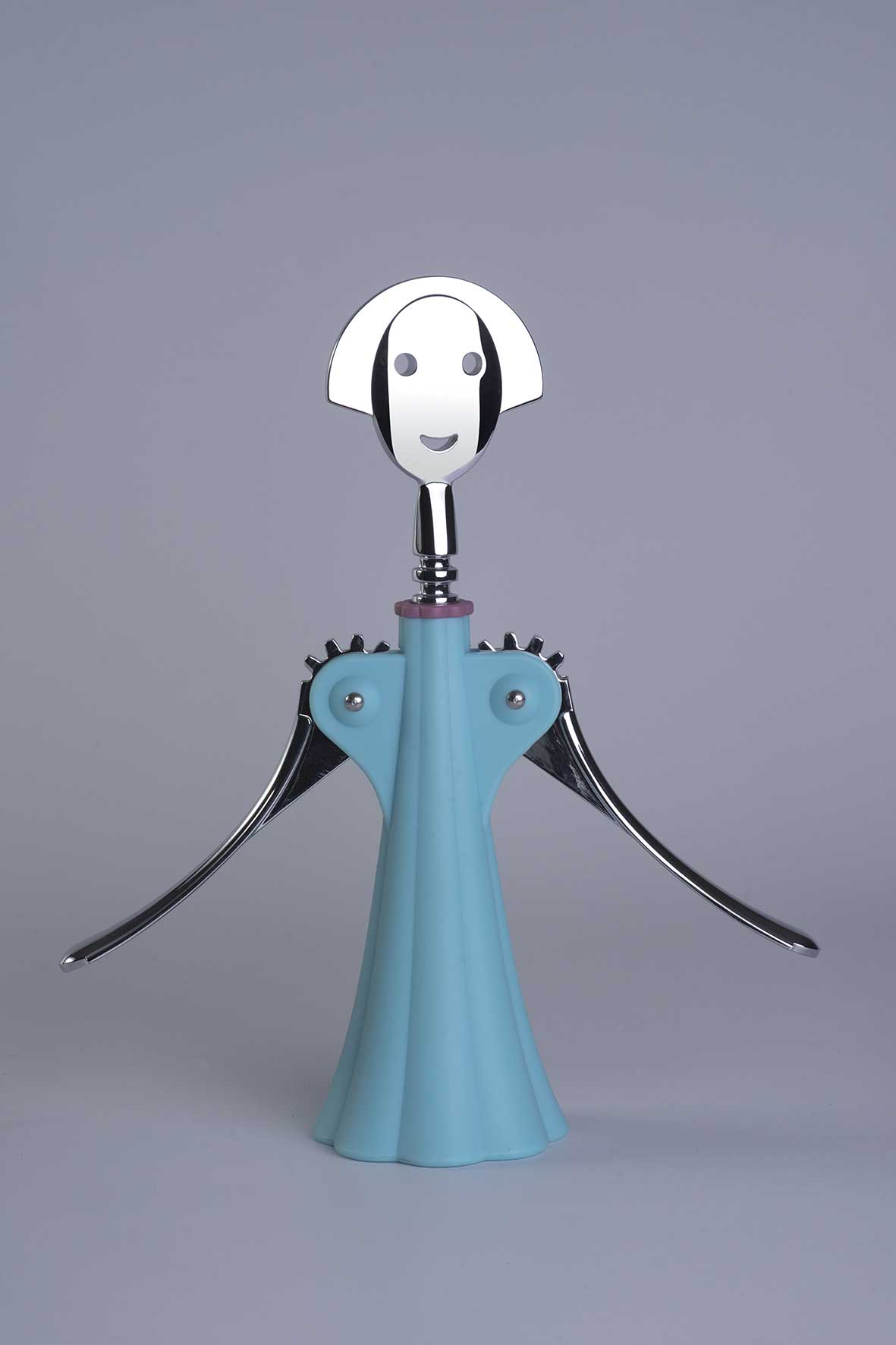 Original
Space

Designer

Company

Alessi

Date

1994

Period

Production

currently in production

Dimensions

23 cm high, 6 cm diameter, maximum wings opening 25 cm

Material

zamak, polypropylene, steel mechanism

Section

cooking

Awards

Alessandro Mendini won the Compasso d'Oro Award for Career Achievements - 23rd Edition - 2014
Photo: Maurizio Bolognini. Museo Tattile Statale Omero Archive.
Description
"Anna the dancer. In actual fact, when the advertiser Emanuele Pirella had to think up a promotional image for the Anna G. corkscrew […] he imagined it as a Marilyn Monroe with her fluttering skirt, holding her dress to keep it down. But many others saw it as a ballerina and continue to think that the most famous Italian corkscrew, and one of Alessi's best-known projects, is a dancer", Chiara Alessi.
Conceived by the designer Alessandro Mendini and produced by Alessi in 1994, Anna G. is not simply a winged corkscrew, but an ironic homage to a real woman. The ensemble shows us a ballerina (23cm tall) who dances on just one foot. The ring for opening crown caps is replaced by a smiling oval face, surrounded by a bob-cut hairstyle. The face is made of smooth, mirror-finished zamak, a zinc-based metal alloy.
The side levers are the arms: moving them raises and lowers the single leg that enters and exits the volume of the dress that accommodates and conceals the mechanism. The dress is made of a resin that feels slightly rough to the touch. The shape of the base is that of a billowy daisy which tapers as it rises, making the figure more slender. This element is topped by a chromatically contrasting collar. In the collection, we have placed Anna G., the dancer with the blue dress, next to Alessandro M., a figure who reinterprets the bell corkscrew. This is also a Mendini design, but from 2003. Both are currently in production in various colours.
"Regarding the name of the Anna G. corkscrew, a little anecdote: when Alberto Alessi saw the design of the chromed zamak oval of the face, framed by the bob, he noticed a certain resemblance to a then young, talented pupil of Mendini's, named Anna Gili, who gave her authorization to be the muse of the corkscrew", Chiara Alessi.
Anna & Alessandro, cavatappi – durata 0:41
Sonic evocation of the object created by Paolo Ferrario
Further info: Anna G. on Alessi website