Work: 16 animali
Design object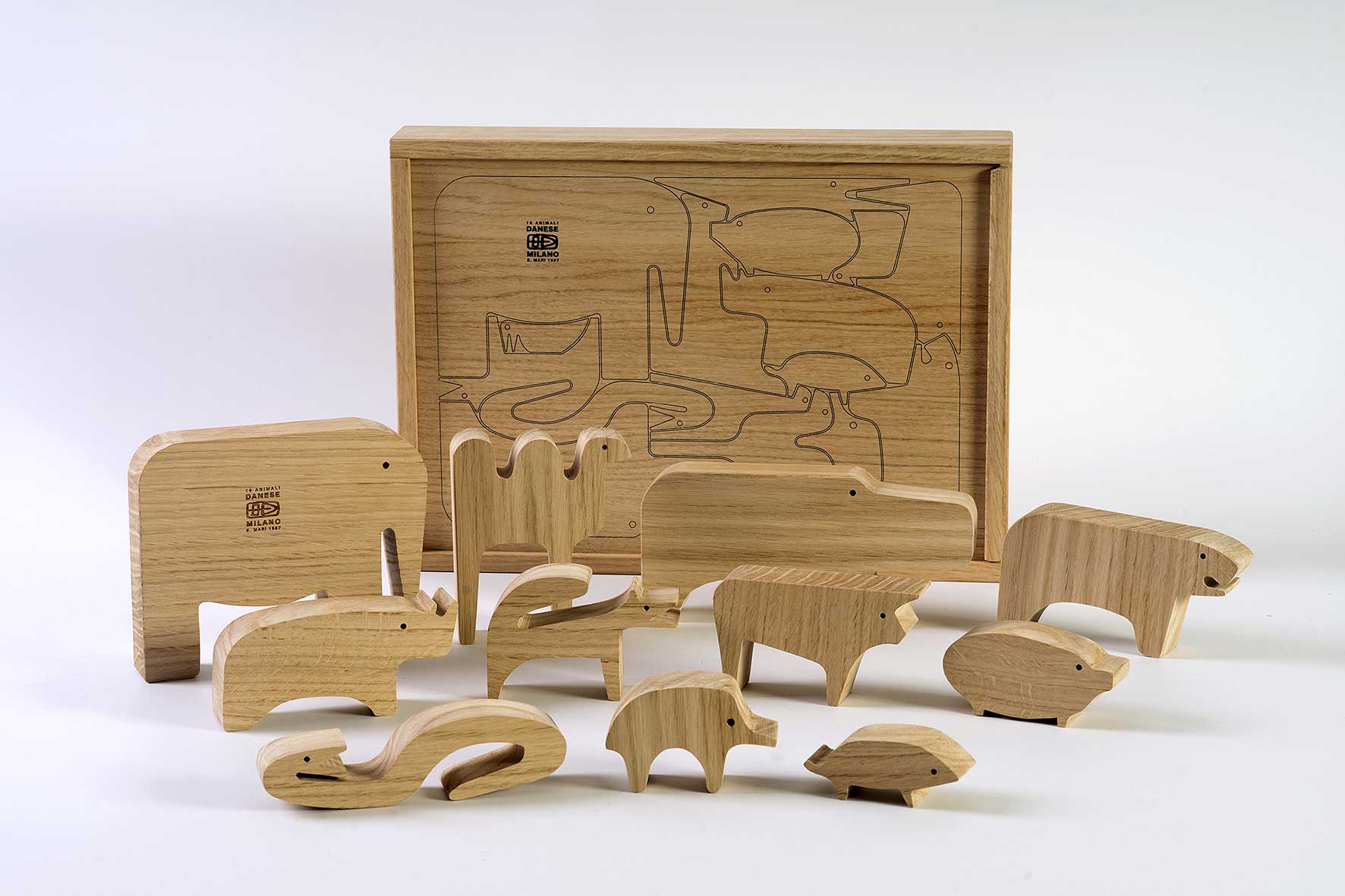 Original
Space

Designer

Company

Danese

Date

1956

Period

Production

currently in production

Dimensions

5.5 cm high, 38 cm wide, 27 cm deep

Material

beech or oak wood

Section

play

Awards

Enzo Mari has won 4 Compasso d'Oro Awards
Photo: Maurizio Bolognini. Museo Tattile Statale Omero Archive.
Description
"So one day, I had the quirky idea of making a puzzle with 16 animals, all different and recognizable at first glance – an elephant, hippopotamus, snake, bear, giraffe, rhinoceros – which all fitted together perfectly." Enzo Mari.
16 animals is a jigsaw puzzle, a multiple interlocking structure designed to obtain from a single rectangular oak board, by continuous cutting, various animal shapes: an elephant, a kangaroo, a pig, a goose, a snake, a rhinoceros, a camel, a giraffe, a cow, a fox, a hippopotamus, a crocodile, a parrot and other mammals.
Designed by Enzo Mari and first produced by Danese in 1956, this is one of the best-known examples of educational design and it is still in production (maximum width 38cm). Observing his own children, the designer realized how necessary play is for discovering and measuring one's potential. As in other cases, Mari searched for a form of game that allows children to reinvent and reinterpret the experience of play. The thickness of the individual animals is sufficient to allow them to be placed in every direction, both vertically and horizontally, alternating the front with the back.
"Play is not for passing the time, but for understanding the world", Enzo Mari.
16 animals – duration:  1:12
Sonic evocation of the object created by Paolo Ferrario
Further information: 16 animals on Danese website