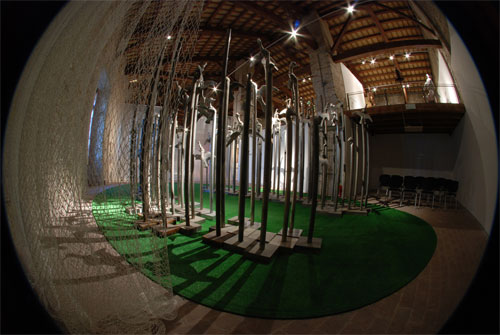 Sculptures, settings, drawings 1965 - 2008
Postponed to 5 May.
Mole Vanvitelliana - Ancona
From 20 October 2012 to 5 May 2013, the majestic eighteenth-century Mole Vanvitelliana in Ancona is hosting "De rerum fabula", a major retrospective exhibition of the works of Valeriano Trubbiani. The sculptures, settings, drawings and pyrographs were created between the early 1960s and the first decade of the new millennium.
The curator of the exhibition is Professor Enrico Crispolti (with the collaboration of Professor Simone Dubrovic). Crispolti is a critic and historian who has followed Trubbiani's entire artistic development and who indeed presented Trubbiani's first solo exhibition of sculptures in Venice in 1962.
This extensive anthological exhibition is promoted by the Museo Tattile Statale Omero and Ancona City Council, with financial support from Banca delle Marche, Ancona Chamber of Commerce, Unipol Assicurazioni and the Marches Region. The exhibition was designed by the architects Massimo Di Matteo (who has collaborated with the sculptor on several occasions) and Mauro Tarsetti.
The Mole Vanvitelliana's spacious galleries have allowed the designers to impart an imaginative theatrical dimension to the exhibition lay-out, making "De rerum fabula" a "secular play" which is developed over 20 "scenes". These are arranged chronologically and grouped according to the thematic cycles that have articulated the artist's creative development.
Some of the 20 "scenes" document series of sculptures which have been regrouped for the occasion as installations: "Macchine belliche (War machines)", "Aruspici (Haruspices)", "T'amo pio bove (I love you pious ox)", "Putti, giochi di mare, giochi di cielo (Putti, sea games, games of heaven/sky)", "Mare, Corazzate e Federico Fellini (Sea, Battleships and Federico Fellini)," "Città, Dimore, Turris (City, Dwellings, Tower/fortification)". Others were originally created as environmental installations. Some of these: "Stato d'assedio (State of Siege)", "Le morte stagioni (The dead seasons)", "Ractus, ractus: Stato d'assedio (Ractus, ractus: State of Siege)", "il silenzio del giorno (The silence of the day)", "Turrita urbis pugnandi" (Fortified city at war),"Colosseo (Coliseum)", are memorable. Other "scenes" (such as "Ciriaco de 'Pizzecolli e la sua Ancona") feature cycles of drawings, or of pyrographs (such as "Giacomo Leopardi").
In a development which is indeed theatrical, this "secular play" is introduced by a "Prologue" and ends with an "Epilogue", with "poetic" quotations taken from the writings of the sculptor, which cover the same period of time as the 20 "scenes".
The sculptures in the various groups, the components making up the installations, the pyrographs and drawings make a total of 160 works on display, all of which are available to sighted and non-sighted visitors alike. This means they can they can be touched as well as seen, like all the works in the Museo Omero's large permanent collection. Tactile observation is, in fact, the main channel for learning used at the MO, which is one of a very few tactile museums in the world. It was founded in 1993 by the Italian Union of the Blind, with the help of Ancona City Council and with funding from the Marches Region. It became a State Museum in 1999. Established with the intention of filling a gap in the panorama of cultural services available to visually impaired people, but also to offer everyone an innovative multi-sensory experience through non-visual impressions, the museum has organised numerous exhibitions: in particular, important retrospectives by Francesco Messina (2004), Giacomo Manzù (2005), Loreno Sguanci (2005 and 2007) and Walter Valentini (2011).
"With this retrospective exhibition" said Fiorello Gramillano, Mayor of Ancona, "we want to pay grateful tribute to an artist whose artistic development has always actively engaged with the local territory, where he has left his mark and also works of immense quality." "Retracing the artistic itinerary of our great countryman, Valeriano" adds the Councillor for Culture, Andrea Nobili, "means above all to set out to survey the contemporary, of which Trubbiani is a true, ironic and innovative storyteller. This is a journey that touches deep chords because Trubbiani moulds and carves into metals all the anxieties of modern life". In addition to the great retrospective at the Mole Vanvitelliana, there are a number of Trubbiani's works located in the city of Ancona constituting another journey of discovery: Piazza Pertini's sculptural group "Mater amabilis", the Teatro delle Muse (the fire curtain), the Faculty of Engineering at the University (relief and sculpture), the Cathedral of San Ciriaco (the Millennium Cross) and the Church of SS Cosma and Damiano (parts of the presbytery).
The exhibition catalogue, published by Silvana Editoriale and edited by Enrico Crispolti (again in collaboration with Simone Dubrovic), traces the entire creative output of the artist, from the beginnings to the latest inventions, with reproductions in colour and black and white (including the design for this exhibition), with texts by Valeriano Trubbiani, critical interventions by Crispolti as well as articles by Simone Dubrovic, Marco Tonelli and Luca Pietro Nicoletti. Photographs by Foto Mosconi - Tolentino 2012 and Stefano Sampaolesi.
Visits and workshops:
Visitors can book guided tours at any time the exhibition is open. However, tours are available, with no need to book, every day at the following times : Tuesday to Friday at 6 pm, Saturday at 5 pm and Sunday at 11am. Average guided visit lasts 1 hour and 30 minutes. Each tour provides a multi-sensory approach to the works, with the possibility of enjoying appreciate them by touch.
Our workshops, which are accessible and open to all, offer active and creative ways to gain insight into aspects of the poetry of Trubbiani's approach. Here are the titles: Res .. in Fabula for primary, lower secondary and early upper secondary schools, Cultura in Transito for primary classes IV and V, lower secondary and upper secondary, Isola o Nave (Island or Ship)? : 0 to 99 years, Pensieri scolpiti (Sculpted Thoughts): 0 to 99 years, Volo Frenato (Flight Braked): Final year upper secondary and adults.
Average workshop lasts 2 hours.
For information and reservations please contact:
Educational Services Office, Monday to Friday: from 10 am to 1 pm and from 4 to 6 pm;
Phone: 071.2811935 and 071.2225031 (when exhibition is open); email: didattica@museoomero.it
Reservations: Please use the special form. Guided tours and workshops cost €3.00 per person, which is added to the admission fee.
Events in the exhibition
28 November, 2012, 5.30 pm: Presentation of the catalogue by Enrico Crispolti. On this occasion, the catalogue will be sold at a special price of €25 instead of €35;
19 December 2012, 8.45 pm: screening of the film "E la nave va ..." by Fellini, with Simone Dubrovich;
25 January 2013, 5.30 pm: Trubbiani and poetry. With Francis Scarabicchi.
Christmas at the exhibition:
For a unique gift idea, come to the show: at the bookshop you can find a package containing tickets for the exhibition as well as the catalogue and other gadgets.
Exhibition Info:
Museo Omero - Mole Vanvitelliana - Banchina G. da Chio, 28 - 60121 Ancona
Site: www.museoomero.it; email: info@museoomero.it;
Phone 071.2811935 and 071.2225031 (when exhibition is open); audio site 800.202220
Open: Tuesday to Saturday 4 to 8 pm, Sunday 10 am to 1 pm and 4 to 8 pm. Groups and schools can book visits in the morning.
Closed: Monday, December 25, 2012, January 1, 2013.
Admission: Full price € 7.00, concessions € 5.50: groups, Ministry of Culture officials, members of Icom, Fai, Coop, Ikea Family, Italia Nostra, Touring Club, Unitre, under 26, over 65, unemployed, laid off, holders of tickets for the "Concerto per il Decennale" at the Teatro delle Muse (28 October 2012), free for schools, students (with student card), their teachers, people with disabilities and their carers. The ticket for the "Trubbiani. Fabula De rerum" exhibition also allows you to visit the "In Limine. Sulla soglia del nuovo Museo Omero" Exhibition, held at the Mole Vanvitelliana.
Speciale offer for Associations: for every group of 30 paying visitors, a further 5 free tickets will be made available.
Exhibition Press Office:
Stilema - Torino - tel. 011.530066 - www.stilemarete.it
Cristina Negri - cristina.negri@stilema-to.it – cell. 345.3741892
Photos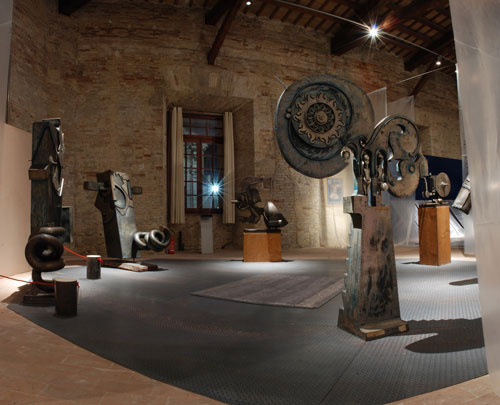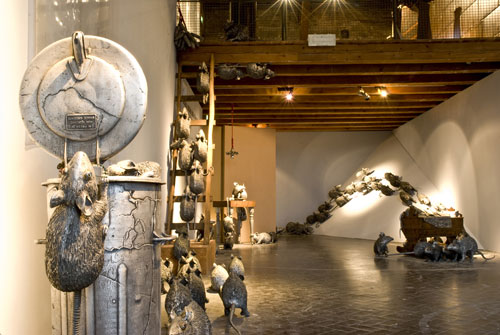 Download