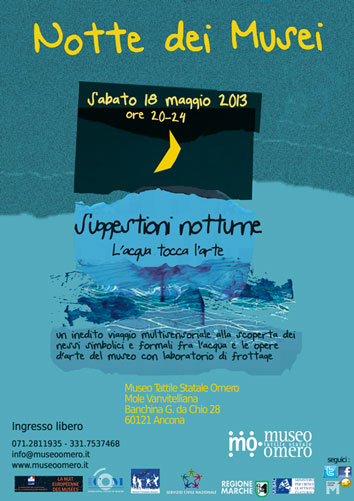 Notte dei Musei 2013
18 May from 8 pm till midnight
Free admission
In our first year at the Mole Vanvitelliana, the Museo Omero celebrates the European Union's "Museum Night" by offering the public a new multi-sensory journey on the theme of water.
The Museum's prestigious new home by the sea, in the pentagonal fortress designed by Luigi Vanvitelli, was the inspiration for a special interactive journey to be held in the exhibition rooms on the night of May 18, from 8 pm until midnight.
Water, the primordial element and creator of life, will be narrated through connections and links, both symbolic and formal, and some works from our collection: from the Venus de Milo and Michelangelo's Pieta to original sculptures by Gioacchino Varlè, Jesper Neergard, Paolo Annibali, Loreno Sguanci. Tactile and audio installations on the same theme will enrich the tour. In conclusion, visitors are invited to interact with the works and leave a "sign" of their passage in a frottage workshop inspired by the different movements of water.
Our National Civil Service Volunteers, European Volunteers and Museum trainees are helping to run this event. Admission is free.
The event is promoted by the French Ministry of Culture and Communication and the Italian Ministry of Heritage and Cultural Activities and is part of the 2013 Grand Museums Tour which is sponsored by Regione Marche and the Happy Museum Festival of the Museums of the Marches.
Info
Time: 18 May, 20.00 - 24.00 Free admission.
Where: Museo Tattile Statale Omero - Mole Vanvitelliana, Banchina Giovanni da Chio 28 - Ancona
Tel. +39 071 28 11 935 (office) +39 331.7537468 (museum entrance)
Email: info@museoomero.it