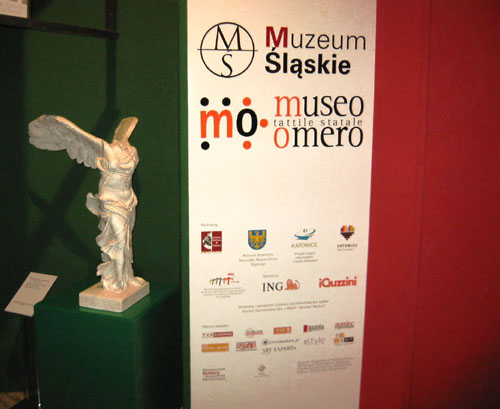 Poland, Museum of Slesia, Katowice.
14 October 2011 - 8 January 2012.
Inauguration Friday 14 October 2011, 5 pm.
Now Poland welcomes Ancona's Museo Omero.
The Italian Cultural Institute of Krakow promoted "The beauty del touch" exhibition which was inaugurated at the Museum of Silesia, Katowice on Friday 14 October. The exhibition was organised and created by the Museo Tattile Statale Omero, Ancona. As further confirmation of the great cultural and social interest in the Ancona Museum expressed at an international level, it should be remembered that this event originated in response to a specific request from the Cultural Institute.
The show, which is open until 8 January 2012, features a selection of 33 works from the Museo Omero collection. There are copies of famous works of Antiquity, from the sculptures of ancient Greece to the Renaissance (Venus de Milo, Victory of Samothrace, Michelangelo 's Pietà), which give a taste of European culture and art in a complete historical scheme as well as small volumetric models of famous buildings which provide visitors with a global vision of the history of architecture in that period. This exhibition breaks the mould of museum management in Poland and is the starting point for a series of new initiatives promoted by the Museum of Silesia whose principal objective is to render European cultural heritage accessible to everyone, to people with various cognitive disabilities and to non sighted and partially sighted people in particular.
The Museum's promotional DVD, "La grande Luce", has been specially translated into Polish for the occasion.
On 13 October, a delegation from the Museo Omero, made up of its founder Aldo Grassini and its special project manager Andrea Sòcrati, took part in the conference accompanying the opening of the exhibition. Their talks were centred on the Museo Omero's role as reference point for artistic and aesthetic education.
The exhibition will move on to the Museum of Bielsko Biala from 1 February to 15 April 2012.
Photos