Work: Timor
Design object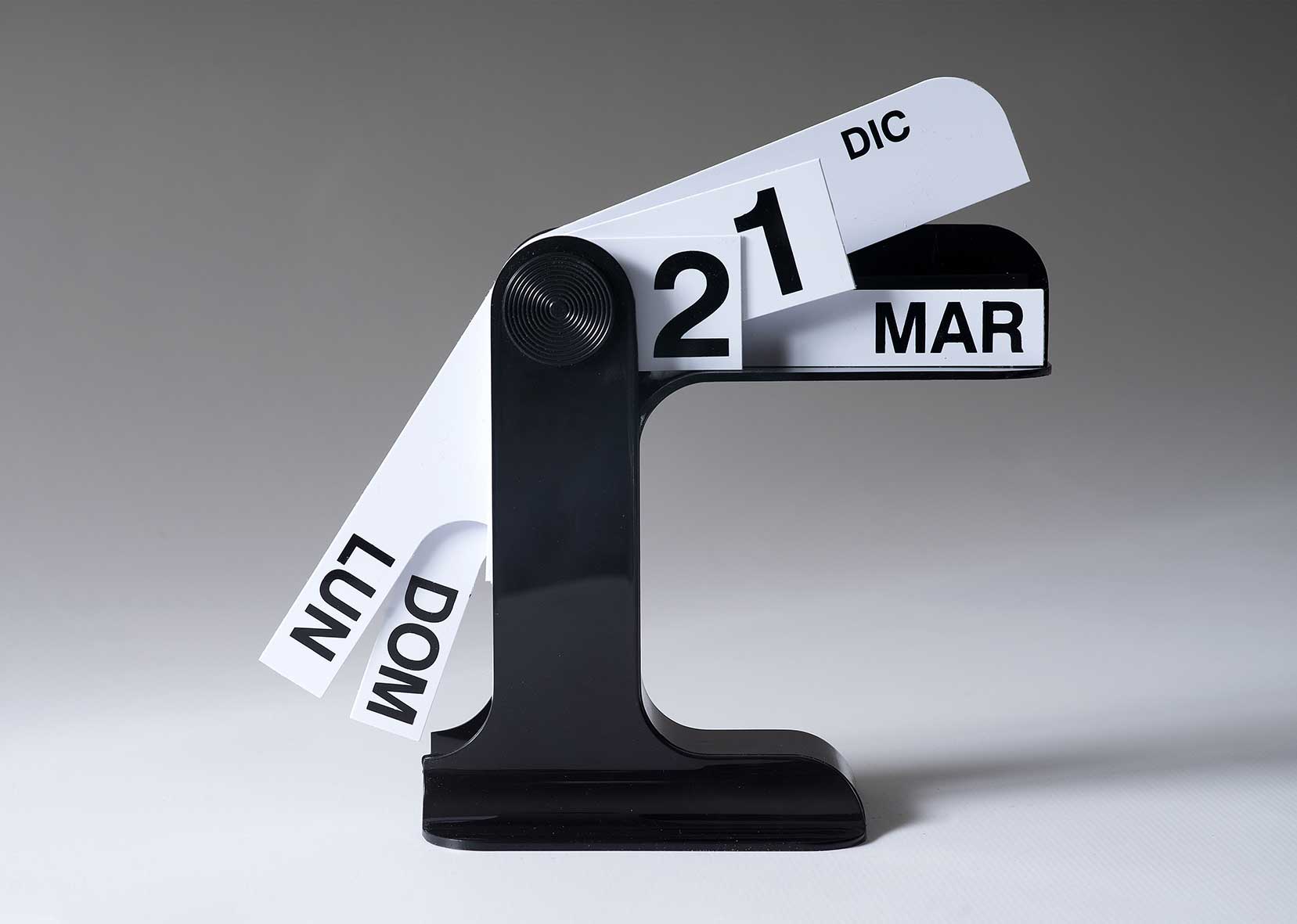 Original
Space

Designer

Company

Danese

Date

1974

Period

Production

currently in production

Dimensions

18 cm high, 9 cm wide, 16 cm deep

Material

Acrylonitrile butadiene styrene, printed sheet PVC

Section

living, work

Awards

Enzo Mari has won 4 Compasso d'Oro Awards
Photo: Maurizio Bolognini. Museo Tattile Statale Omero Archive.
Description
Mari "is absolutely convinced – an idea that he would later fully develop in his 1974 'Autoprogettazione?' handbook – that only by acting consciously on things, measuring them, knowing them, correcting them by himself, can man truly possess them", Chiara Alessi.
It was this conviction that led to the creation of Timor, an everlasting table calendar, which was designed by Enzo Mari in 1974 and produced by Danese. The 18-cm high calendar was inspired by railway signals, which Mari considered highly effective in providing information at a glance.
It consists of two elements: a black ABS structure, in the shape of an inverted L, and a group of mobile cards in white PVC. The cards come in four lengths: the shortest ones have black digits for the number of the day while the longer ones show the abbreviated names of the days and months. To form the date, simply rotate the chosen strips around the pivot and place them on the horizontal axis of the upside-down L (9 cm long).
ABS (Acrylonitrile butadiene styrene) is a plastic material which is pleasant to touch and resistant to heat, wear and impact while PVC (Polyvinyl chloride) is a more flexible plastic which can be used to produce very thin items.
This extremely simple object, still produced in only black and white by Danese, actually conceals numerous meanings.
"Mari, in fact, has in mind the calendar – the object that more than any other is a synthesis of the oxymoron of our perverse relationship with the finite time we have on this earth, that is, the fact that while we measure its inexorable flow we even have the courage to waste it: every year the calendar has to be thrown away and another bought, even without having done much to use it, it has consumed itself", Chiara Alessi.
Timor calendario – duration 0:34
Sonic evocation of the object created by Paolo Ferrario
Further info: Timor on the Danese website