Work: The Presentation of Jesus in the temple, a carved panel from the portal of Nonantola Abbey
Copy of sculpture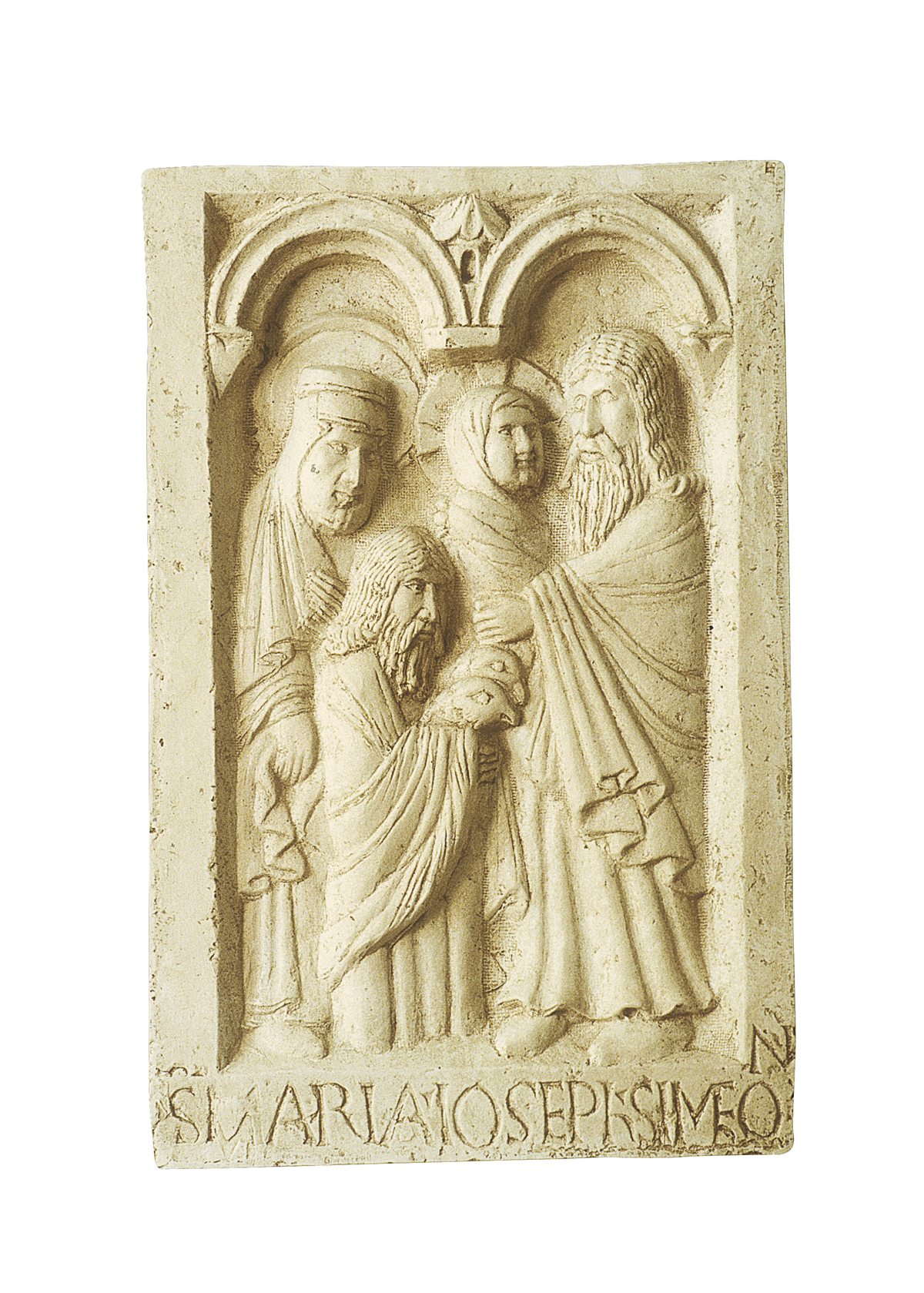 Copy
Dimensions

49,5 cm high, 31,5 cm wide

Technique

cast from the original

Material

alabaster plaster

Space
Original
Author

Date

1002 - 1032

Period

Dimensions

49,5 cm high, 31,5 cm wide

Material

marble

Location
Photo: Maurizio Bolognini. Museo Tattile Statale Omero Archive.
Description
"… They brought the child to Jerusalem to present him to the Lord; as it is written in the Law of the Lord, Every firstborn male shall be called holy to the Lord; And to offer a sacrifice according to that which is said in the law of the Lord, a pair of turtle doves or two young pigeons", Luke 2: 22-24.
Around 1117, Wiligelmo and his pupils worked on the portal of Nonantola Abbey, creating the lunette and probably the two series of carved panels that adorn the doorframe, which were commissioned by Abbot Rodolfo. The Museo Omero has copies from true casts of some of these masterpieces of Romanesque art.
The Presentation of Jesus at the temple follows the scene of the Adoration of the Magi. The rectangular panel, about 50 cm high, is vertically oriented. The presentation takes place below two round arches. On the left arch, Simeon the priest, who is identified in the inscription at the base of the panel, holds the baby Jesus in his arms. Kneeling before him is St. Joseph in the act of offering two doves, as related in the Gospel. Mary stands behind St. Joseph, below the right arch, watching the scene.
The sculptor rendered the hair and clothing of the characters in great detail, as well as the plumage of the two doves, although only their heads are visible. Jesus looks directly at the priest whose gaze, however, like that of Mary and Joseph, is turned humbly downwards. As in other panels from this group, the arches seem to suffocate the scene, making it appear more crowded than it really is.
Further information
The origin of the abbey dates from 752 CE when Aistulf, King of the Lombards, donated some land to his brother-in-law Anselm, saint and founder of the abbey. Named after St. Sylvester, whose relics it houses, it became a Benedictine monastery and a place of hospitality and pilgrimage. This panel is on the right doorjamb, among other episodes from the Childhood of Jesus.
The panels are of different sizes but are all rectangular. Most of the scenes depicted are surmounted by two round arches and are orientated vertically. There are two sequences, with the earliest episodes at the bottom. The series on the right doorjamb shows stories from the childhood of Jesus, while the panels on the left illustrate episodes from the history of Nonantola Abbey, with particular reference to the figures of St. Anselm, St. Sylvester and St. Adrian.