Work: Telephone Box
Original sculpture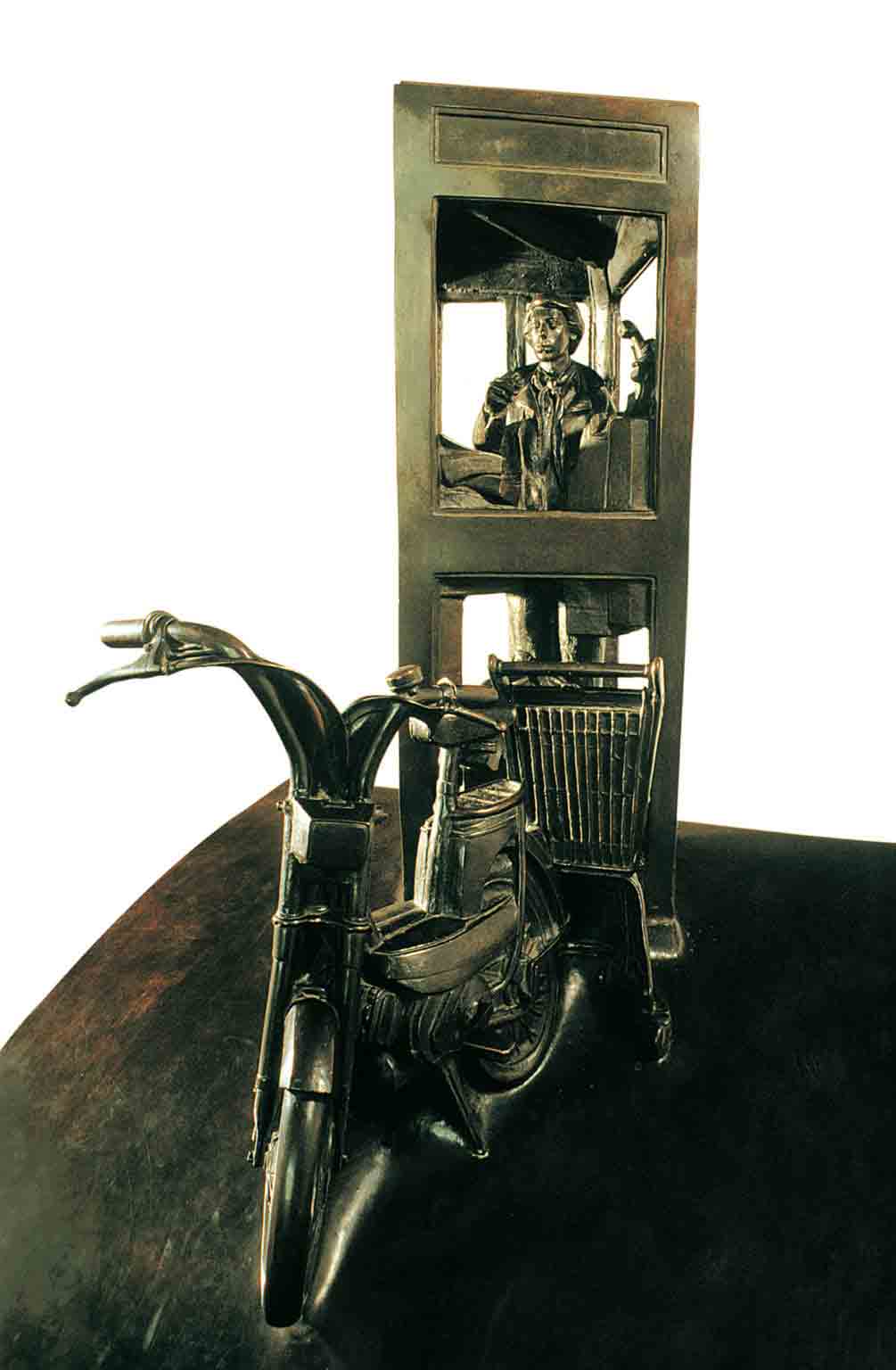 Original
Author

Date

1980

Period

Dimensions

120 cm high

Material

bronze

Location
Photo: Maurizio Bolognini. Museo Tattile Statale Omero Archive.
Description
"I take my small change over
to the booth, and step inside.
But leaving the door open, it's
so close in there".
The phone booth, Raymond Carver
Telephone box is a cast bronze sculpture made by André Bareliér in 1980. It is a rather large work, about 120 cm high.
The sculpture rests on a curved base that appears to represent an uphill street in an urban area, where a telephone box stands. Inside the cabin a young man, wearing a suit and tie, holds the telephone receiver in his left hand and a cigarette butt between the fingers of his right. An overfilled bag, with some garments hanging out of the upper opening, is lying in front of his feet and there are two fat telephone directories on a small shelf in front of him. Outside the cabin, the artist has placed a supermarket trolley and a moped. The man's clothes are depicted in detail; it is easy to recognize the folds of the jacket collar and the tie knot. Details of the trolley and moped, such as the brake levers and cables, the bell, pedals and luggage rack have also been carefully delineated.
The surfaces are smooth and not differentiated; tactile reading is easy, thanks to the large dimensions of the work, which allow you to fully appreciate the various details. The bronze is not polished, but has the typical "ancient" brownish patina. In a simple, direct way, André Bareliér has created a portrait of man in the 1980s with all his needs, anxieties, technological resources and desires. He has managed to sum up everyday life in society at that time using just a few "brush- strokes".