Work: Stele of the Doves
Original sculpture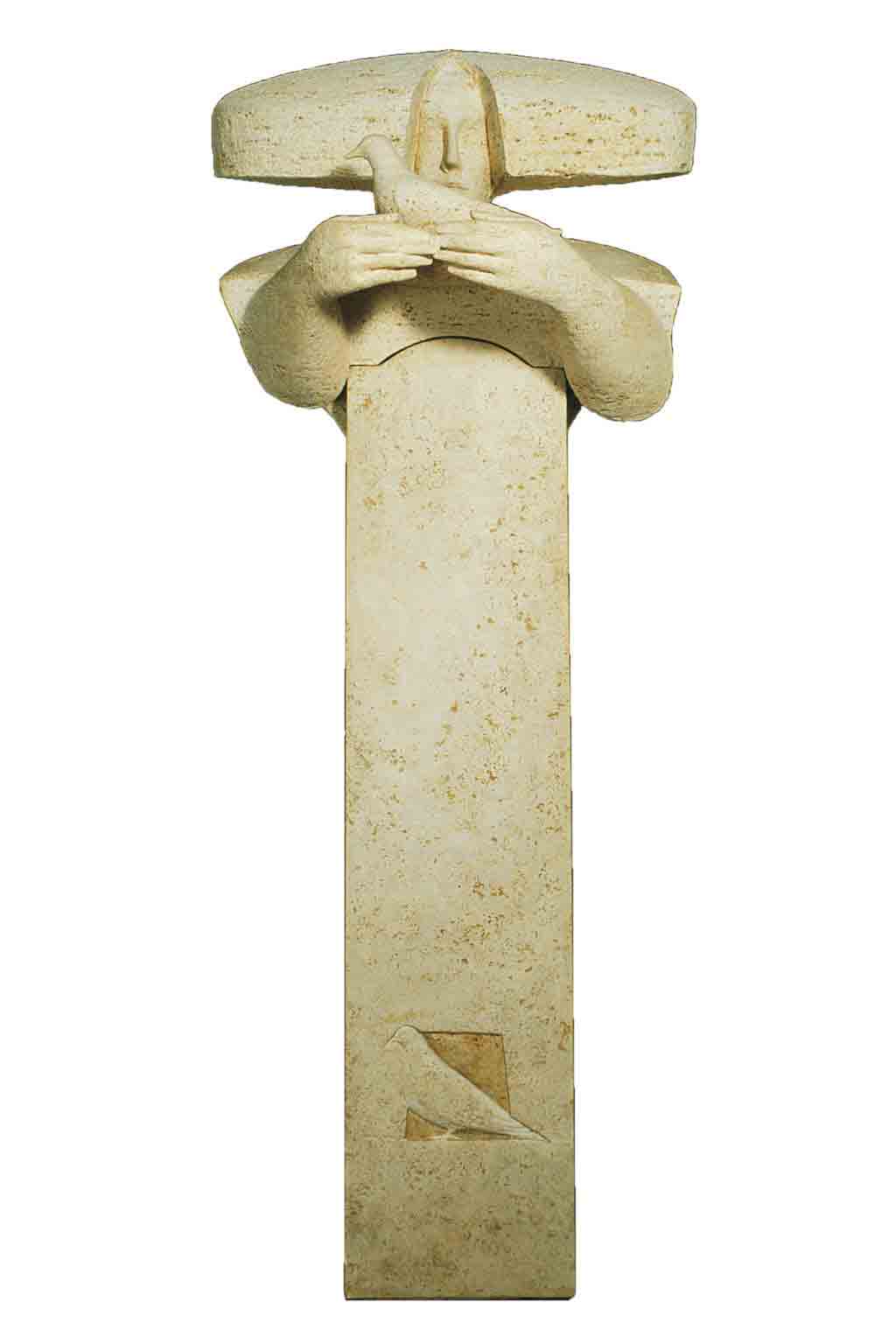 Original
Author

Date

1997

Period

Dimensions

188 cm high

Material

travertine limestone

Location
Photo: Maurizio Bolognini. Museo Tattile Statale Omero Archive.
Description
"I work travertine for the warmth it gives me." Girolamo Ciulla.
"Stele delle colombe" is a travertine limestone sculpture, almost two metres high, which was carved by Girolamo Ciulla in 1997 and is on show at the Museo Omero.
Grafted on to a square column is a large single block representing the highly stylized shoulders, arms and head of a human figure. The projecting arms form a ring and the hands, with the fingers just touching, hold a bowl. Above the bowl, a dove is shown in profile. The entire figure has simplified, archaic lineaments. The face is encompassed by a large headdress that is as wide as the figure's shoulders. Near the base of the column, a low-relief dove stands in front of an almost square, incised background.
Travertine is most interesting to the touch as it is rich in natural fissures that enliven the surface.
Ciulla's imagery evolves from the juxtaposition of geometric shapes with animalistic or fantastical figures drawn from the archetypes, mythology and symbols of ancient Mediterranean civilizations. The artist, however, reinterprets them in a personal way, occasionally mixing them with contemporary elements. In this sculpture, as in others, the influence of the ancient Egyptian imagery he encountered during his travels is evident. According to Giansiracusa, he is "an artist who seeks in archetypes, such as the temple, the bowl, the wild beast, the equilibria of primitive times on which to graft the dream of the present."