Work: Pair of Evangelists, Luke and John
Original sculpture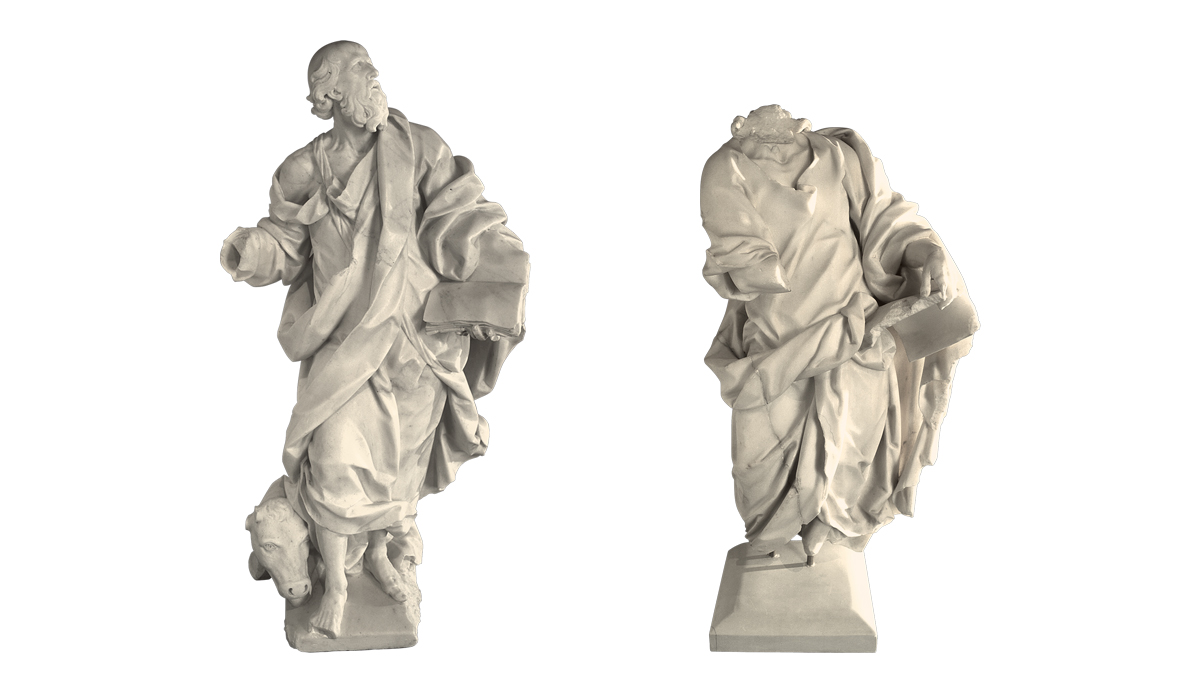 Original
Author

Date

XVIII century AC

Period

Dimensions

Saint John 66 cm high; Saint Luke 72 cm high

Material

marble

Location
Photo: Maurizio Bolognini. Museo Tattile Statale Omero Archive.
Description
"In the 18th century La Marca had few if any artists, with the exception of Gioacchino Varlè, a talented pupil of Rusconi and esteemed for certain artworks that he sent to Lisbon, others that remained in Ancona have also been praised.", The collected writings, or archives of journeys, philosophy, history (Il raccoglitore, ossia archivi di viaggi, di filosofia, d'istoria).
The Evangelists are Carrara marble statues of St. Luke and St. John. Gioacchino Varlè carved them in the late 18th century, a period when he was extremely active in Ancona, working on the chapel in the church of San Domenico dedicated to the Dominican preacher St. Vincent Ferrer. The saints were to be portrayed "wearing wide, sweeping garments, each turned to the left" and holding an open Gospel in the left hand and a quill in the right "in an inspired attitude". They can be distinguished by their respective symbols "at their right feet": the ox and the eagle. According to Maggiori, "the two statuettes" by Varlè used to stand on the altar with "between them the tabernacle".
Unfortunately, the two Evangelists were victims of the Second World War (a bomb hit a pillar of the chapel, destroying the furnishings). St John suffered the greatest damage, losing his entire head, right hand, feet and eagle: all that remains of the sculpture is the upright body, wrapped in long flowing garments, and the Book resting against his left hip. Saint Luke is more complete, lacking only his right arm. The head is intact and reveals the bearded face of an elderly man looking upward, At his feet is his symbol, the ox, which lacks a leg and part of its horns.
The two sculptures were made as if to be seen in the round and are of fine quality, elegant and technically accurate, especially in the treatment of the drapery, the expressive faces and in particular, in the anatomy and posture of the two Saints' hands.
The Dominican Fathers housed the sculptures in their convent. They were restored by C.B.R di Romeo Bigini and given in permanent concession to the Museo Omero by La Provincia di San Domenico in Italia, after they featured in a temporary exhibition "Toccare gli angeli – Inediti marmi di Gioacchino Varlè" ("Touching Angels – Previously unseen marbles by Gioacchino Varlè").