Work: Mole Vanvitelliana, volumetric model
Architectural model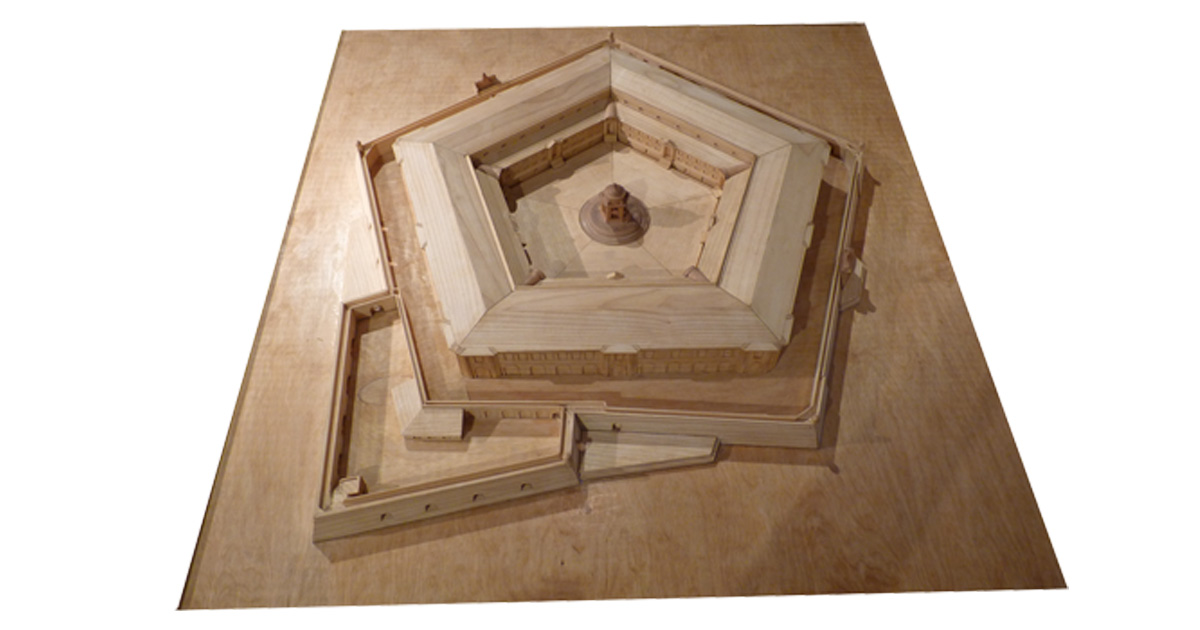 Architectural model
Made by

Fabio Ridolfi

Dimensions

10 cm high, 81 cm long, 87 cm length; scale 1:250

Technique

gouging, incision

Material

wood

Space
Original
Author

Date

1733 - 1743

Period

Dimensions

20.000 m² about

Location
Photo: Maurizio Bolognini. Museo Tattile Statale Omero Archive.
Description
"Extremely hardworking, and a tireless draftsman, he brought together qualities that were often discordant, quickness of wit and suffering of study, vivacity of spirit and obstinacy of fatigue. In the midst of so many occupations and such rare glory, he was always humane, moderate, pleasant, fair to workers, merciful to the poor, courteous with everyone. […] A rare and imitable example of the most praiseworthy honesty, [Vanvitelli was] of gentle habits, completely lacking in envy, affable and sincere by nature he was well-liked by all, and of friends he had many", Luigi Vanvitelli junior (the architect's grandson), "Vita dell'architetto Luigi Vanvitelli".
On display at the entrance to the exhibition is our volumetric model of the Mole Vanvitelliana in Ancona, the imposing structure that houses the Museo Omero. Also known as the Ex Lazzeretto, it was designed by Luigi Vanvitelli and built between 1733 and 1743. The in 1:250 scale model, made by Fabio Ridolfi, is made of wood and reproduces the basic forms of the original building: a large pentagonal-shaped edifice standing on an artificial island of 20,000 square metres, which was originally surrounded by water and completely cut off from the mainland.
The outermost part of the Mole Vanvitelliana consists of a curtain wall with two entrances. It is reinforced by a ravelin (triangular fortification) at the corner facing the open sea. Inside this defence, is the taller main body of the Mole which is composed of buildings also arranged in a pentagon. At the centre of the enclosed inner courtyard stands a small, circular Neoclassical temple.
The parts of the hand-made model that represent the buildings and the inner courtyard are made of lime wood, while the temple is Swiss pine. Located at the entrance to the collection, the model enables blind people to comprehend the forms of the place they are visiting.
The construction of a city Lazzaretto was part of Pope Clement XII's major project of building works for improving Ancona and giving it a more modern identity. Initially designed as a quarantine station (it could contain up to 2000 people), the Mole has had various uses in its lifetime: from military defence to naval base, from warehouse to sugar refinery and bonded storage for tobacco. The small temple dedicated to San Rocco, the protector of plague sufferers, reminds us of its original function. In addition to serving as a meeting place for religious ceremonies in the Lazaretto, the white marble temple also concealed a complex system for supplying drinking water.
The Museo Omero, which relocated to the Mole in 2012, currently occupies the entire length of one of the sides of the pentagon.