Work: Louis Ghost
Design object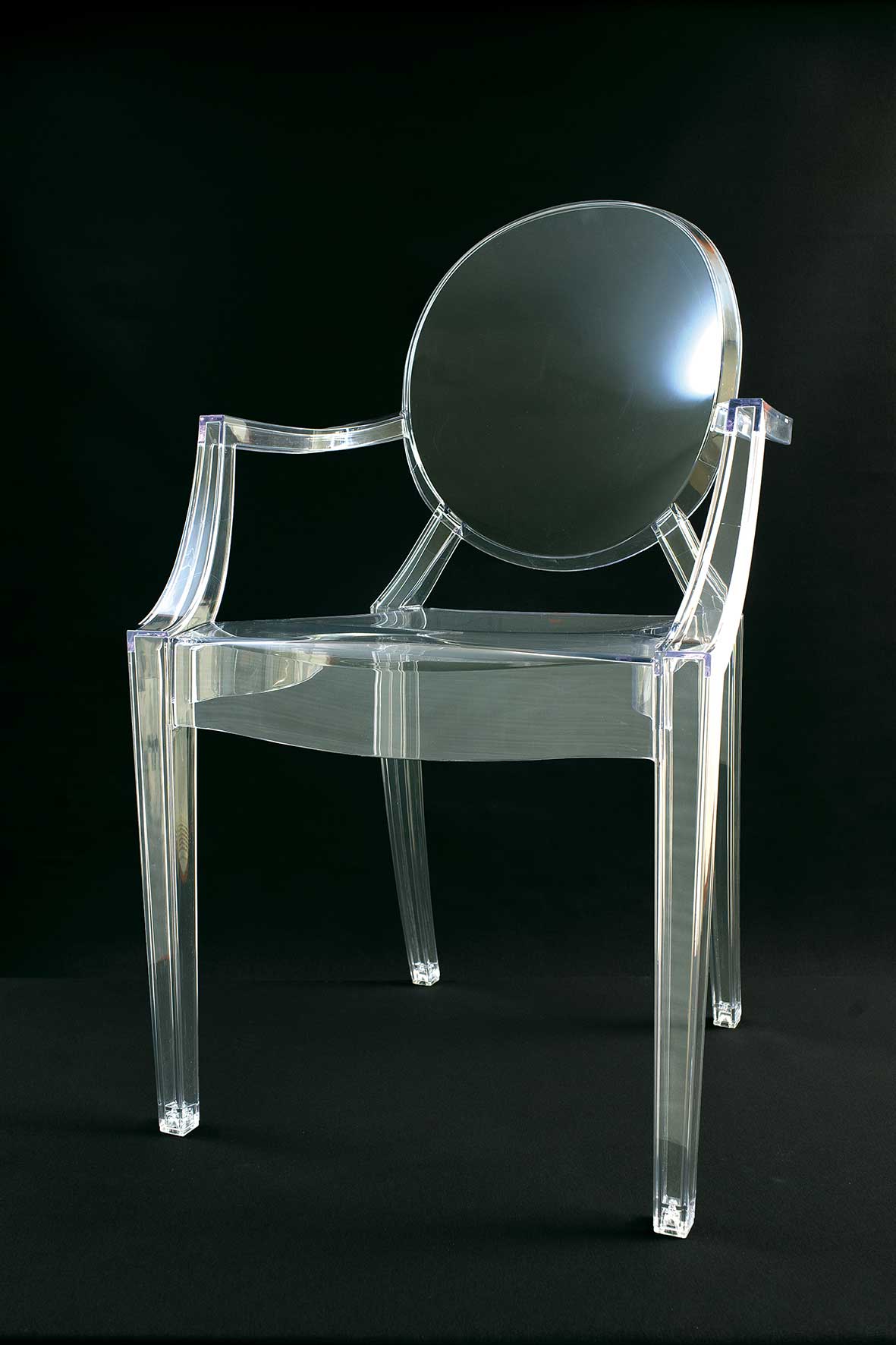 Original
Space

Designer

Company

Kartell

Date

2002

Period

Production

currently in production

Dimensions

94 cm high, 55 cm wide, 54 cm deep

Material

transparent polycarbonate

Section

living

Awards

Kartell has won the Compasso d'Oro 9 times
Photo: Maurizio Bolognini. Museo Tattile Statale Omero Archive.
Description
"An absolute void would be too arid. It would be inhuman. Instead, the Louis Ghost is a sentimental void, because it is a void that feeds on collective memory. Which means that I didn't design the Louis Ghost, but together we all designed the Louis Ghost", Philippe Starck.
The Louis Ghost chair (94cm high and 55cm wide) derives its name from its royal origins (Louis) and from being transparent (Ghost). It was inspired by the curved lines of the Louis XV armchair, created in the 18th century by master cabinetmakers. Designed for comfort, the revolutionary, Rococo, armchair was padded and upholstered in brocade. The backrest was connected to the seat by the armrests. The wooden parts were in oak or gilded walnut and finely carved with relief motifs such as leaves, female faces, chimeras and figures drawn from classical mythology.
The Louis Ghost, designed by Philip Starck and manufactured by Kartell since 2002, is made of a single material, transparent polycarbonate. Its simplified form is inspired by the minimalist rigour of the times. There are no decorative elements but the traditional rounded lines have been retained and the backrest is perfectly oval. The chair is produced in one piece by injecting the molten plastic into a mould; no joints or mounting points can be seen/felt. The chair is available in various shades of transparent colour; our chair is the Crystal version.
"Transparency helps to make it blend into the domestic landscape, but in the intentions of its designer, the chair is meant to be anything but anonymous. Starck, one of the very first Celebrity Designers (creators, or rather personalities, who become more famous than their creations and the companies they work for), focuses on provocation, style, exhibitionism, doing everything he can to ensure that his objects are not neutral at all. We could say that the international style in Italian design began with the Louis Ghost", Chiara Alessi.
Brioches – duration 1:04
Sonic evocation of the object created by Paolo Ferrario
Further information: Louis Ghost on the Kartell website