Work: Falkland
Design object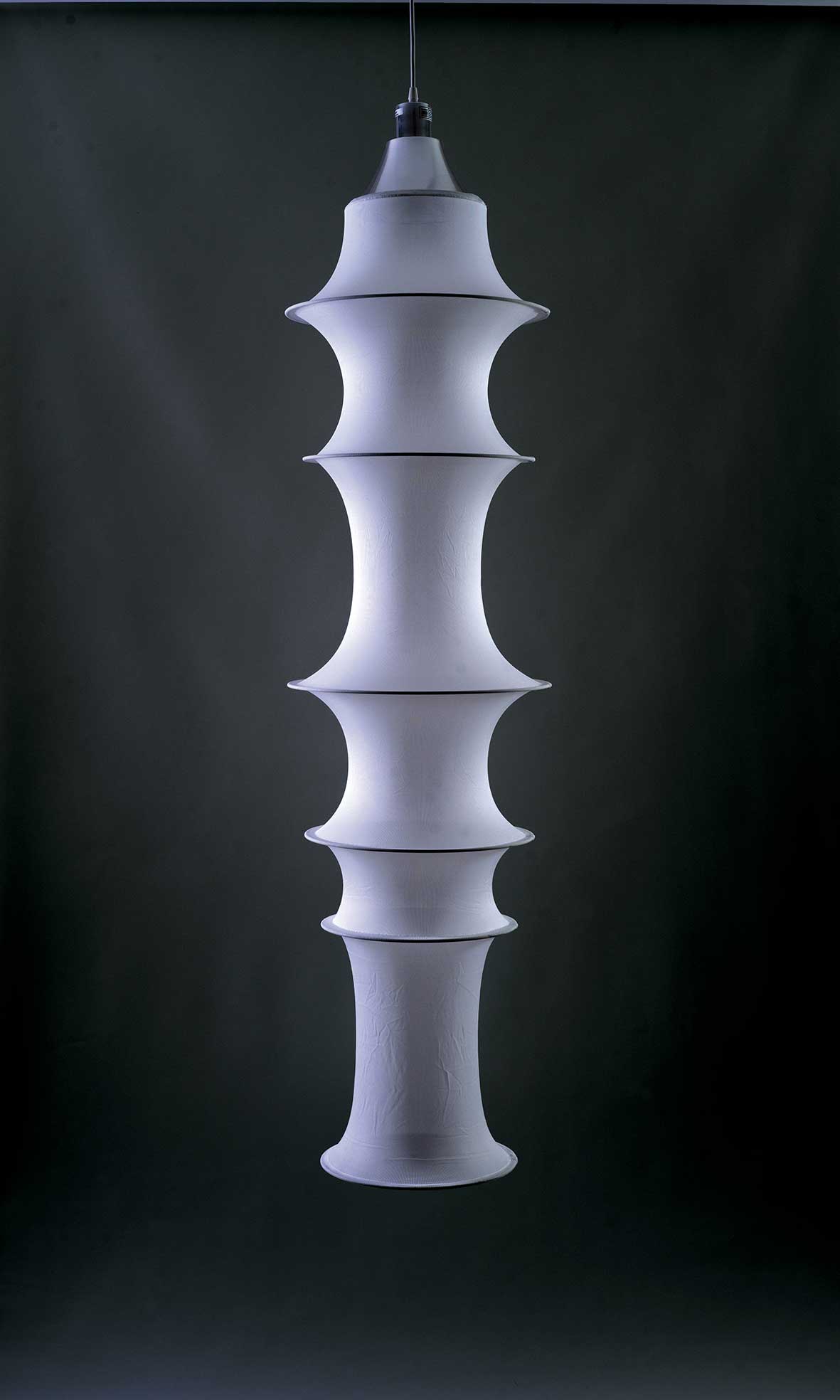 Original
Space

Designer

Company

Danese

Date

1964

Period

Production

currently in production

Dimensions

165 cm high, 40 cm diameter

Material

metal rings, woven fabric

Section

living

Awards

Bruno Munari has won the Compasso d'Oro 3 times, including a Lifetime Achievement award at the 17th Awards Ceremony in 1994
Photo: Maurizio Bolognini. Museo Tattile Statale Omero Archive.
Description
"A lamp designed to be sold by the metre, but take up the least possible space. An apt description of Bruno Munari's Falkland, which was inspired by the paper lanterns seen by the master of creativity on his trip to Japan", Chiara Alessi.
Falkland is a pendant lamp, 165cm high. First produced by Danese in 1964, it incorporates Bruno Munari's basic design principles: simplicity, efficiency, minimum volume when packed and maximum formal effect.
The lamp is strongly vertical and its form is determined by the two very different materials used in its construction: white Filanca, a stretchy tubular knit (similar to that used for making tights), and rigid aluminium hoops which are slipped into the tube and attached horizontally.
The version in our collection has seven rings of various diameters (from 20 to 40cm) placed at varying distances apart. The decorative shade is attached to a small metal light-fitting which contains the light source. Falkland gives out a soft suffused light that evokes the atmosphere produced by oriental paper lanterns.
It is the tension between the two materials – one elastic and the other rigid – which creates its characteristic sinuous wavy shape. The Filanca is stretched at the rings and contracts in the spaces between them. After being removed from its smallish box and hung up, the lamp falls into shape thanks to gravity. Two standard sizes of this lamp are currently in production: 85 and 53 cm high, but with a reduced number of rings.
Its name is a tribute to the Falkland Islands, an archipelago in the South Atlantic famous for fishing: the idea of inserting rings into a tubular knit comes directly from the shape of the creels used for crab and lobster fishing.
"It is easy to complicate, it is difficult to simplify. To complicate just add, everything you like: colours, shapes, actions, decorations, characters, environments full of things. Anyone can make things complicated. Few can simplify", Bruno Munari.
Luce Falkland – duration 1:02
Sonic evocation of the object created by Paolo Ferrario
More info: Falkland on the Danese site