Work: Equestrian Portrait, from the group sculpture found at Cartoceto, Pergola
Copy of sculpture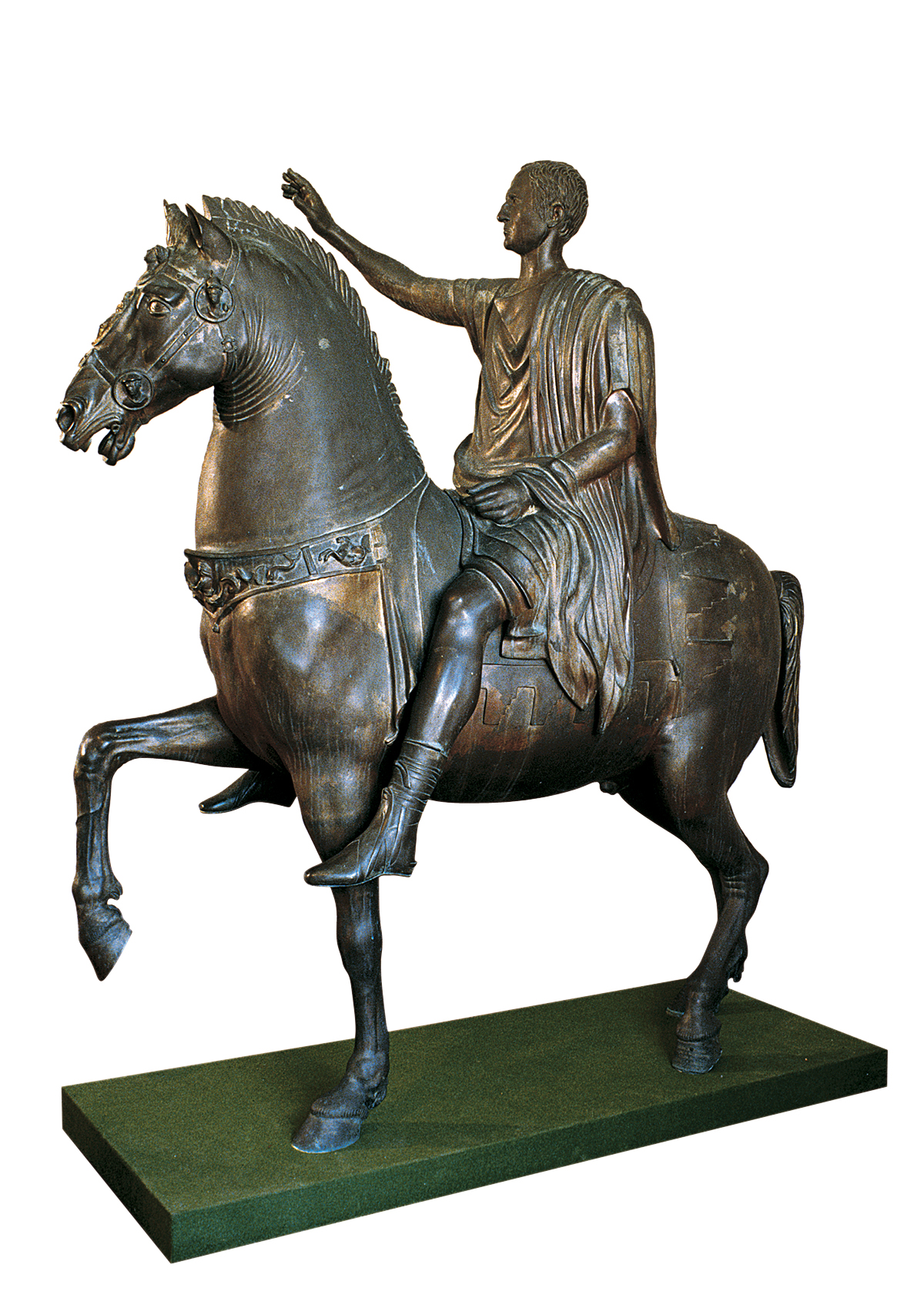 Copy
Dimensions

240 cm high, 280 cm long

Technique

cast from the original

Material

bronze

Space

On loan to

Secondary school "Donatello" of Ancona
Original
Date

I century BC - I century AC

Period

Dimensions

240 cm high

Material

bronze

Location
Photo: Maurizio Bolognini. Museo Tattile Statale Omero Archive.
Description
The discovery of the remains of the sculptural group known as the "Gilded Bronzes of Cartoceto" was one of the most exciting archaeological events of post-war Italy. It probably represents a family group, with two veiled and mantled female figures, and two male figures in high-ranking military dress riding richly decorated, majestic horses.
Opinion is still divided over their exact identity. Initially, Sandro Stucchi suggested that the "triumph"  paid homage to members of the Emperor Tiberius' family circle (first century AD), who later fell into disgrace and came to an atrocious end because of accusations of conspiracy against the Empire.
Most recent conjectures place the group between 50 and 30 BC, in the late Republican period. According to F. Coarelli, the best preserved male figure could be identified as Marcus Satrius, a legate of Julius Caesar in Gaul, while J. Pollini suggested that the group shows some members of the old Roman Domizi Enobarbi family, wealthy owners of numerous estates.
The reconstruction and identification of the remains took almost forty years (1946-1986) and the operation was completed by the Centre for Archaeological Restoration in Florence (1975-1986).
The best preserved Equestrian statue was remodelled according to strict scientific criteria and it was then possible to cast the true copy in bronze which is now in our collection. Various elements identify the horseman as a high-ranking soldier: his tunic and cape, the Roman "calcei" on his feet as well as his partially uncovered right arm raised in salute. His body is well-proportioned and anatomically accurate. The head, in particular, shows just how fundamental the notion of authenticity was to Roman art, which found its highest expression in portraiture. His wavy hair is accurately described, his un-idealized face has a lively, natural expression and all the wrinkles and defects help to animate the portrait of this still unknown man.
The life-sized horse with its proud bearing, is also rendered with characteristic delight in natural detail. Its right hoof is raised as if it was in movement, it has a bit in its mouth and an elaborate harness on its head and neck with relief decorations. The figures on the breastplate are probably pagan gods accompanied by sea horses and dolphins, suggesting a connection between the subjects of the group and the sea, while the bridle is adorned with reliefs which probably show ancient Roman protective deities.