Work: Distant skies
Original sculpture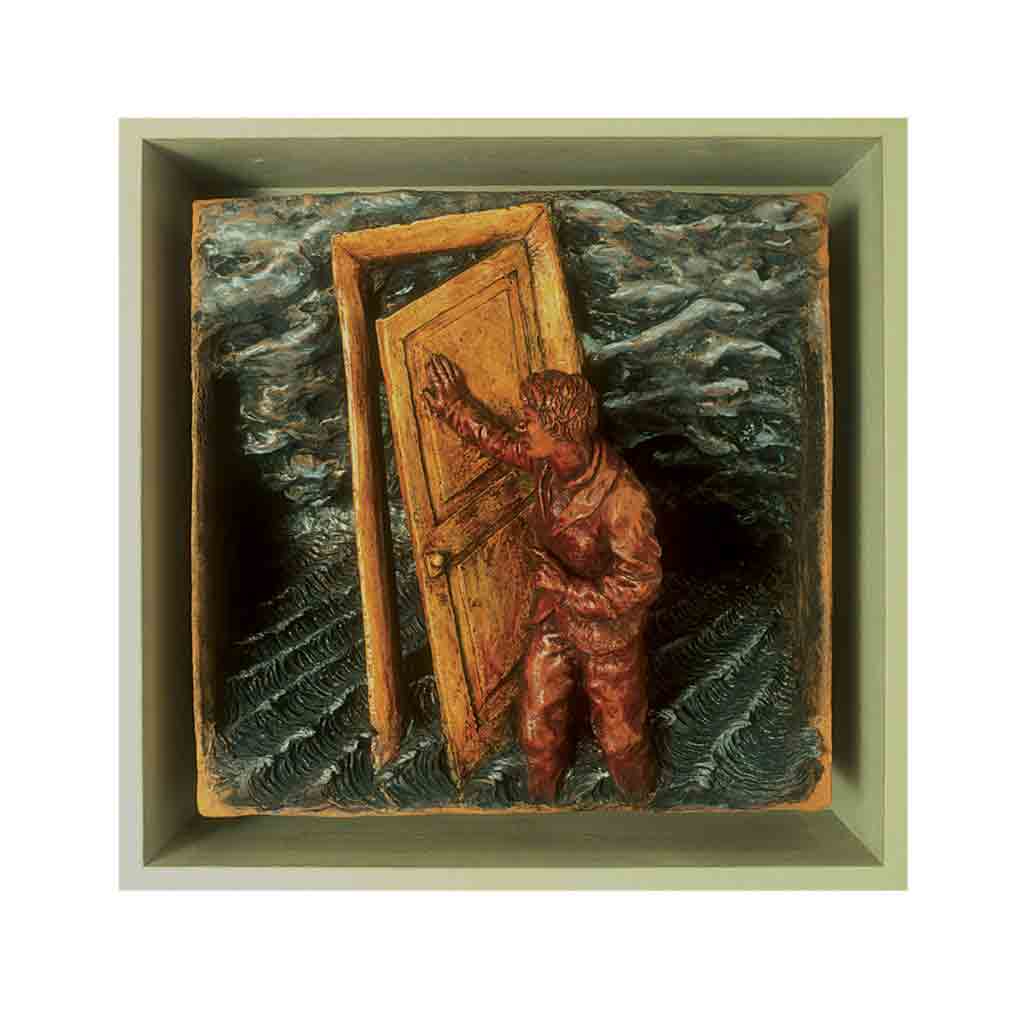 Original
Author

Date

2008

Period

Dimensions

32 cm high, 32 cm wide, 20 cm deep

Material

terra-cotta

Location
Photo: Maurizio Bolognini. Museo Tattile Statale Omero Archive.
Description
"Perhaps this is also why I chose the fragility of terracotta for these figures: to get back to an Italic root as well as to give a sense of their lack of eternity, which from their little existence passes to matter", Paolo Annibali.
Distant skies is a terracotta sculpture created by Paolo Annibali in 2008. It is one of a series of four works in the same format on show at the Museo Omero.
Starting from a block of terracotta (about 30cm square by 18cm deep), the sculptor dug into the front surface to create a theatrical scene and then added projecting three-dimensional elements.
The protagonist of the story is a man, with his feet immersed in a stormy sea, who is trying to close a door. The panel is mounted in a grey wooden box frame.
In the upper half, smooth soft masses of clay are modelled to form the clouds in the dark sky. In the lower half, a series of diagonal, grooved furrows form the rough, crested waves of the stormy sea.
At the centre of this scenario is a man, wearing a jacket and trousers, who is standing up to his ankles in water. His face is turned towards a half-closed door, in its frame but without any walls supporting it. He pushes it with his right hand, as if trying to close it, but in spite of his efforts, the water is coming in and reaching him. The three-dimensionality of these elements can best be appreciated by touch as they were added to the scene after the sea and sky had been made.
The artist has taken particular care over the man's clothing, from the shirt collar to the lapels of the jacket, to the folds in the fabric at the knees and elbows. Chromatically, the greys and blues of the sky and the sea contrast with the orange tones of the man and the door. Stormy seas or skies often feature in Annibali's work. These elements are never reassuring but, on the contrary, seem to threaten the defenceless human confronted by them. Faced by the advancing waves, the man cannot close the door, cannot flee or hide, and is totally helpless.
The preferred material of this artist is clay, which he models showing great technical skill, finishing his sculptures in great detail: "My works are always born quietly: at the beginning they are contained in the palm of my hand, then gradually assume the concreteness of articulated forms".