Work: Bust of the Prophet Habakkuk
Copy of sculpture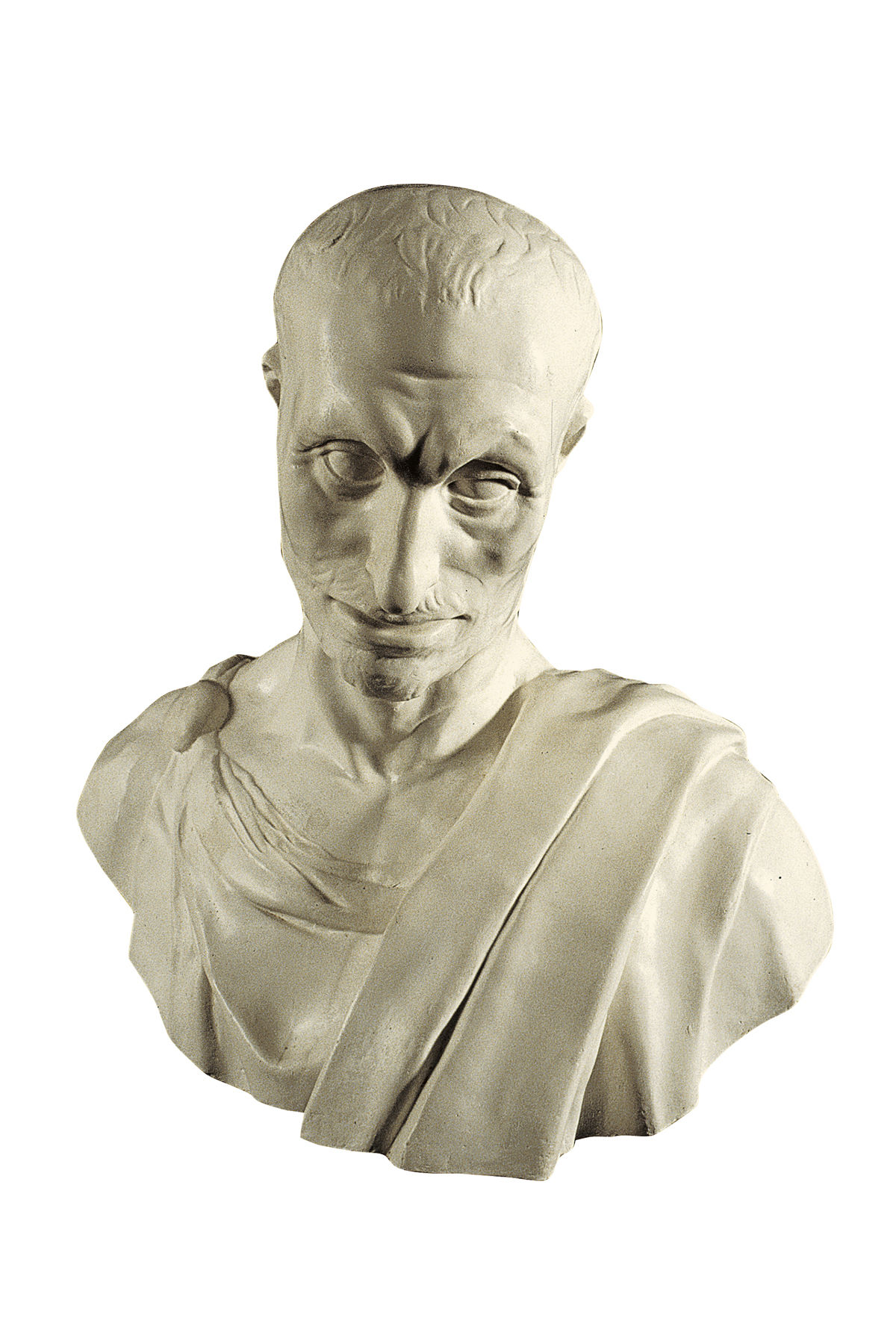 Copy
Dimensions

50 cm high, 50 cm wide, 32 cm deep (detail)

Technique

cast from the original

Material

alabaster plaster

Space
Original
Author

Date

1423 - 1425

Period

Dimensions

195 cm high

Material

marble

Location
Photo: Maurizio Bolognini. Museo Tattile Statale Omero Archive.
Description
The figure of Habakkuk, of which we have the bust, is one of a series of full-figure sculptures in the round, of Biblical Prophets by Donatello. They were to be placed in the large niches on the Giotto's fourteenth-century Campanile (Bell-tower) in Florence. The original can be seen in Florence, in the Museo dell'Opera of the Duomo.
Habakkuk was the eighth of the twelve minor Old Testament Prophets. He probably lived towards the end of the seventh century BC and was the author of one of the shorter books of prophecy. He is wearing a tunic and cape with very ample folds and his aspect is both serious and terrible. The harshly realistic head, is highly expressive and shows the prophet eaten away by fasting; his gaunt face, with its deeply set eyes, untrimmed beard and bitterly creased mouth, is looking downwards. The theme of the prophet as unheeded witness of the word of God, tragically isolated in his destiny, finds a painful and most humane interpretation in this figure.
The strong contrast between light and shade underlines the vigorous modelling of the drapery with its deep heavy folds, rendering it monumental and dynamic. On the other hand, the beard and hair are lightly traced in very low relief. The gaunt face with its prominent forehead and deeply set eyes, lays bare his suffering. The sculptural modelling of the entire statue has a passionate quality, the light seeming to rest for a moment on its planes before darting away in every direction.
Like those of the other Prophets of the Campanile, the head of Habakkuk is such an incredibly realistic portrait that Donatello must have copied the faces from real life. On the other hand, if we compare the faces of the Prophets with ancient Roman portrait busts, we can see how Donatello was inspired by Antique statues.
However, we can also see the influence of thirteenth-century French sculpture: the stiff drapery with its long, deeply carved, tormented voluminous folds is very similar to the drapery on the sculptures at the cathedrals of Rheims and Chartres.
The beautiful "Gothic" depictions of the Prophets are stylistically reminiscent of certain figures carved by a contemporary of Donatello, Nanni di Banco. Giorgio Vasari mentions their rivalry in his "Lives…", but the young Donatello with his good-natured, down-to-earth personality would soon come to the fore, and his fresh, dynamic style would soon replace the pontificating, high-flown classicism of Nanni.