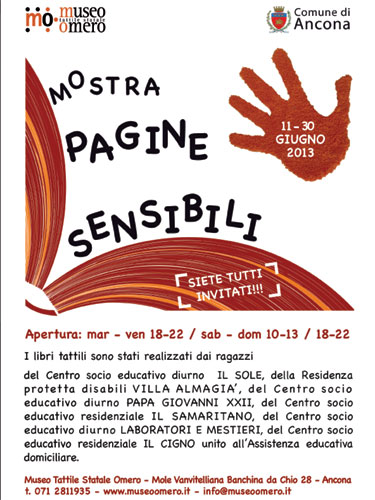 11 - 30th June 2013
Museo Tattile Statale Omero
Inauguration Tuesday, June 11 at 10:30.
Admission is free.
The Sensitive Pages project is a collaboration between the Museo Omero and the City of Ancona (Educational and Social Policies - Disability Unit) and with the Heads of the residential and day-care social/educational facilities, and the Home educational assistance Service.
Our aim in making this exhibition an integral part of the Arteinsieme Biennale, was to offer new opportunities for expression and socialisation through the language of art to the users of the day and residential social/educational rehabilitation centres and some users of the home educational assistance service.
The workshop activities are organised by staff from the Museo Omero. Each centre can take part in six meetings which will be held once a week.
Each workshop, created along specific pedagogical guidelines, deals with one of the five themes chosen from those closest to the participants' experience (the seasons, the sea, taste, music and best memories).
The participants can rework their chosen theme in serenity starting from their personal experience, drawing on the treasure chest of their memories, giving free rein to their imagination, desires, aspirations.
This activity, which is both introspective and cathartic, is made tangible through the creation of very personal multi-sensory books, whose pages (one for each topic) are made up of materials, objects and words chosen on the basis of the visitor's sensations and feelings at the time.
Pages that contain and express their authors' dreams, memories and inner being, pages that share glimpses of lives, pages that generate emotion, pages ... that are sensitive.
Educational project curated by:
Manuela Alessandrini, Head of Educational Services at the Museo Tattile Statale Omero 
 Blanca de La Quintana Monge, Volunteer from the European Voluntary Service at the Museo Tattile Statale Omero 
 Andrea Socrati, Head of Special Projects at the Museo Tattile Statale Omero 
The Heads of the IL SOLE, LABORATORI E MESTIERI and PAPA GIOVANNI XXIII social and educational day-care centres
The Heads of the IL SAMARITANO and IL CIGNO social and educational residential centres
The Staff of the Home Educational Assistance Service at VILLA ALMAGIA' supported residential home.
Opening times
Until 14 June: Tuesday to Saturday 16:00 - 20:00; Sunday 10:00 - 13:00 and 16:00 - 20:00.
June 11 to June 30: Tuesday to Friday 18:00 - 22:00, Saturday and Sunday 10:00 - 13:00 and 18:00 - 22:00.
Groups can arrange weekday morning visits. Booking is essential.
Closed: Mondays, August 15.
Where
Ancona, Mole Vanvitelliana, Sala Leopardi, Banchina Giovanni da Chio 28 - Ancona
Info
Museo Tattile Statale Omero
t. 071 2811935
info@museoomero.it