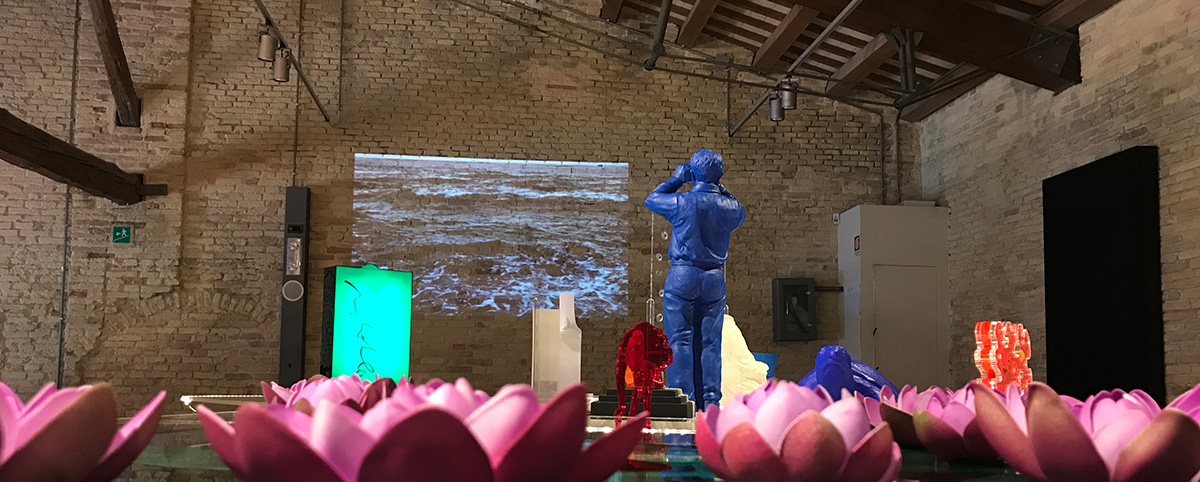 20 May to 31 August 2022.
Museo Tattile Statale Omero, Ancona.
On show at the Museo Omero from 20 May to 31 August "Plastic culture: art, design, the environment".
Our new exhibition is dedicated to a material that pervades every part of our lives. It is both exalted and condemned, mediocre and chic, elitist and pop.
Plastic is a miraculous material that can be transformed from a raw material into perfect, useful objects. However, abandoned plastic is causing serious environmental pollution, especially in the oceans.
The exhibition features works by well-known contemporary designers - creations in plastic that have become icons of modernity. They are accompanied by information about the material itself and the dangers to the environment when it is not properly disposed of.
The exhibition also uses the languages ​​of art and beauty to broaden the visitor's knowledge about plastic and increase awareness of the importance of recycling, sustainability and environmental protection in the 2021- 2030 decade, which has been proclaimed the "Ocean decade" by the UN.
Exhibition layout
The exhibition is curated by Fabio Fornasari, a museologist and architect.
It is divided into three areas, each of which illustrates a connection between plastic, art, design and the environment.
The first section of the exhibition is dedicated to works created from various types of plastic by established artists: Cracking Art, Renzo Nucara, Nicola Farina, Silvio Craia, Massimiliano Trubbiani, Bruno Ceccobelli, Alfredo Pirri, Ottmar Horl, Marco Lodola, Gino Marotta, Paolo Nicolai and Walter Paoletti.
The sea is also included as an artist, with objects that have been transformed by long periods of marine erosion and then returned to us transformed, with new meanings to discover, and a video, "Mare1", by Daniele Pignatelli (with Alessandro Feira-Chios, Francesco Vitaloni Sing Sing Studio Special, Oddo Bernardini).
The second section is dedicated to Design. Several items are displayed, from miniatures of important and celebrated creations that have become icons of modernity, to objects of great elegance as well as examples of contemporary and Pop design.
Featured companies include: Fratelli Guzzini, Vesta Design, Prensilia, Piquadro, Kartell, Magis, Gufram, Artemide, Lego, Tokidoki, Collins Design, Fornarina, Mattell, Fila, Tupperware, Europhone, Mandarina Duck, Superstuff, Sagmeister.
The third sector of the exhibition is dedicated to information about plastic and the disastrous pollution it produces when abandoned in the environment.
Political decision makers, companies, citizens, everyone is called to commit themselves to safeguarding our "common home".
This section is enriched by three videos: the first, on the theme of water as a precious asset, was made by a group of students from the Liceo Artistico Mannucci; the second, on the correct ways to dispose of plastic waste, was created by the Università Politecnica delle Marche; in the third, the Garbage Group illustrate their innovative system for cleaning up harbour waters using the Pelikan boat.
The exhibition is tactile and experiential, with all the aids required for an audience with visual, hearing or cognitive disabilities, thanks to our Media partner, Rai Pubblica Utilità, which has made explanatory videos in LIS (Italian Sign Language) and the Museo Omero staff who have produced subtitles and audio descriptions for some of the videos, captions in Braille and a facilitated reading guide to the exhibition.
There is also a table for children with plastic games as well as two workstations with tables and chairs with activities created for people with autism but which are available to everyone.
This is a travelling exhibition, designed to be transportable to other locations.
Organization
Promotors: Museo Tattile Statale Omero and TACTUS Centro per le Arti Contemporanee, la Multisensorialità e l'Intercultura e Ministero della Cultura.
Partners in the project:
Liceo Artistico Mannucci
Università Politecnica delle Marche
Garbage Group
Fratelli Guzzini
Vesta Design
Media partner: Rai Pubblica Utilità
Reception and learning services: Coop Culture - Cooperativa Sociale Opera Onlus
In collaboration with:
Comune di Ancona
La Mola Ancona
Volunteers from the Servizio Civile Universale
Associazione Per il Museo Tattile Statale Omero ODV-ONLUS
Information
Free admittance.
Booking, and wearing a surgical mask, is advised.
tel. e Whatsapp: 335 56 96 985
e-mail: didattica@museoomero.it
Opening times
May and June: Tuesday to Saturday 16:00 - 19:00.
Sundays and public holidays 10:00 - 13:00 and 16:00 - 19:00.
July and August: Tuesday to Saturday 17:00 - 20:00.
Sundays and 15 August 10:00 - 13:00 and 17:00 - 20:00.
Closed: Mondays.