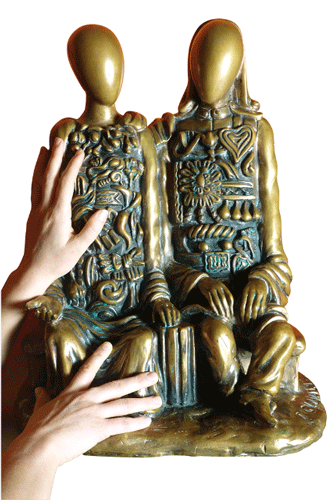 News
Opening times in Summer (15 June - 15 September): Tuesday to Friday 6 pm - 10 pm; Saturday and Sunday 10 am - 1 pm; 6 pm - 10 pm
IL RINASCIMENTO OLTRE L'IMMAGINE - THE RENAISSANCE BEYOND THE IMAGE
The Museo Omero's brochure can now be downloaded in new languages. ‹Bring it on holiday with you!
Biennale Arteinsieme - culture and cultures without barriers .
Touching art
An unthinkable aim until very recently.
Touching art
is not only for those who can't exploit light and enjoy images. It can also help everyone discover new and richer ways of perceiving.
Touching art
is a way of perceiving which is forbidden in almost every museum, an approach to aesthetic pleasure which has hardly been explored by the non-sighted, in spite of its profound epistemological importance. And yet, there is a museum in Italy which has made tactile observation its main channel of learning.
Touch faces, bodies, gestures, expressions, discover volumes and perspective with your own hands.
The Museo Tattile Statale Omero was created to fill this gap in the range of cultural services for the non-sighted, and also to offer an innovative space where artistic perception passes through multi-sensory, rather than just visual, stimuli.
Information
The Museo Tattile Statale Omero of Ancona is situated in Mole Vanvitelliana. Opening times: In Summer (15 June - 15 September): Tuesday to Friday 6 pm - 10 pm; Saturday and Sunday 10 am - 1 pm; 6 pm - 10 pm. In winter (16 September - 14 June): Tuesday to Saturday 4 pm - 7 pm; Sunday and public holidays 10 am- 1 pm and 4 pm - 7 pm. Groups can book visits outwith the usual opening times. Closed: Mondays, 25 and 31 December, 1 May, 15 August. Free admission.
Access Keys
H = Home page, S = Site Map, K = Site Info. Access Key for Window, Press ALT + Accesskey + return, for Macintosh, Press CTRL + Accesskey + return.